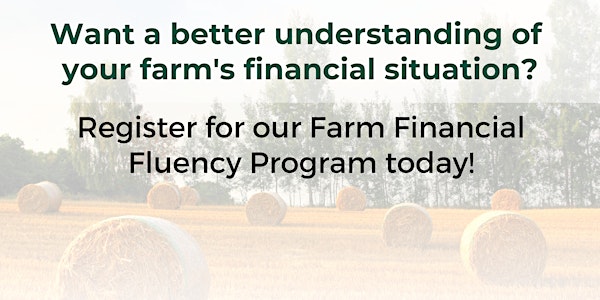 Farm Financial Fluency Training Program for Canadian Farmers March 2023
Farm Management Canada is pleased to present the Farm Financial Fluency training program to Canadian farmers.
By Farm Management Canada-Gestion Agricole du Canada
Date and time
Starts on Mon, Mar 20, 2023 10:00 AM PDT
About this event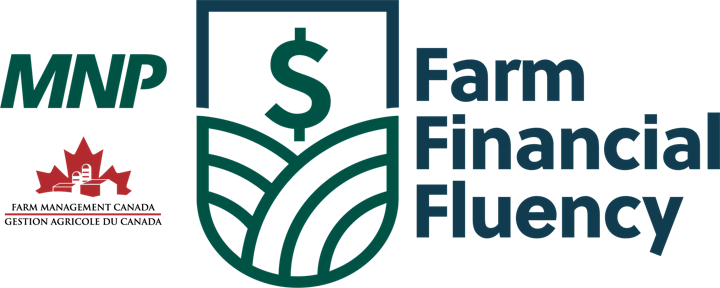 The Farm Financial Fluency Training Program will be delivered by Farm Management Canada and MNP and take place over three sessions.
Please be prepared to attend all three sessions to get the most out of the program. Sessions will occur on:
March 20 from 1-3pm EST
March 22 from 1-3pm EST
March 24 from 1-3pm EST
Your registration applies to all three sessions.
About the Program
Financial literacy is a fundamental starting point for effective farm business management, helping producers understand the direct impact of their business decisions, and opportunities available going forward.
Through the Farm Financial Fluency training program, you will learn:
Why financial reporting is important and to whom
Key differences between types of financial reporting and who uses what
Different farm business structures and their impact on financial reporting
How to interpret your financial statements (balance sheet, income statement)
Financial ratios and how to use ratios to analyze risk
How to spot potential financial issues and opportunities
Tools and resources available to manage financial risk
This program will be directed to Canadian farmers. Farmers from any sector are welcome to attend. The Case Study and some examples will reflect beef or mixed grain operations, however the fundamentals apply across commodities.
Session Topics
Farm Financial Fluency – Session 1- March 20
Why is Farm Financial Fluency important?
Cash versus Accrual Accounting
Business Structures
Financial Reporting
Financial Statements: Balance Sheet
Farm Financial Fluency – Session 2- March 22
Financial Statements: Income Statement
Cash Flow
Ratios and Analysis
Sector-Specific Metrics and Ratios
Managing Financial Risk
Resources Available
Farm Financial Fluency – Session 3- March 24
Case Study (pre-read)
Interpretation of the case study and application of a specific farm situation
Farm Financial Fluency – Optional Complimentary Meeting
Optional one-time complimentary meeting with an MNP business advisor to discuss the interpretation of your financial statements (60 minutes)
Registration
$250+HST
Multiple Farm Team Member Discount - Please use the promo code "SecondPerson" to receive a 50% discount on additional team members.
About the organizer
We are the only national organization dedicated exclusively to providing the resources necessary to enable Canadian farmers to make sound management decisions. Farm Management Canada partners with industry stakeholders, including: governments, public and private sector organizations, and farm and commodity associations, to promote and foster the development of excellence in Canada's agricultural sector. Supported by Agriculture and Agri-Food Canada, and a growing number of private partners, Farm Management Canada is fulfilling a significant role in nurturing a thriving Canadian agriculture industry.
----
Gestion agricole du Canada (GAC) est le seul organisme national qui se consacre exclusivement à l'élaboration et à la distribution d'information spécialisée en gestion agricole au Canada. Gestion agricole du Canada, dont les efforts sont appuyés par Agriculture et agroalimentaire Canada ainsi que par un nombre croissant de partenaires du secteur privé, joue un rôle important dans l'épanouissement d'un secteur agricole canadien prospère.