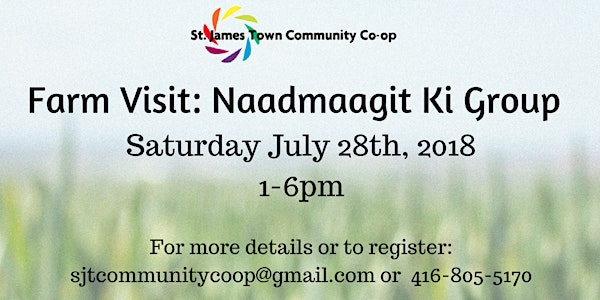 Farm visit to the Naadmaagit Ki Group - Helpers of the Earth
When and where
Location
Naadmaagit Ki Group Jane and Eglington Toronto, Ontario Canada
Description
On July 28th St James Town Community Co-op will join NKG on their farm and we welcome you to come along!
The Naadmaagit Ki Group - Helpers of the Earth – is an indigenous farming and land restoration group in the Eglington and Jane area. They have community garden plots using traditional indigenous farming practices, work to restore the land along the Humber River, and run ceremonies for the indigenous community.
Join us for a day of learning! We will go on a tour of their gardens and river-restoration and have a discussion about how we can bring these practices into St. James Town. Then, NKG will lead us in getting our hands dirty, and work their plots for 1-2 hours.
We will be meeting at 1pm at the Timothy's near Sherbourne Station and then we will be taking the TTC together to go to NKG (near Jane and Eglington). Please bring TTC fare, a lunch and snacks, and water for the day. In addition, please wear closed toed shoes and have covered ankles as we'll be walking through the farm and doing some work.
If you have any questions, please email: Sjtcommunitycoop@gmail.com Or Call At 416-805-5170
Rain Date: Wednesday, August 1st