Farvision's High Schools Open House
About this event
Study Abroad in Canada! Graduate with a High School Diploma
Draw to WIN a free course ($1,000 value)!
Join us for a virtual tour of our high schools, meet our principals, teachers, students, and talk to IDP student placement services. We are here to answer your questions on May 16th 11am.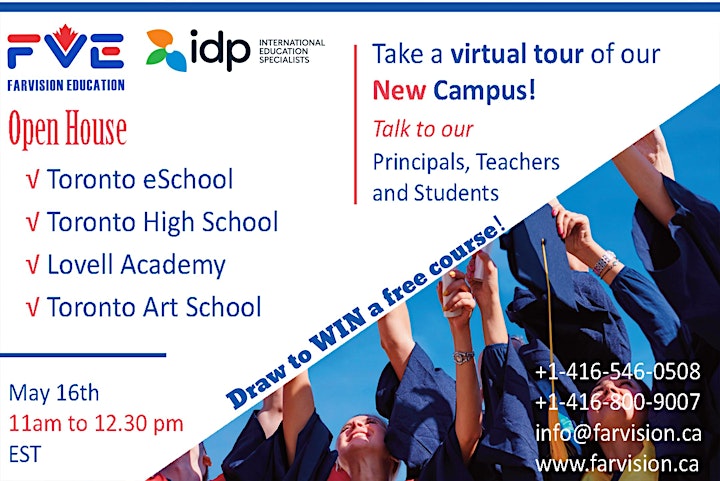 Your invitation!
Join Farvision Education and IDP Canada as we tour our new campus and answer your questions. Students will be entered in a draw to win a free course ($1000 value).
Talk to a Student Placement Expert from IDP Canada!
When you graduate from high school, we connect you with our student placement service provider, IDP Canada. An IDP expert will guide you through your study options and assist with your college and university applications.
Get to know our teachers and ask them questions!
We have Summer and Winter Camps!
Learn about the Toronto High School, offering online and inclass credits
Toronto Art Academy
As a specialized high school, Toronto Art Academy has established a four-year art education high school curriculum.In addition to studying grade 9-12 courses, students can also specialize in art courses including graphic design, architectural design, visual art, media art, as well as dance, theatre performance, music, and hosting.