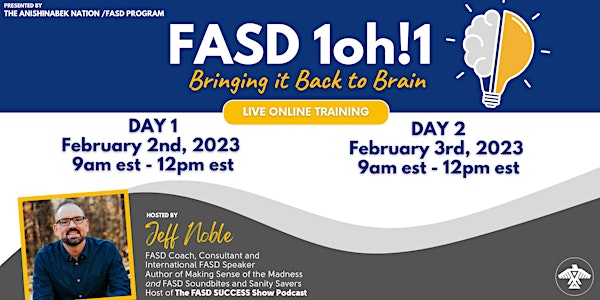 FASD 1oh!1 Bringing it Back to Brain
Be prepared to have fun and laugh (a lot!) while learning about FASD, gaining new insights and a-ha! moments.
By The Anishinabek Nation /FASD PROGRAM
Date and time
Thu, Feb 2, 2023 6:00 AM - Fri, Feb 3, 2023 9:00 AM PST
About this event
This will not be your ordinary, hum-drum training - you will leave feeling recharged and ready to make some real change in your life or for those that you work with and support.
Jeff will lead you through the fundamentals of Fetal Alcohol Spectrum Disorder (FASD) while sharing his own personal insights, expertise and a-ha! moments. The training is communicated in a deliberately 'jargon-free', down to earth style which will ensure that every attendee leaves knowing they can make positive changes in the way they understand, interpret and live/work/support individuals with FASD.
Topics covered include: understanding brain dysfunction, primary and secondary disabilities, a model for providing appropriate accommodations, sensory integration and the importance of early intervention.
Plus, learn about an exciting opportunity to participate in a one-of-a-kind program that will take you from FASD novice to FASD savvy!