Description
Register NOW to attend #TFIFYF
Fashion Your Future BOOTCAMP - FREE fashion entrepreneurship training
To learn more go to fashionyourfuture.ca
This is an exciting fast paced program where you'll learn from the pros about launching your own accessory business, creating a sample collection, and can receive up to $3000 in micro financing.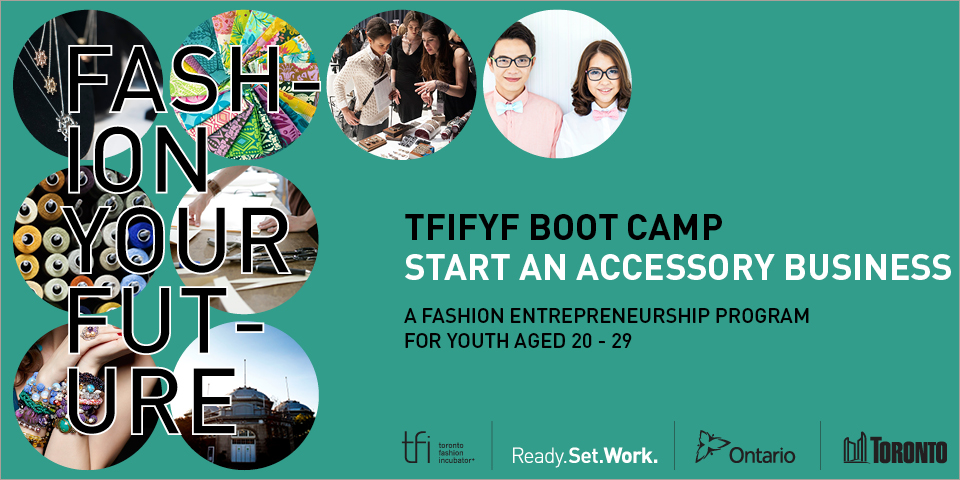 Here's what's in it for you:
Daily FREE lunch for everyone who's enrolled

FREE TTC return fare for scheduled field trips

Learn to design a spring 2017 accessory collection

Get up to $3000 in micro financing to launch your business

Work with a professional designer to create your line

Get a FREE TFI Outreach membership for one year of additional support
You'll also get a chance to showcase your collection at an industry trade show at Toronto Fashion Week in October
Phase 1: Intensive 23-day Bootcamp from June 20, 2016 to July 29, 2016
Phase 2: From August 2, 2016 to September 9, 2016 Bootcamp graduates progress to advanced accessory design business training AND the top 10 achieving participants will receive micro-financing to develop and produce a spring 2017 sample accessory collection using mentor guidance and resources.
Phase 3: From September 9, 2016 to November 30, 2016 participants receive ongoing support and seminar training AND the top 3 finalists will receive additional funding, a look book photo shoot, and the opportunity to participate in the Toronto Fashion Incubator's Press & Buyers Trade Show taking place October 19 - 20 at Toronto Fashion Week (actual dates tbc).
SPACE IS LIMITED SO DON'T DELAY! REGISTER NOW
Register above or go to Fashion Your Future learn more about the program.
This is the second step in this exciting program - the first is attending an Info Session (there are 9 different dates to choose from, so check out Eventbrite for all of your options).