Description
TFI Fashion Your Future
Develop an accessory line with industry Pros & Receive Up to $3000
Aged 20 - 29?
TFI Fashion Your Future 2016 begins June 20, 2016!
Funded by the Government of Ontario as part of the Youth Jobs Strategy
Fashion Your Future is a FREE, three-phase program for aspiring accessory designers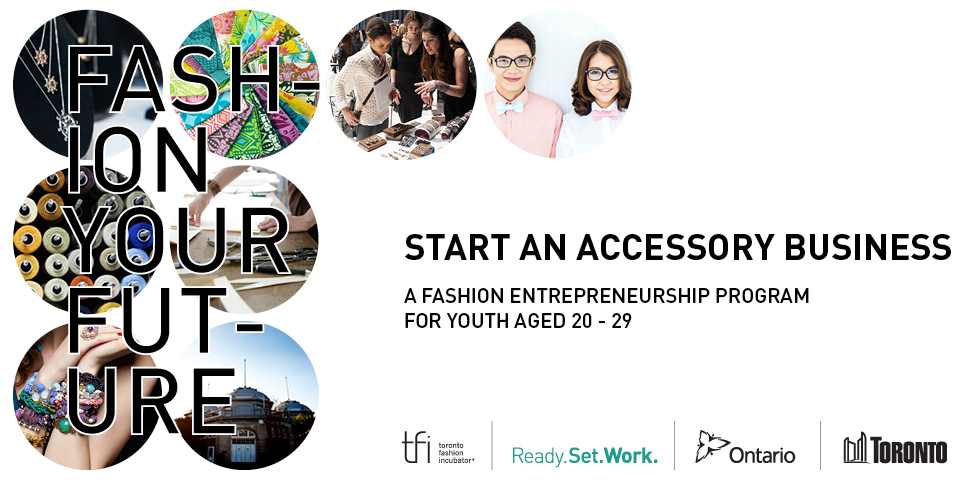 Phase 1: Intensive 23-day Bootcamp from June 20, 2016 to July 29, 2016
Phase 2: From August 2, 2016 to September 9, 2016 Bootcamp graduates progress to advanced accessory design business training AND the top 10 achieving participants will receive micro-financing to develop and produce a spring 2017 sample accessory collection using mentor guidance and resources.
Phase 3: From September 9, 2016 to November 30, 2016 participants receive ongoing support and seminar training AND the top 3 finalists will receive additional funding, a look book photo shoot, and the opportunity to participate in the Toronto Fashion Incubator's Press & Buyers Trade Show taking place October 19 - 20 at Toronto Fashion Week (actual dates tbc).
Register above or visit Fashion Your Future to learn more about the program.
#TFIFYF
#TFIFashionYourFuture
@torontofashion
@OntEconomy
#Ready.Set.Work.
First step in this exciting program is attending this Info Session (there are 9 different dates to choose from, so check out Eventbrite for all of your options), and then signing up for the Fashion Your Future Boot Camp here.