Fast and Female American Birkebeiner Champ Chat
When and where
Location
Birkie "OO" Trailhead, County Road OO in Seeley,WI Hayward, WI
Description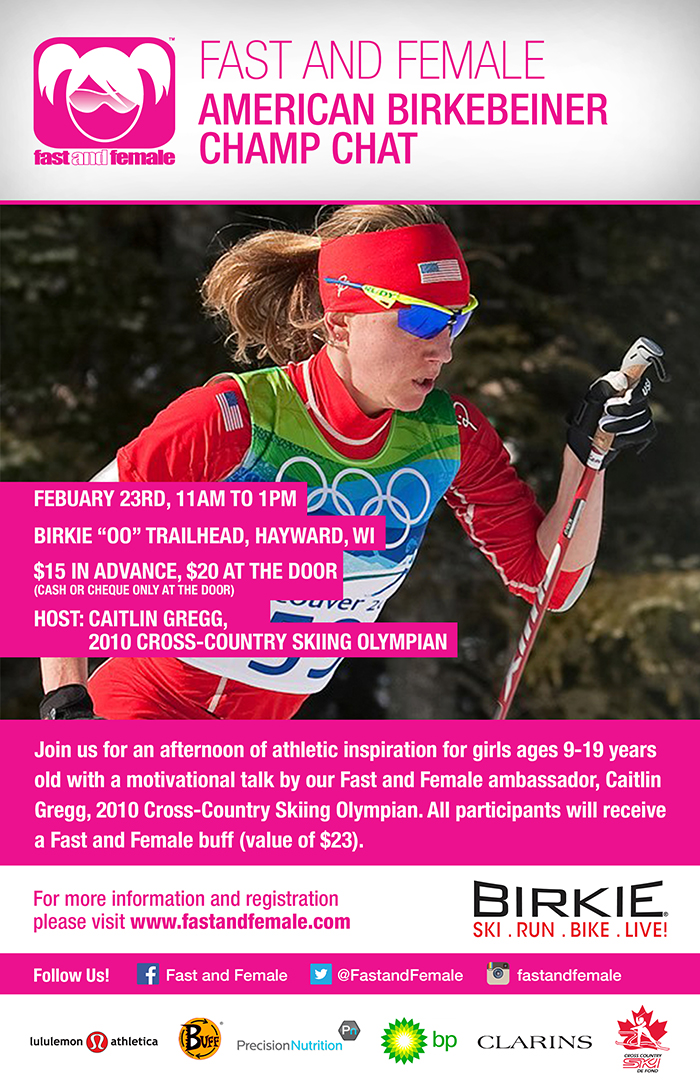 Fast and Female presents:
Fast and Female American Birkebeiner

Where : Birkie "OO" Trailhead, County Road OO in Seeley, WI
When : February 23rd, 11:00 AM to 1:00 PM
Who: Girls aged 9-19, All levels of cross country ski skill and ability welcome!
Host : Caitlin Gregg, 2010 cross-country skiing Olympian
What to bring ? Participants should wear cross-country clothes, bring their ski gear and a water bottle. We await lots of pink !!
Cost : $15 in advance or $20 at the door (cash and cheque only if purchased at the door - NO credit or debit please) The online registration closes staurday February 22nd at midnight.
Participation includes a Fast and Female buff (value of 23$), an inspirational segment, a motivational talk with Caitlin Gregg and a group ski!
What is Fast and Female ? Fast and Female is a not-for-profit society started in 2005 by Chandra Crawford, the 2006 Olympic gold medalist in cross-country skiing. The organization's mission is to support, motivate, inspire, and empower girls to stick to sports and the healthy lifestyle. Fast and Female fulfills its mission of "Empowerment Through Sport" by hosting fun-filled, non-competitive initiatives all across North-America aimed at exposing young female athletes to inspiring female Olympians and elite level athletes. The young girls who attend Fast and Female events today will lead it in the future, may it be as athletes, coaches, volunteers, parents, and community leaders. For more information about Fast and Female.
What is the American Birkebeiner :
The legendary American Birkebeiner is the largest Nordic ski race in North America with over 10,300 participants and 30,000 spectators expected for the 41st annual event taking place February 20-23, 2014. A full 4 days of amazing races, fun kids and family events, expos and demos, the races draw all ages and abilities to test their endurance on the challenging Birkie hills. From top level Olympic, World and National Champions to Elite racers to average citizen racers to novice skiers, there is an event for everyone to enjoy and be proud of completing! The Birkie has truly become a year-round lifestyle choice for thousands of outdoor fitness enthusiasts of all levels and has grown into an exciting array of fitness and recreational opportunities. The 88-kilometer American Birkebeiner Trail system attracts skiers, runners, bikers, trekkers, and hikers, from casual day-trippers to elite superstars. Located near Hayward and Cable, Wisconsin, the Birkie is now an outdoor sports mecca, a series of great races, a fitness destination, and a lifestyle. SKI . RUN . BIKE . LIVE!!