Description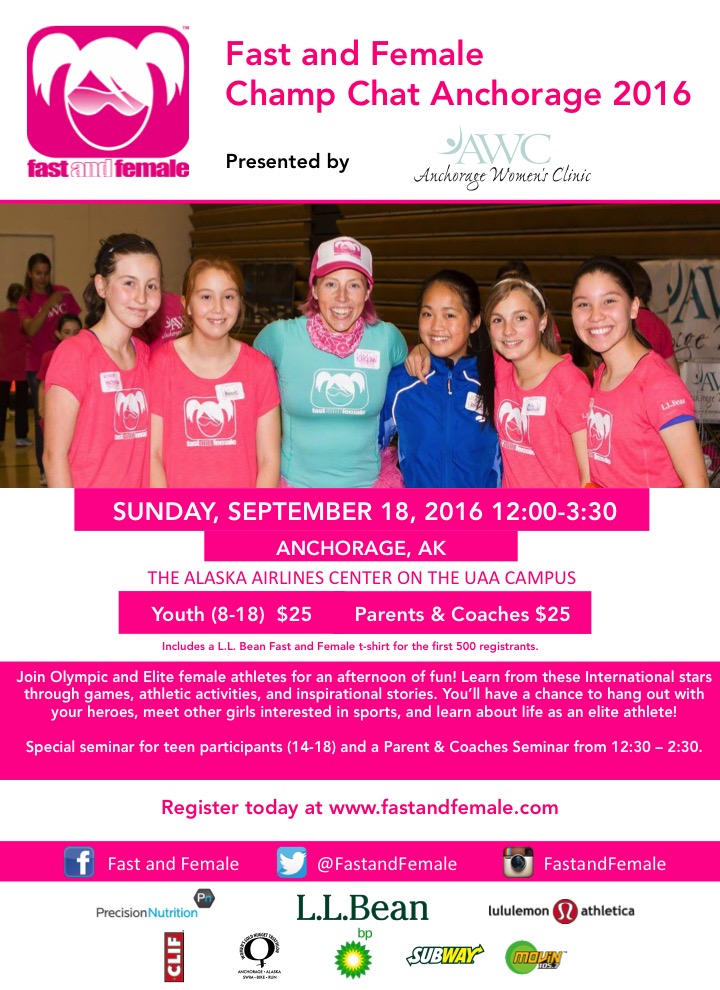 Fast and Female CHAMP CHAT in Anchorage, Alaska
Locally Presented by Anchorage Women's Clinic
Fast & Female is Proud to Present an Afternoon of Athletic Inspiration and Fun Hosted by local Olympians Kikkan Randall, Sadie Bjornsen, and Holly Brooks!

Join women from the US Ski Team, the APU Ski Team, UAA and other local athletes for an afternoon of fun games, fitness stations, and inspirational stories. Connect with your heroes, meet other girls interested in sports, and hear about life as a professional athlete!
Program for Girls ages 8-14
Girls ages 8-14 will participate in icebreaker activities with the Ambassadors, fitness stations, and get to see a mini Film Festival on girls and women in sport. They will learn about nutrition and the some great ways to take care of their bodies to stay active! The day will end with a healthy CLIF Bar snack and inspirational stories from our rockstar Ambassadors as well as an autograph session.
Schedule
Youth Participants (14&Under)
12:00 – 12:30 Registration, Group Ice Breakers
12:30 – 12:35 Introduction
12:35 – 1:05 Quadrant #1 rotation
1:10 – 1:40 Quadrant #2 rotation
1:45 – 2:15 Quadrant #3 rotation
2:20 – 2:50 Quadrant #4 rotation
2:50 – 3:15 Healthy Snacks & Inspirational Chats
3:15 – 3:30 Group picture, autographs and farewell
Program for Girls ages 15-18
Teenage girls ages 15-18 will participate in a program that is more education and skills based. Girls will learn the latest in sport nutrition and how to fuel their bodies for performance and growth. They will also learn the dangers of the "female athlete triad" and how to protect themselves from health problems down the road. Everyone will participate in a meditation infused yoga session designed to teach self-calming skills to alleviate social, academic, and athletic anxiety. The program will end with a rockstar panel of collegiate, professional, and Olympic athletes sharing stories about body image and self esteem. There will be plenty of time for Q&A as well! Teenage girls will also get a CLIF Bar snack and have plenty of time to gather autographs.
Schedule
Teen Seminar (14-18)
12:00-12:40 Registration, small group meet & greet + introductions
12:40-1:20 Nutrition for Performance & the Dangers of the Female Athlete Triad
1:20-2:15 Mediation-infused Yoga: Tips on taming academic, social & athletic anxiety
2:15 -2:20 Healthy Snack
2:20-3:15 Athlete Panel - topic: body image & self esteem
3:15-3:30 Group picture, autographs & farewell!

WHEN: Sunday, September 18th from 12:00-3:30

WHERE: Alaska Airlines Center on the UAA Campus

WHAT TO BRING: Participants should wear comfortable clothes and bring a water bottle.
Please print and sign the attached waiver! This will help registration run quickly.
Click here for waiver to print, sign, and bring.
We will be serving a snack. If your child has other allergies or dietary restrictions, please send a snack with them! Thank you.
EVENT COST & GIVEAWAYS: The cost of the event is $25 for participants and includes a L.L. Bean Fast and Female t-shirt (for the first 500 participants) and an autograph poster. The cost for parents and coaches is $20. Free scholarships are available upon request.
PARENT & COACH SEMINAR: From 12:30 – 2:30 there will be a special seminar for parents and coaches. There will be guest speakers on the topics of Nutrition, the female athlete triad, injury prevention and tips for coaching girls. We will also have a few veteran parents on hand to share their experiences of raising female athletes. There will be time after the seminar for the parents to listen in on the inspirational stories.