Description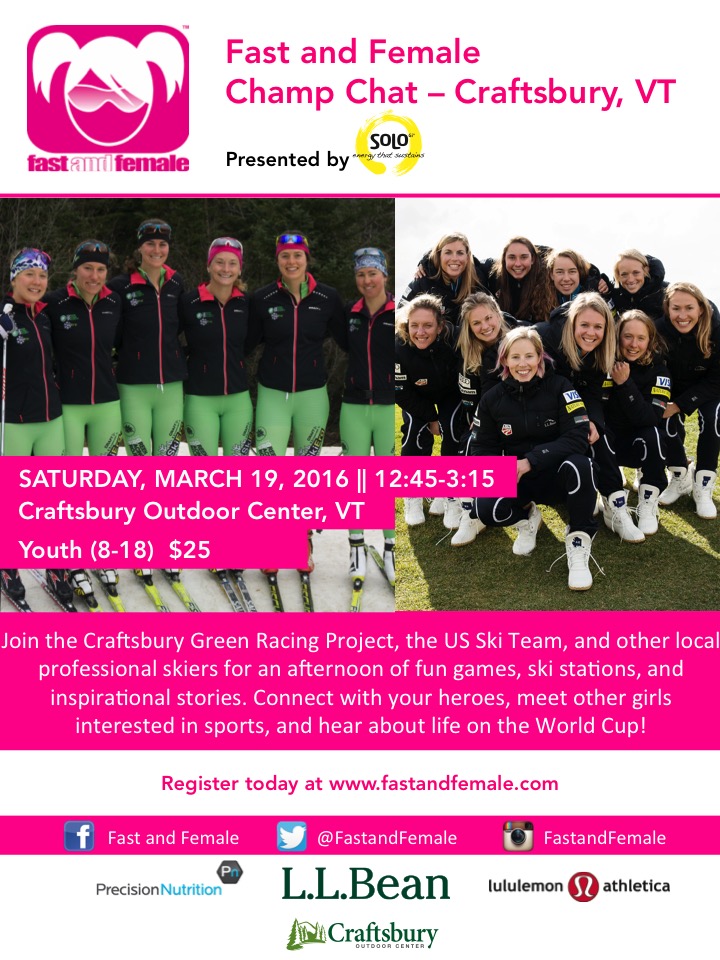 Fast and Female CHAMP CHAT at the Craftsbury Outdoor Center

Fast & Female is Proud to Present an Afternoon of Athletic Inspiration and Fun Hosted by the Craftsbury Green Racing Project and the US Ski Team!

Join the Craftsbury Green Racing Project, the US Ski Team, and other local professional skiers for an afternoon of fun games, ski stations, and inspirational stories. Connect with your heroes, meet other girls interested in sports, and hear about life on the World Cup!

WHEN: Saturday, March 19th from 12:45 to 3:15

WHERE: Craftsbury Outdoor Center, Craftsbury, VT

WHAT TO BRING: Participants should bring skate ski equipment (if you don't have skate equipment you can either borrow from the touring center or use your classic gear), outdoor clothes, clothes to be comfortable inside, and a water bottle. If you need ski equipment please contact Abby (aweissman@fastandfemale.com) for help.
COST: $25. Online registration closes Friday, March 18th at noon. Day of Event registration will be $30.
Participation includes a Fast and Female T-Shirt.
Please print and sign the attached waivers! This will help registration run quickly.
Click here for Fast and Female waiver to print, sign, and bring.
Click here for the Craftsbury waiver to print, sign, and bring.
We will be serving a snack that is gluten-free. If your child has other allergies or dietary restrictions, please send a snack with them! Thank you.
NEW! PARENT & COACH SEMINAR
Parents and Coaches are invited too! Join some of New England's most qualified coaches, parents, and professionals for an informative Experts Panel. Bring your questions about raising and coaching female athletes and learn from women who have years of experience.
The Panel will run from 1:15-2:30. At 2:30 Parent & Coach Seminar Participants are welcome to join the Ambassador Inspirational Stories segment of the main event from 2:30-3:00.
Expert Panel
Cami Thompson Graves (Dartmouth Coach, FIS Ladies' Cross Country Committee, NENSA Board Member)
Mary Anne Levins (Former Pro Golfer, New England BKL District Chair)
Susan Stephen (Physical Therapist Specializing in Women's Health, mother of USST member Liz Stephen)
Sue Wemyss (Olympian, Coach, Great Glen Ski School Director)
Poppet Boswell (Stratton Mountain School Nordic Coach, former BKL Coach)
The Dash for Cash Sprints- Starting at 4:30 pm, following the Fast and Female event, the Outdoor Center is hosting short skate sprints around the upper field with qualifier and shortened rounds. Stick around to watch top SuperTour racers duke it out, or enter yourself, all are welcome! More info at www.craftsbury.com.