Description
This event is held in conjunction with Rugby Canada's Women's Super Series http://events.rugbycanada.ca/womens-super-series.html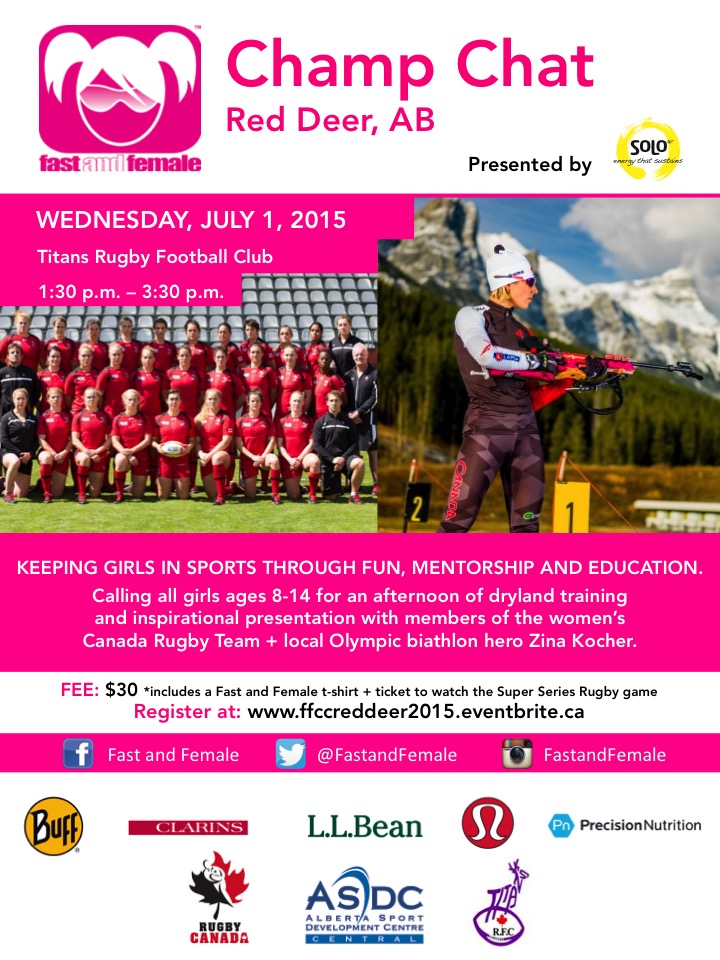 WHAT IS FAST AND FEMALE AND WHY DO WE EXIST?
Fast and Female is a not-for-profit started in 2005 by Chandra Crawford, an Olympic gold medalist in cross country skiing at the 2006 Games. The organization's mission is to keep girls healthy, happy and active in sports through their teens. Fast and Female creates "Empowerment through sport" for girls by hosting fun-filled, non-competitive events all over North Americaled by female Olympians and elite athletes well as by delivering educational content to parents and coaches. Fast and Female's vision is to create a positive, empowering environment for girls in allsports.
DESIRED EVENT OUTCOMES:
- FRIENDSHIPS: Girls increase their social interactions in a non competitive environment (build the sport sisterhood).
- MENTORSHIP: Girls get inspired and motivated by having direct interaction with top female athletes and positive role models.
- EDUCATION: Girls work on their physical literacy and will also be exposed to personal development exercises.
Organizer of Fast and Female Champ Chat Rugby Super Series - Red Deer (AB)
Fast and Female is a non-profit organization dedicated to the empowerment through sport of young women ages 8 to 18. By partnering with female olympians, we offer inspiring programming all over North-America. Through our non-competitive and fun initiatives, we strive to retain girls in the competitive sports of cross-country skiing, biathlon and complementary summer endurance sports. In the long-term, we hope to be involved in all olympic sports. Fast and Female is based in Canmore, Alberta and was founded in 2005 by olympic gold medalist in cross-country skiing - Chandra Crawford.