Description
This event is for girls in ALL SPORTS.
Participants will have the choice between going on a bike ride (must supply your own bike) on the cyclo cross course or taking part in a bootcamp.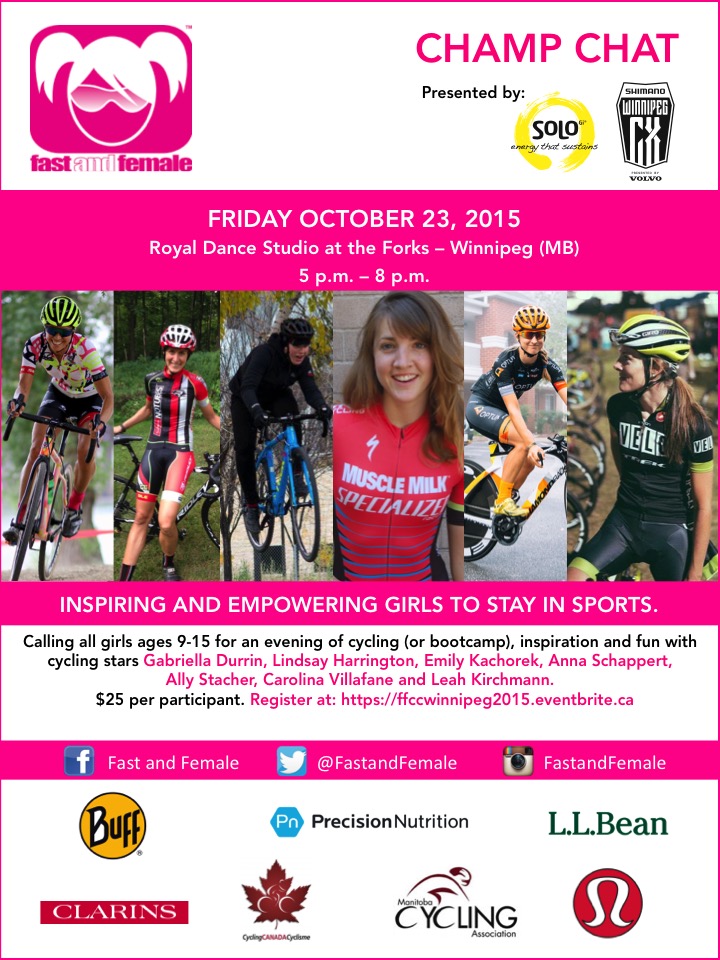 YOUTH SCHEDULE
5 p.m. Check in
5:30 p.m. Welcome words and icebreaker
5:45 p.m. Physical activity (choice between cycling and bootcamp circuit)
7 p.m. Inspirational talks by ambassadors
7:30 p.m. Dance party!
8 p.m. Autographs and farewell
******************************************************
Who is this event for?
Girls aged 9-15, All levels of skill and ability welcome, young athletes from all sports. Educational seminars for parents and coaches as well.
What to bring?
Participants should wear comfortable athletic clothes and bring a water bottle. We recommend lots of pink!! Bike is required for those choosing the bike activity. For those choosing the bootcamp, wear running shoes and workout clothing.
What is Fast and Female?
Fast and Female is a not-for-profit society started in 2005 by Chandra Crawford, the 2006 Olympic gold medalist in cross-country skiing. The organization's mission is to support, motivate, inspire, and empower girls to stick to sports and the healthy lifestyle. Fast and Female fulfills its mission of "Empowerment Through Sport" by hosting fun-filled, non-competitive initiatives all across North-America aimed at exposing young female athletes to inspiring female Olympians and elite level athletes. The young girls who attend Fast and Female events today will lead it in the future, may it be as athletes, coaches, volunteers, parents, and community leaders. For more information about Fast and Female visit : www.fastandfemale.com
Facebeook : www.facebook.com/fastandfemale
Twitter :www.twitter.com/FastandFemale
Instagram: http://instagram.com/fastandfemale