Sales Have Ended
Ticket sales have ended
Thank you for your purchase to attend the Fast and Female International Day of the Girl Fundraiser on October 1st. If you would like to make a donation, please visit https://www.fastandfemale.com/donatenow/
Sales Have Ended
Ticket sales have ended
Thank you for your purchase to attend the Fast and Female International Day of the Girl Fundraiser on October 1st. If you would like to make a donation, please visit https://www.fastandfemale.com/donatenow/
Description
SOLD OUT for individual tickets! We welcome donations:
Fast and Female events are made possible because of generous donations made by our supporters from around the world. Help Fast and Female continue to inspire, empower, and educate our next generation of female athletes! Spread the love. Dominate the world.
We invite you to join our community by making a online donation.
---


A Morning of Inspiration and Learning
We are excited to invite you to our International Day of the Girl Breakfast Fundraiser presented by Deloitte on Tuesday, October 1st. Under the United Nations official theme, With Her: A Skilled GirlForce, we bring together partners and stakeholders to advocate for, and draw attention and investments to the most pressing needs and opportunities for girls to attain skills for employability.
Fast and Female is bringing together some of Calgary's most inspiring Leader and Olympic Champions for a morning of celebration in the name of our girls in sports and in support of Fast and Female.
The event will include:
Chandra Crawford - President & Founder of Fast and Female, Gold Medalist in Cross Country Skiing

Erica Wiebe – 2016 Gold Medalist in Freestyle Wrestling

Rachel Mielke, founder and CEO of Hillberg and Berk

Plus more speakers are being confirmed!
You Will Not Want to Miss the Inspiring Messages from our all-Female Panel of Olympic Medal Holders about what kept them in sport.
---
Registration
7:00 a.m.
Breakfast with an Olympic Athlete Panel Discussion
7:30-9:00 a.m.

If you have any questions, please reach out by emailing us here.
---
Donate
If you cannot attend in person, we invite you to join our community by making a donation.
---
We'd love to partner with your company on October 1st for International Day of the Girl. We need your help to continue to serve the 3000+ girls who reach out to us every year for our Champ Chat program. Studies have shown us that girls remaining active through their youth are more likely to develop leadership skills and a foundation for an ongoing healthy lifestyle. Your dollars are used to provide invaluable life experiences for girls like this:
"Fast and Female has changed my daughter's life. Their events let her connect with other girls, set goals, and take on challenges – these are skills that will set her up to succeed in life as well as sports."
Sponsorship packages start at $2,500 and this is an opportunity to position yourself as a leader and powerful supporter of female empowerment for our girls. There are many 'perks' to the sponsorship including an amazing chance to learn first-hand about female athletic resiliency from inspiring Olympic Medalist speakers.
For more information, or if you would like to become a sponsor, please email the event organizer.
---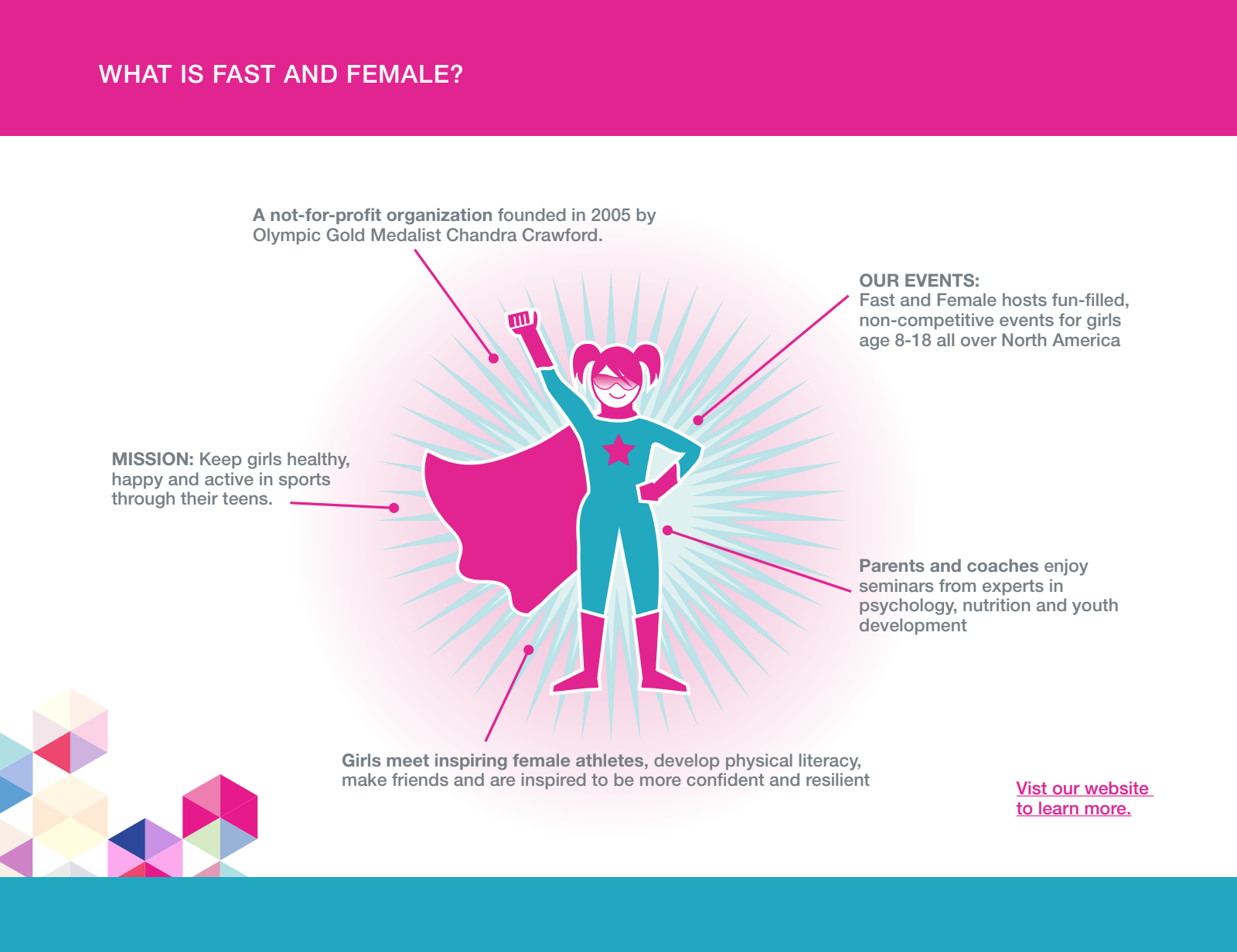 Did you know?
92% of girls who attend Fast and Female events say that it helped to build their confidence in sport

41% of girls ages 3 to 17 don't participate in sport. (Canadian Association of Advancement for Women in Sport, 2016)

If a girl does not participate in sport by age 10, there is only a 10% chance she will be active later in life. (Canadian Association of Advancement for Women in Sport, 2016)

96% of girls aged 6-19 do not meet the daily physical activity recommendations in Canada's Physical Activity Guide. (Statistics Canada, 2011)

Adolescent girls report more barriers to participation than boys do. Including time, money, resources and a concern for safety. Lack of active, older role models has also been cited as a contributing factor to lower participation rates among girls. (British Columbia Centre for Excellence in Women's Health, 2000)