Description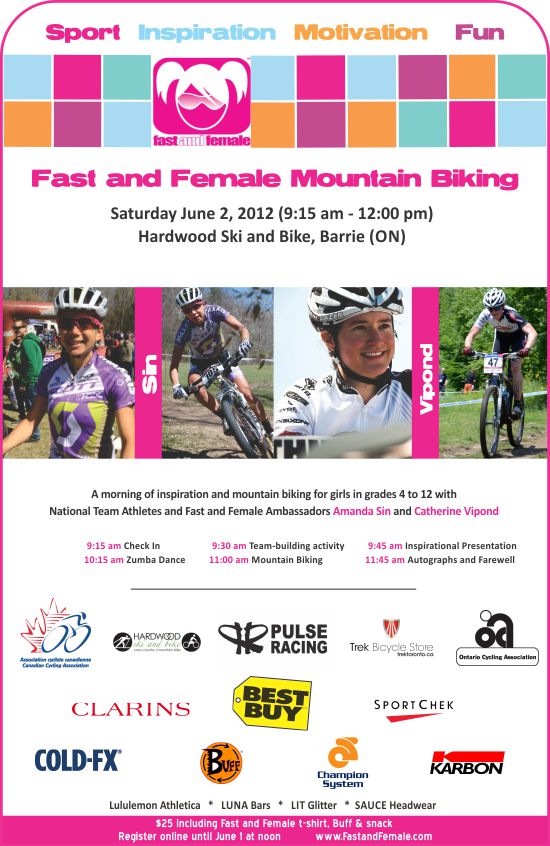 Schedule:
- 9:15 a.m. Check in
- 9:30 a.m. Welcome words and team building
- 9:45 a.m. Inspirational presentation by ambassadors
- 10:15 a.m. Dance
- 11:00 a.m. Bike ride with ambassadors
* Participants can also choose to join the Trek Pre-Ride. You to pre-register for that activity and it is only open to Canada Cup racers, You must pre-register for that activity by contacting: Glenn Meeuwisse [glenn@pulseracing.ca] with your age and race category. If you don't join the Trek Pre-Ride, you will be going on a bike ride with Fast and Female ambassadors.
- 11:45 a.m. Autograph signing and conclusion
Things to bring:
- Mountain bike
- Bike day license to ride the trails (if you don't have one, you can purchase it at Hardwood Ski and Bike)
- Water bottle
- Sunscreen
- Sports clothing and shoes (including rain proof clothing in case of rain)
- Camera
- Marker for autographs
- Good attitude ;-)
Organizer of Fast and Female Mountain Biking (Barrie, ON)
About Fast and Female
Fast and Female is a registered Canadian charity on a mission to keep self-identified girls aged 8-14 healthy and active in sports and physical activities. Founded in 2005 by Olympic gold medalist Chandra Crawford, Fast and Female believes in the power of positive sport and physical activity experiences and role models to give girls leadership, teamwork and resiliency skills.
For more information on Fast and Female, visit www.fastandfemale.com.