Fast and Female ONTARIO SUMMIT 2015 - Oakville (ON)

Saturday, 24 October 2015 from 9:00 AM to 4:00 PM (EDT)
Event Details
Team Rates Available! Contact etribe@fastandfemale.com for more info! 
 EVENT DATE: SATURDAY, OCTOBER 24th, 2015
*REGISTRATION CLOSES OCTOBER 22nd, 2015*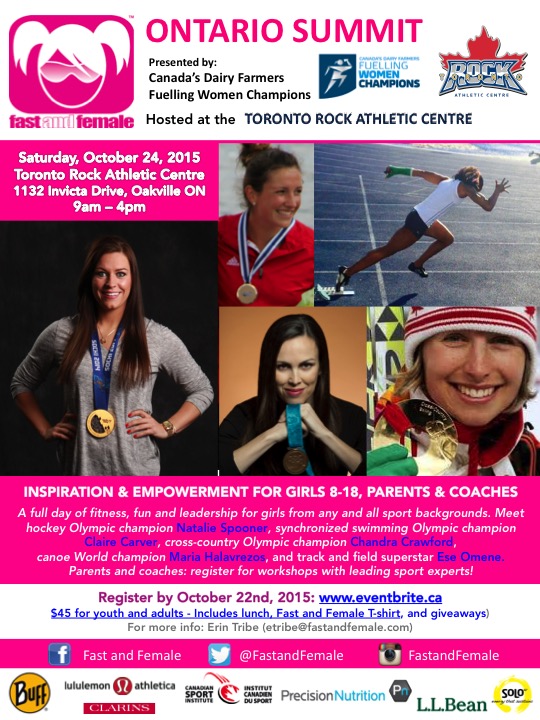 Join us for a full day and meet our Fast and Female Ambassadors:
Natalie Spooner - Hockey
Claire Carver - Synconized Swimming
Chandra Crawford - Cross Country Skiing
Sasha Golish - Running
Ese Omene - Track
Maria Halavrezos - Sprint Canoe
Donna Vakalis - Modern Pentathalon
Mandy Bujod - Boxing 
Sarah Dyer - Apline
Andrea Seccafien - Running
Soren Meeuwisee - Mountain Biking
Haley Smith - Mountain Biking  
---
Parent and Coach Seminars:
Special Guest and motivational speaker, and now our Master of Ceremonies for the parent/coach seminars: Carole Bertuzzi
Confirmed Topics of Disucssion:
Dr. Chris Oswald of the Center for Fitness Health and Performance to discuss the key indictors of concussion and neck injury. Also providing demonstration and samples of the product MuscleCare  to our particpants!


Sport Psychologist Dr. Beth McCharles and 2015 PanAm Games medalist Sasha Gollish to discuss empower females through communciation.


Josee Larocque of Cycle Sport Management to share experiences of longevity in sport.
Registration includes a Fast and Female T-shirt, and a Fast and Female Buff for all participants ages 8-18!! Parents and coaches will receive grab bags.
Girls ages 8-15 will participate in sport activities hosted by our ambassadors, learn about goal setting and dreaming big, dance, do yoga, and make new friends!
Girls ages 16-18 have a unqiue opportunity to participate and become certified in a coaching course: Fundamental Movement Skills PD - certified by the NCCP and hosted by the Coaches Association of Ontario. Special thanks to Canadian Tire's JumpStart program for sponsoring the course!
-- LUNCH WILL BE PROVIDED BY LOCAL OAKVILLE PITA PIT LOCATION --
SCHEDULE - Ages 8-15 (subject to minor changes)
9:00am - Check in
9:45am - Welcome!!
10:00am - Dryland sport skills & drills -hockey, running, boxing
11:00am - Dreams & Goal Setting  Ambassador inspiration
12:00pm - Lunch and key note speaker
1:30pm - Group Stretch & Soccer Skills
2:30pm - Ambassador Inspiration & Healthy, Positive Mind session
3:30pm - Dance It Out with Ivivva
4:00pm - Autographs and Depart 
SCHEDULE - Ages 16-18 (Subject to minor changes)
9:00am - Check in
9:45am - Welcome!
10:00am - Fundamental Movement Skills PD Course hosted by the National Coaching Certifiction Program (NCCP) part 1
12:00pm - Lunch and Key Note Speaker
1:15am - NCCP part 2
3:30pm - Ambassador Interaction
4:00pm - Autographs and Depart
SCHEDULE - PARENTS & COACHES (Subject to minor changes)
9:00am - Check in
9:45am - Welcome!
10:00am - Dr. Chris Oswald & Shannon Wright - Concussion and Neck Injury
11:00am - Presentation in Media
12:00am - Lunch and Key Note Speaker
1:15am - Dr. Beth McCharles & 2015 PanAm Medalist Sasha Golish - Empowering females through communication
2:00pm - Josee Larocque - A lifelong sport experience
3:00pm - Strength & Conditioning 
4:00pm - Group Photo and Depart 
Register yourself, daughter, or team today! 
For info contact Erin at etribe@fastandfemale.com
When & Where

Toronto Rock Athletic Centre
1132 Invicta Drive
Oakville, ON L6H6G1
Canada

Saturday, 24 October 2015 from 9:00 AM to 4:00 PM (EDT)
Add to my calendar
Organizer
Fast and Female is a non-profit organization dedicated to the empowerment through sport of young women ages 8 to 18. By partnering with female olympians, we offer inspiring programming all over North-America. Through our non-competitive and fun initiatives, we strive to retain girls in the competitive sports of cross-country skiing, biathlon and complementary summer endurance sports. In the long-term, we hope to be involved in all olympic sports. Fast and Female is based in Canmore, Alberta and was founded in 2005 by olympic gold medalist in cross-country skiing - Chandra Crawford.