Fast and Female Powerwatts Nord Champ Camp

Saturday, 23 November 2013 from 1:00 PM to 4:00 PM (EST)

Boisbriand, QC
Who's Going
Loading your connections...
Event Details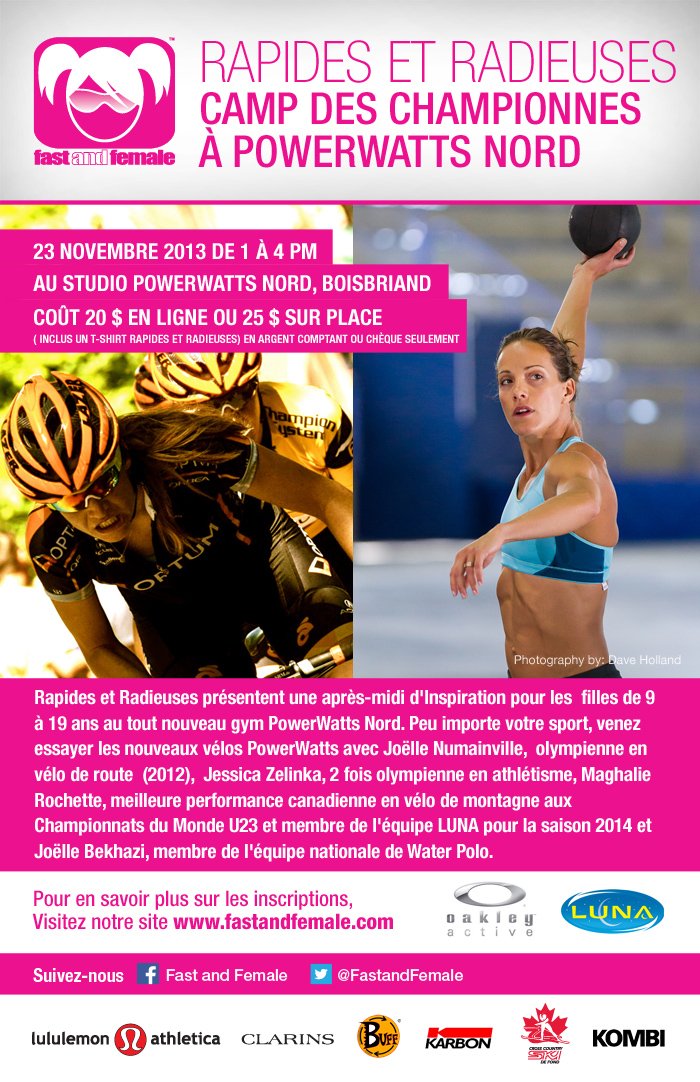 RAPIDES ET RADIEUSES PRÉSENTENT:
( Événement bilingue- english version below )                                                                      Joignez-vous à une après-midi d'inspiration de 13h00 à 16h00, au tout nouveau gym PowerWatts Nord, à Boisbriand. Vous aurez la chance de rencontrer des ambassadrices, membres de l'équipe nationale pour vous livrer leurs trucs et leurs inspirations qui les ont poussés à demeurer impliquées dans le sport !  
- Jessica Zelinka, 2 x Olympienne (2008-2012), elle se place 7ème à Londres en heptathlon et au 100m haies 
- Joëlle Numainville, Olympienne en vélo de route lors des Jeux Olympiques de Londres  
- Maghalie Rochette, athlète de vélo de montagne et cyclocross, elle a effectuée la meilleure performance candienne U23 lors des derniers Championnats du Monde de vélo de montagne en Afrique du Sud. Elle sera membre de la prestigieuse équipe LUNA pour la saison 2014.  
- Joëlle Bekhazi, membre de l'équipe nationale de Water-polo, médaillée d'argent lors des Championnats du Monde FINA en 2008                      
- Maria Halavrezos, athlète de canoë-kayak, médaillée de bronze aux derniers Championnats du Monde U23 en C2 500m          
- Andréanne Pichette, membre de l'équipe nationale de vélo de montagne                
- Andréane Lanthier-Nadeau, athlète de vélo de montagne au niveau international, participation aux 3 derniers Championnats du Monde                                
- Laurence Harvey, athlète de vélo de montagne, médaillée au dernier Jeux du Canada, fille de l'Olympien Pierre Harvey et soeur d'Alex                                                        
L'événement est ouvert aux filles sportive âgées entre 9 et 19 ans. Les jeunes athlètes provenant de d'autres sports que le cycliste sont les bienvenues à venir essayer les vélos PowerWatts !
LE SAMEDI 23 NOVEMBRE DE 13H00 À 16H00 À POWEREWATTS NORD        Les frais de l'événement sont de 20$, le tout couvre une session de yoga, des activités sportives PowerWatts, un segment d'inspiration avec les ambassadrices, une collation santé et un tee-shirt technique Rapides et Radieuses Karbon (valeur de 30$).  Les 30 premières inscrites auront un cadeau de la part d'Oakley Active (2 paires de bas et un bandeau Oakley).
Les inscriptions en ligne ferment le vendredi le 22 novembre, à minuit. Il sera possible de s'inscrire sur place, au coût de 25$, seulement en argent comptant ou chèque. Aucune carte de crédit ou débit. Merci de votre compréhension.
Quoi amener ? On t'attend habillée en vêtement de sport et bouteille d'eau à la main le samedi 23 novembre ! Le Rose est au rendez-vous ! 
AUSSI NOUS OFFRONS UN SÉMINAIRE POUR PARENTS ! 
Pendant que vos enfants s'amusent à PowerWatts Nord, pourquoi pas profiter du savoir de nos experts ! Nous vous présentons 2 conférences au coût de 10 $. 
Julie Gardiner, physiothérapeute en chef à l'Institut National du Sport du Québec, 15 ans d'expérience en tant que physiothérapeute du sport avec des athlètes de haut niveau. Elle partagera sa passion à propos de la prévention des blessures, plus précisement sur l'importance de travailler la ceinture scapulaire et stabilisation lombo-pelvienne. 
Sophie Boyer, présidente d'Audvik, ex-membre de l'équipe du Québec du ski de fond maintenant entrepreneure. Sophie vous partagera son parcours d'athlète à entrepreneure, l'importance du post-carrière athlète et ce que le sport peut amener à la vie professionnelle. 

Qu'est-ce que Rapides et Radieuses ? Rapides et Radieuses est un organisme à but non lucratif fondé en 2005, par Chandra Crawford – médaillée d'or olympique en ski de fond, en 2006. L'organisme a pour objectif d'appuyer, inciter, inspirer et donner des moyens d'agir aux filles pour rester impliquées dans le sport et adopter un style de vie sain et actif. Rapides et Radieuses réalise sa mission de «l'autonomisation dans le sport» en présentant des initiatives agréables et non compétitives à travers l'Amérique du Nord. Le tout vise à rassembler les jeunes athlètes féminines, les vedettes olympiques et d'autres athlètes de niveau élite. Les filles qui participent aujourd'hui aux événements Rapides et Radieuses sont les meneuses de l'avenir, que ce soit à titre d'entraîneure, athlète, bénévole, parent ou membre impliquée dans la communauté sportive. 
(ENGLISH VERSION) FAST AND FEMALE PRESENTS:                                                         Fast and Female welcomes girls aged 9 -19 years old and all athletics abilities to join us for an afternoon of athletic inspiration and fun at the brand new gym PowerWatts North !
Who will be there ?
- Jessica Zelinka, 2 time Olympian (2008, 2012) in track and field. At the London Games, she placed 7th in both heptathlon and 100m hurdles
- Joëlle Numainville, 2012 Canadian Olympian in road bike                
- Maghalie Rochette, best Canadian performance at U23 World Champs in MTB bike and member of LUNA team for 2014 season         
- Joëlle Bekhazi, National Team Water Polo player and silver medalist at FINA World Championship in Water Polo in 2008                                                                                  
- Maria Halavrezos, bronze medalist at the last Canoë-Kayak U23 World Championship in C2 500M  
- Andréanne Pichette, MTB National team member 
- Andréane Lanthier- Nadeau, MTB athlete, Competed in the last 3 MTB World Championship 
- Laurence Harvey, MTB athelte, Summer Canada Games medalist, daughter of Olympian Pierrre Harvey and sister of Alex 
Participation includes a Karbon Fast and Female T-Shirt (value of 30 $), guided yoga, Powerwatts activities, inspiration segment and healthy snack ! The first 30 girls enrolled will receive a gift from Oakley Active ( 2 pairs of socks and an Oakley headband)
Saturday November 23rd at the PowerWatts Nord gym from 1 PM to 4 PM 
Cost: $20 in advance or $25 at the door (cash & cheque only if purchased at the door - NO credit or debit please)
What to bring ? Participants should wear confortable athletic and bring a water bottle. We await lots of pink !!
What is Fast and Female ? Fast and Female is a not-for-profit society started in 2005 by Chandra Crawford, the 2006 Olympic gold medalist in cross-country skiing. The organization's mission is to support, motivate, inspire, and empower girls to stick to sports and the healthy lifestyle. Fast and Female fulfills its mission of "Empowerment Through Sport" by hosting fun-filled, non-competitive initiatives all across North-America aimed at exposing young female athletes to inspiring female Olympians and elite level athletes. The young girls who attend Fast and Female events today will lead it in the future, may it be as athletes, coaches, volunteers, parents, and community leaders. For more information about Fast and Female.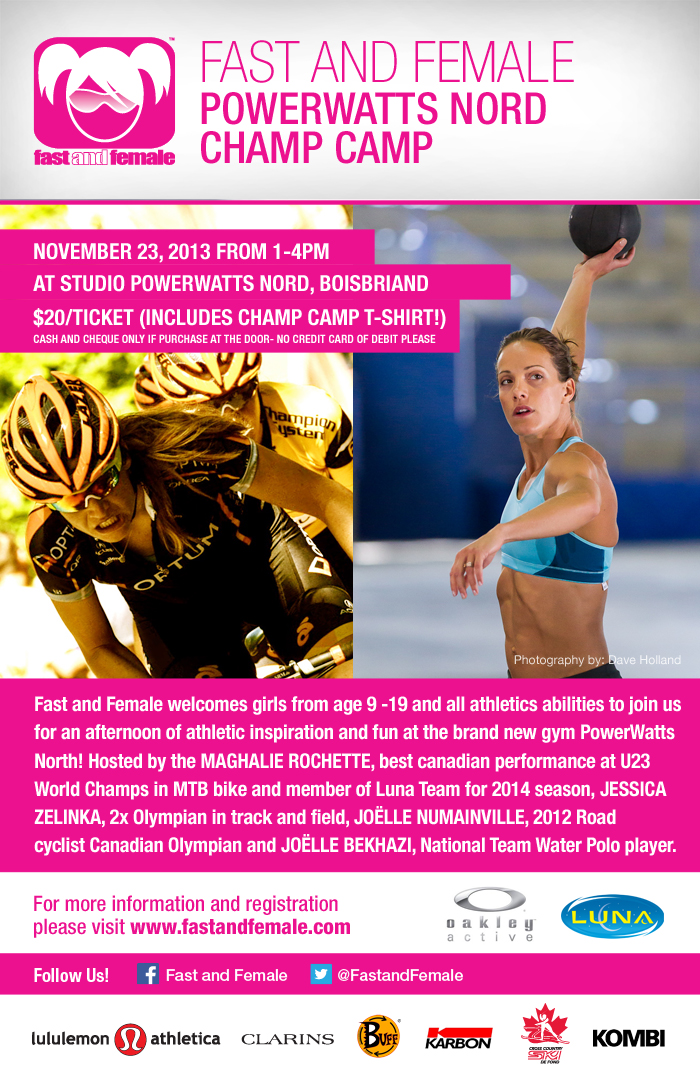 When & Where


PowerWatts Nord
650 Boulevard du Curé Boivin


Boisbriand

,

QC

J7G 2A8


Canada



Saturday, 23 November 2013 from 1:00 PM to 4:00 PM (EST)
Add to my calendar
Organizer
Fast and Female
Fast and Female is a non-profit organization dedicated to the empowerment through sport of young women ages 9 to 19. By partnering with female olympians, we offer inspiring programming all over North-America. Through our non-competitive and fun initiatives, we strive to retain girls in the competitive sports of cross-country skiing, biathlon and complementary summer endurance sports. In the long-term, we hope to be involved in all olympic sports. Fast and Female is based in Canmore, Alberta and was founded in 2005 by olympic gold medalist in cross-country skiing - Chandra Crawford.