Fast and Female Ski Nationals Champ Camp

Friday, 21 March 2014 from 2:00 PM to 4:00 PM
Event Details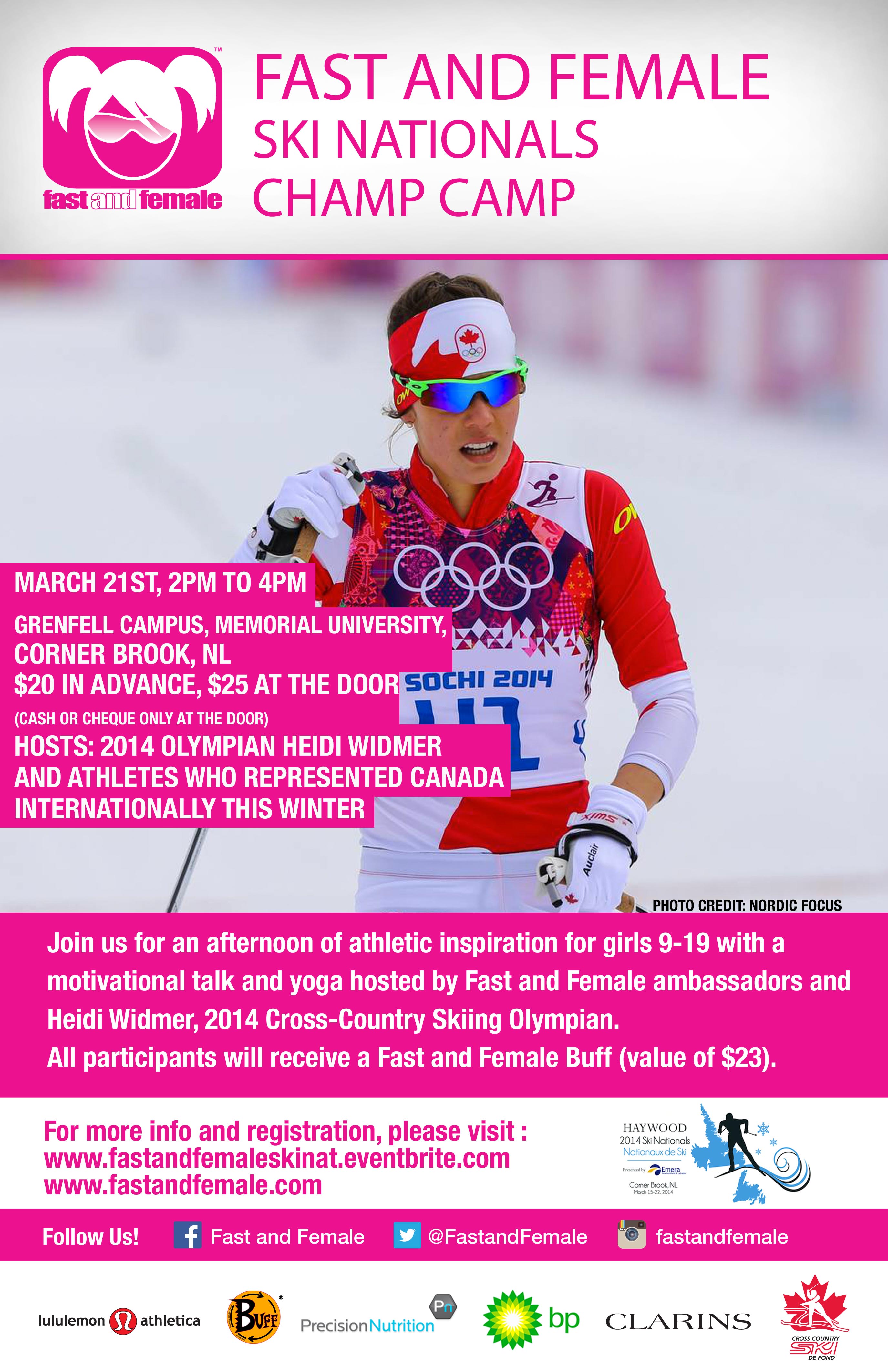 Fast and Female presents:
(Bilingual event, french version below)
Fast and Female Ski Nationals Champ Camp

Where : Grenfell Campus, Memorial University, Corner Brook, NL 
When : Friday, March 21st, 2PM to 4PM
Who: Girls aged 9-19, All levels of skill and ability welcome, young athletes from other sports also welcome ! 
Hosts : Heidi Widmer, 2014 cross-country skiing Olympian
Emily Nishikawa, 2014 cross-country skiing Olympian
Athletes from the National Development Centres and CCUNC racers who went to U23 World Championship and World University Games.
What to bring ? Participants should wear comfortable athletic clothes and bring a water bottle. We recommend lots of pink !!
Cost : $20 in advance or $25 at the door (cash and cheque only if purchased at the door - NO credit or debit please) The online registration closes Saturday March 20th at 4PM.                         
Participation includes the new Fast and Female 2014 limited edition buff (value of 23$), an inspirational segment, a motivational talk with the ambassadors, guided yoga and snack!
Schedule of the event : 
14:00- 14:15 : Check-in, introduction
14:15- 14:45 : Dream Big segment 
14:45- 15:15 : Yoga 
15:15- 15:45 : Snack and Motivational speech with our ambassadors 
15:45- 16:00 Conclusion, Autographs, participants departure 
What is Fast and Female ? Fast and Female is a not-for-profit society started in 2005 by Chandra Crawford, the 2006 Olympic gold medalist in cross-country skiing. The organization's mission is to support, motivate, inspire, and empower girls to stick to sports and the healthy lifestyle. Fast and Female fulfills its mission of "Empowerment Through Sport" by hosting fun-filled, non-competitive initiatives all across North-America aimed at exposing young female athletes to inspiring female Olympians and elite level athletes. The young girls who attend Fast and Female events today will lead it in the future, may it be as athletes, coaches, volunteers, parents, and community leaders. For more information about Fast and Female.
What are the Ski Nationals : "Blow me Down Trail is the proud host of the Haywood 2014 Ski Nationals in March 2014! This is the largest cross-country ski event in Canada! We could have upwards 800 visitors (atheltes, coaches, managers and families) for this event, including Canadian National Team athletes and Olympians! It's goind to be an exciting time in Corner Brook"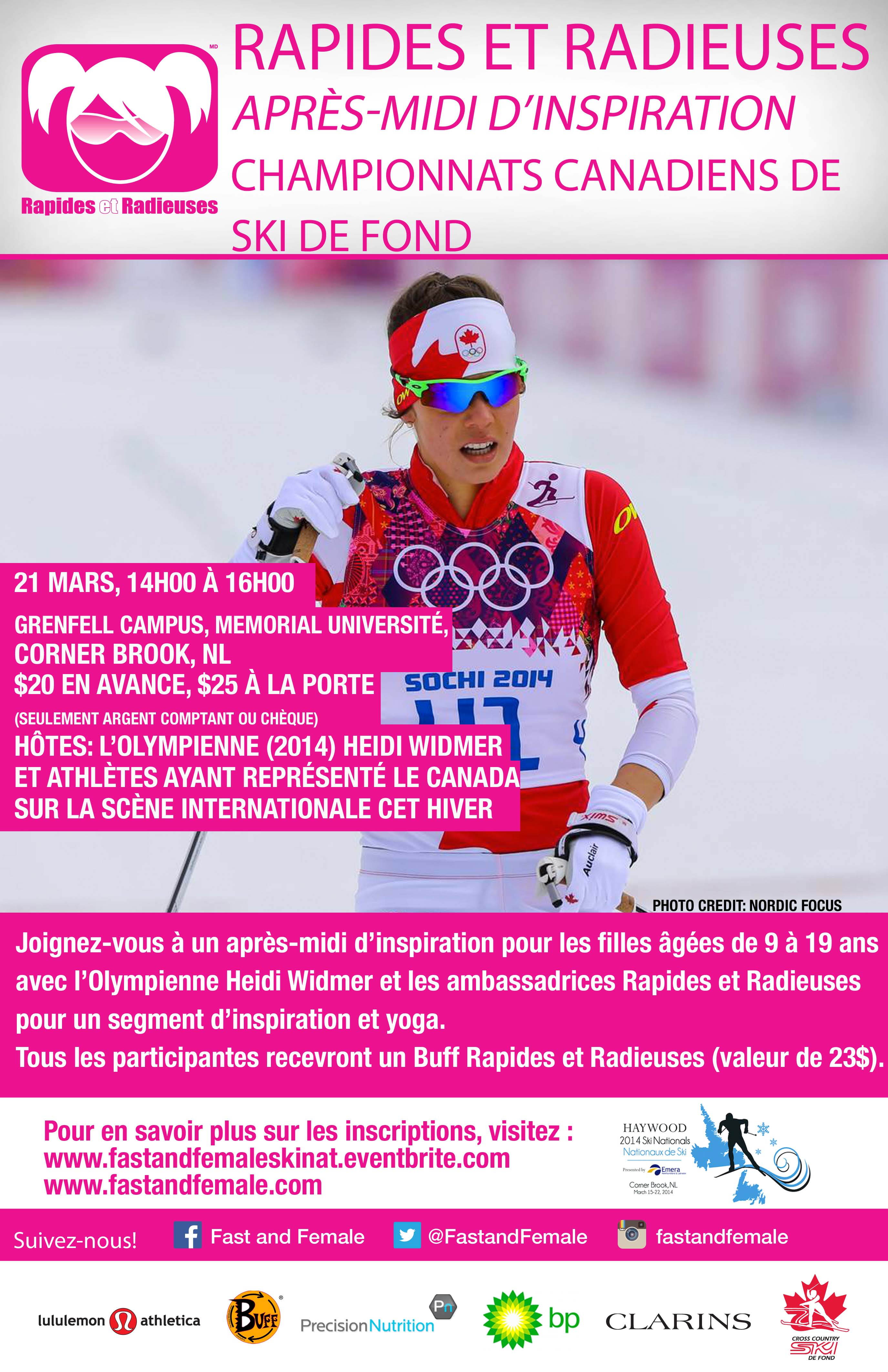 Version française 
Rapides et Radieuses présente : 
Camp des Championnes Championnats Canadiens de ski de fond
Où : Grenfell Campus, Memorial Université, Corner Brook, NL 
Quand : Le vendredi 21 mars de 14h00 à 16h00
Quoi amener ? On t'attend habillée en vêtement de sport et bouteille d'eau à la main! Le Rose est au rendez-vous ! 
Pour qui : Les filles de 9 à 19 ans. L'événement est ouvert à toutes les participantes, peu importe leur niveau. Les jeunes athlètes provenant de d'autres sports sont les bienvenues ! 
Hôtes : Heidi Widmer, Olympienne en ski de fond à Sochi
Emily Nishikawa, Olympienne en ski de fond (2014)
 Athlètes des Centre National d'entraînement et équipes universitaires ayant compétitionnés aux Championnats du Monde U23 et Championnats du Monde Universitaire à Val Di Fiemme, Italie.  
Prix : Les frais de l'événement sont de 20$ en avance et 25 $ à la porte le jour de l'événement ( en argent comptant ou chèque seulement). Les inscriptions fermeront le jeudi 20 mars à 16h00. Les frais couvrent une session de yoga, un segment d'inspiration, une collation santé et le nouveau Buff Rapides et Radieuses (valeur de 23$).
Horaire de l'événement : 
14:00- 14:15 : Check-in et introdcution
14:15- 14:45 : Segment d'inspiration "Dream Big"
14:45- 15:15 : Yoga 
15:15- 15:45 : Collation et speech de motivation par nos ambassadrices
15:45- 16:00 Conclusion, autographes et départ des participantes
Qu'est-ce que Rapides et Radieuses ? Rapides et Radieuses est un organisme à but non lucratif fondé en 2005, par Chandra Crawford – médaillée d'or olympique en ski de fond, en 2006. L'organisme a pour objectif d'appuyer, inciter, inspirer et donner des moyens d'agir aux filles pour rester impliquées dans le sport et adopter un style de vie sain et actif. Rapides et Radieuses réalise sa mission de «l'autonomisation dans le sport» en présentant des initiatives agréables et non compétitives à travers l'Amérique du Nord. Le tout vise à rassembler les jeunes athlètes féminines, les vedettes olympiques et d'autres athlètes de niveau élite. Les filles qui participent aujourd'hui aux événements Rapides et Radieuses sont les meneuses de l'avenir, que ce soit à titre d'entraîneure, athlète, bénévole, parent ou membre impliquée dans la communauté sportive.
Qu'est-ce que les Championnats Canadiens de ski de fond ? Le centre de ski de fond "Blow me Down Trail" est fière d'accueillir l'édition 2014 des Championnats Canadiens Haywood. C'est le plus grand événement de ski de fond au Canada! Nous attendons plus de 800 visiteurs (athlètes, entraîneurs, admnistrateurs et familles) à cet événement, y compris les athlètes de l'équipe nationale canadienne et les Olympiens de 2013. Ça s'annonce pour être un événement enlevant à Cornor Brook! 
When & Where

Grenfell Campus, Memorial university
20 University Dr, Corner Brook, NL
Corner Brook, NL A2H 5G4
Canada

Friday, 21 March 2014 from 2:00 PM to 4:00 PM
Add to my calendar