Fast & Female at the CKC National Championships!

Saturday, 31 August 2013 from 11:00 AM to 1:00 PM (EDT)
Event Details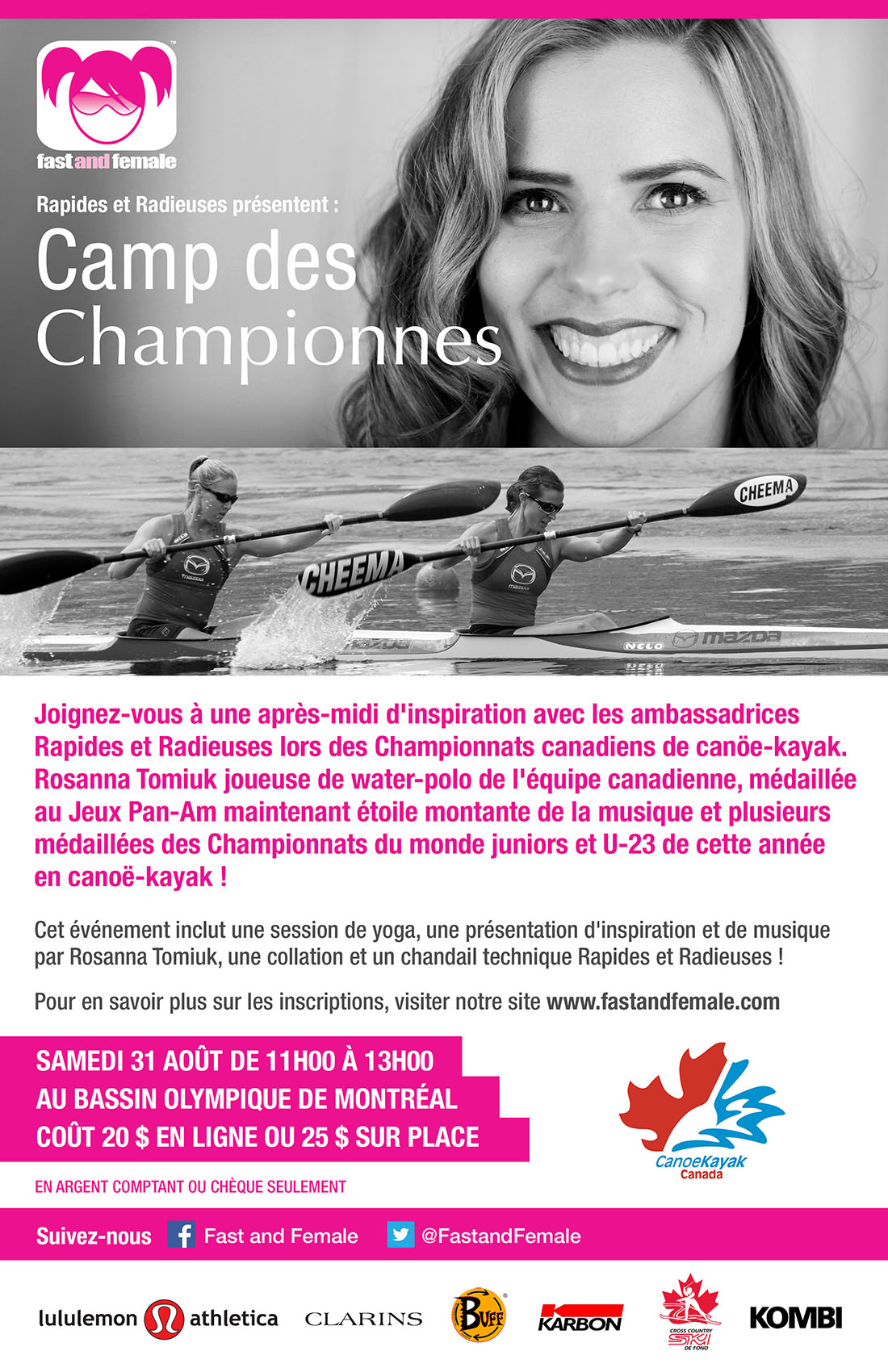 RAPIDES ET RADIEUSES PRÉSENTENT:
Un après-midi d'inspiration pour les jeunes filles de 9 à 19 ans avec des athlètes de l'équipe nationale du Canada. Rosanna Tomiuk, joueuse de water-polo de l'équipe canadienne ayant remporté une médaille d'argent aux Jeux Pan-Am et aux Championnats du monde, maintenant étoile montante auteure-compositeure-interprète en quête de ses passions, sera de la partie. Plusieures médaillées des Championnats du monde juniors et U-23 en Canoë-Kayak seront également présentes pour vous livrer leurs trucs et leurs inspirations qui les ont poussés demeurer impliquées dans le sport ! 
Le samedi 31 août, au Bassin Olympique de Montréal, de 11h à 13h 
Lieu: Bassin Olympique de Montréal
10h45-11h00: Enregistrement  
11h00 -11h15: Activité de groupe
11h15-11h35: Présentation des ambassadrices
11h35-12h00: Session de Yoga
12h15-13h00: Présentation d'inspiration et musique par Rosanna Tomiuk
13h00: Autographes et conclusion
Les frais de l'événement sont de 20$, le tout couvre une collation et un tee-shirt technique Rapides et Radieuses Karbon (valeur de 30$).
Les inscriptions en ligne ferment le vendredi le 30 août, à midi. Il sera possible de s'inscrire sur place, au coût de 25$ seulement, en argent comptant ou chèque. Aucune carte de crédit ou débit. Merci de votre compréhension.
L'événement est ouvert à toutes les participantes, peu importe leur niveau. Les jeunes athlètes provenant de d'autres sports sont les bienvenues ! 
Qu'est-ce que Rapides et Radieuses ? Rapides et Radieuses est un organisme à but non lucratif fondé en 2005, par Chandra Crawford – médaillée d'or olympique en ski de fond, en 2006. L'organisme a pour objectif d'appuyer, inciter, inspirer et donner des moyens d'agir aux filles pour rester impliquées dans le sport et adopter un style de vie sain et actif. Rapides et Radieuses réalise sa mission de «l'autonomisation dans le sport» en présentant des initiatives agréables et non compétitives à travers l'Amérique du Nord. Le tout vise à rassembler les jeunes athlètes féminines, les vedettes olympiques et d'autres athlètes de niveau élite. Les filles qui participent aujourd'hui aux événements Rapides et Radieuses sont les meneuses de l'avenir, que ce soit à titre d'entraîneure, athlète, bénévole, parent ou membre impliquée dans la communauté sportive.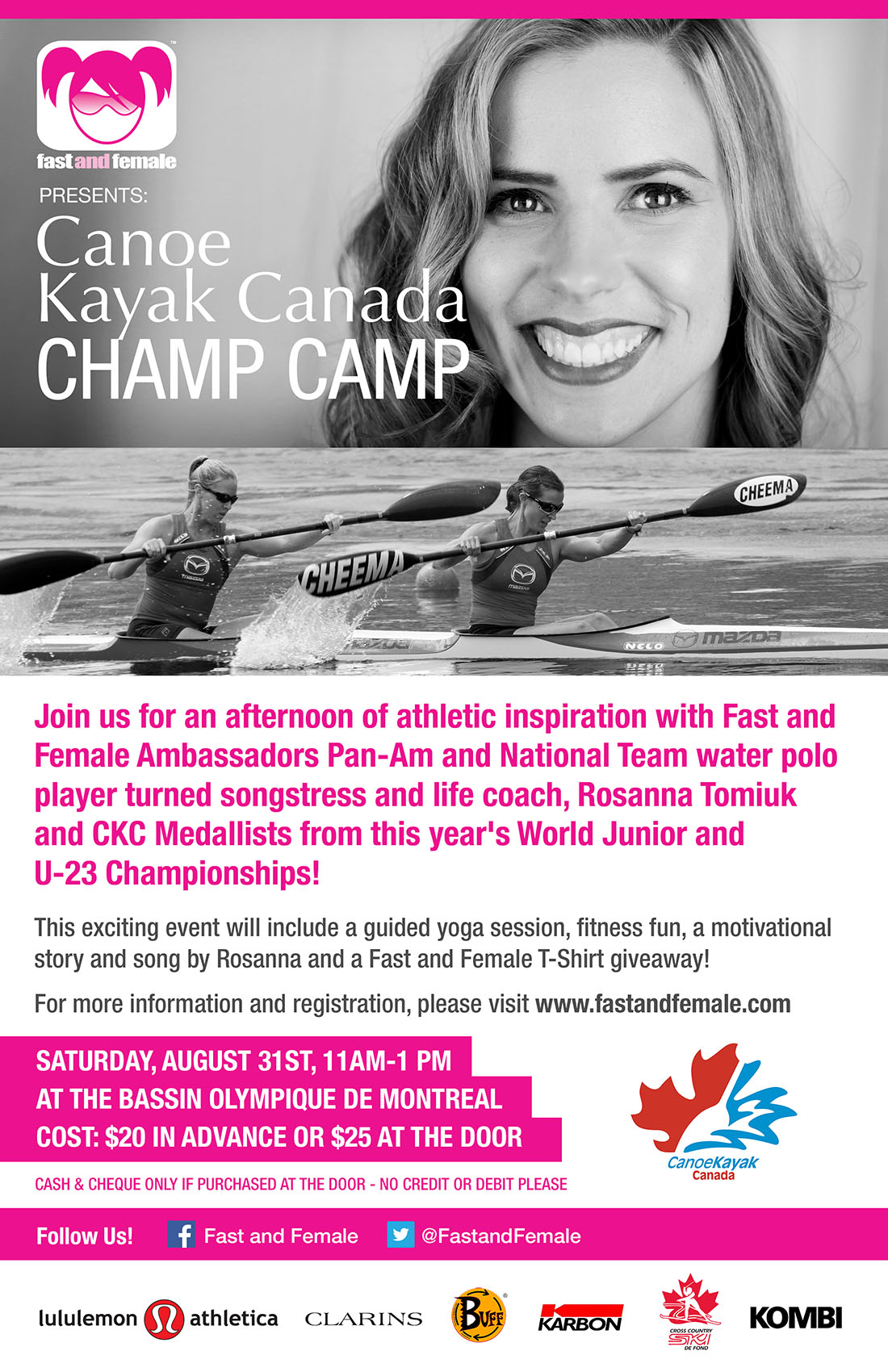 FAST AND FEMALE PRESENTS:
An afternoon of athletic inspiration for girls ages 9-19 years old with Pan-Am and National Team Fast and Female Ambassadors including water polo player turned songstress and life coach Rosanna Tomiuk and your very own CKC Medallists from this year's World Junior and U-23 Championships!
Saturday, August 31st at the Olympic Basin/Bassin Olympique de Montreal 11:00-1:00
Location: Olympic Basin/Bassin Olympic de Montreal
10:45-11:00 Registration
11:00-11:15 Group Activity
11:15--11:35 Ambassador Introduction
11:35-12:00 Yoga
12:00-12:15 Healthy Snack
12:15-1:00 Motivational story and song by Rosanna
1:00 Autographs and wrap-up
Participation includes a Fast and Female Wearable Give-Away! All levels of skill and ability welcome, young athletes from other sports also welcome!
Cost: $20 in advance or $25 at the door (cash & cheque only if purchased at the door - NO credit or debit please)
What is Fast and Female ? Fast and Female is a not-for-profit society started in 2005 by Chandra Crawford, the 2006 Olympic gold medalist in cross-country skiing. The organization's mission is to support, motivate, inspire, and empower girls to stick to sports and the healthy lifestyle. Fast and Female fulfills its mission of "Empowerment Through Sport" by hosting fun-filled, non-competitive initiatives all across North-America aimed at exposing young female athletes to inspiring female Olympians and elite level athletes. The young girls who attend Fast and Female events today will lead it in the future, may it be as athletes, coaches, volunteers, parents, and community leaders. For more information about Fast and Female.
When & Where

Bassin Olympique/Olympic Basin, Ile Notre Dame, Montreal, QC




Saturday, 31 August 2013 from 11:00 AM to 1:00 PM (EDT)
Add to my calendar
Organizer
Fast and Female is a non-profit organization dedicated to the empowerment through sport of young women ages 8 to 18. By partnering with female olympians, we offer inspiring programming all over North-America. Through our non-competitive and fun initiatives, we strive to retain girls in the competitive sports of cross-country skiing, biathlon and complementary summer endurance sports. In the long-term, we hope to be involved in all olympic sports. Fast and Female is based in Canmore, Alberta and was founded in 2005 by olympic gold medalist in cross-country skiing - Chandra Crawford.