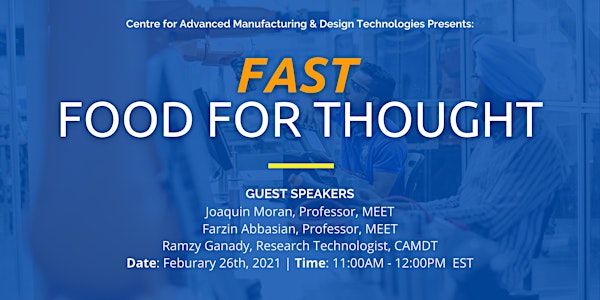 FAST Food for Thought
Join us for FAST Food for Thought on Friday February 26th 11 a.m. – 12 p.m. EST.
By Centre for Advanced Manufacturing and Design Technologies
Date and time
Fri, Feb 26, 2021 8:00 AM - 9:00 AM PST
About this event
At the February FAST Food for Thought you will learn about a gadget that helps in the fight against COVID-19. Also, the application of Computational Fluid Dynamics (CFD) in nuclear reactor fuel simulation and how it can have a positive impact on Ontario's clean energy industry. Our panel of guest speakers from the Faculty of Applied Science and Technology will present these fascinating research projects.
• Joaquin Moran, Professor, MEET
• Farzin Abbasian, Professor, MEET
• Ramzy Ganady, Research Technologist, CAMDT