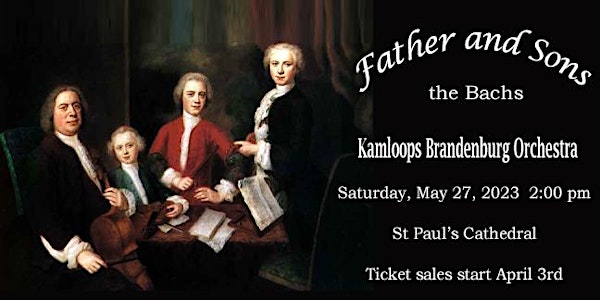 Father and Sons - the Bachs
Just before our modern Father's Day is a chance to enjoy Baroque works from the Bachs. Father and Sons spotlights their 18th century work.
By Scroll down to Upcoming Events, click for tickets
Date and time
Starts on Sat, May 27, 2023 2:00 PM PDT
Location
St. Paul's Anglican Cathedral 360 Nicola Street Kamloops, BC V2C 2P5 Canada
About this event
Just before our modern Father's Day is a chance to enjoy Baroque works from the Bachs. Father Johann Sebastian requires little introduction. We are thrilled to play works from this father, and explore works from sons Wilhelm Freidman Bach, Carl Philipp Emanual Bach, and Johann Christian Bach. All were accomplished and appreciated in their day, and we look forward to filling St Paul's Cathedral with music of the 18th century with this spotlight on the Bachs.
Parking on the street can be a problem. The WorkSafeBC lot at 321 Battle St is just across the alley from the church, a very short walk. Your driver may wish to drop off passengers and go around the block to park. See map above.
About the organizer
The mission of the Kamloops Baroque Orchestra Society is to engage our community in the performance of Renaissance, Baroque and Classical music, and to inspire musical excellence.
The Kamloops Baroque Orchestra Society is a non-profit society supporting the Kamloops Brandenburg Orchestra and successor to the Kamloops Intermediate Orchestra Society. Originally founded by David Marden for strings students to have a venue to hone their skills, the Society transitioned to cover the Thompson Rivers Orchestra under the direction of Peter Ward. Since 2012, the Society has supported the work of the Brandenburg under the direction of Cvetozar Vutev.
The Orchestra has grown with classics - loving musicians bringing Baroque era and other classic works to our Kamloops community. The Baroque era (1600 to 1750) followed the Renaissance music era and was followed in turn by the Classical era. Well known composers of the Baroque era include Bach, Vivaldi, Handel, Purcell, Telemann, Pergolesi, and Pachelbel. Talented amateurs from Kamloops and all over the Interior of British Columbia bring these works to life, often in full period costumes right down to the buckles and wigs.
On Sale 3 Apr 2023 at 10:00 AM