Faust with Midday Veil and Von Bingen

Wednesday, October 17, 2012 at 9:00 PM

-

Thursday, October 18, 2012 at 1:00 AM (PDT)
Event Details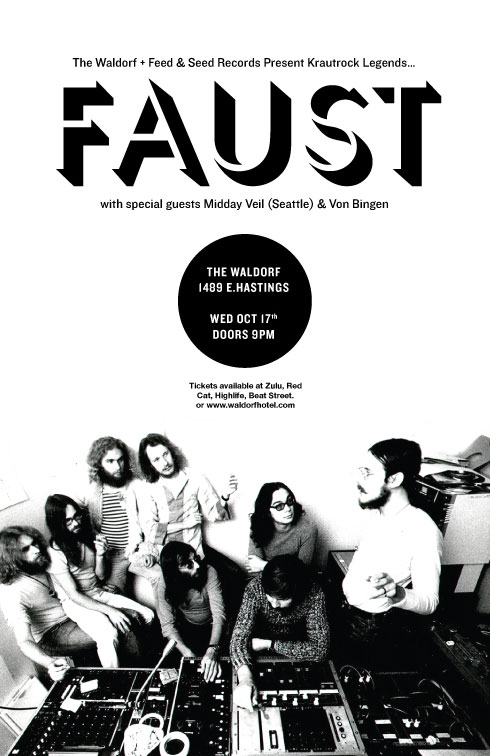 ONLINE TICKETS SOLD OUT — MORE AVAILABLE AT DOOR
** PLEASE GET HERE EARLY**
The Waldorf and Feed & Seed Records present Kraut Rock Legend Faust!
Faust
"There is no group more mythical than Faust." Thus wrote English musician and eccentric Julian Cope in his classic of the genre, "Krautrocksampler". Formed 1969 in Hamburg, Germany and considered the inventors of "Krautrock", iconoclasts extraordinaire Faust are key figures in 20th Century music. In the early 70's, along with Can and Kraftwerk, they re-invented pop music as a specifically European art-form. In their own studio they were able to revolutionize the whole process of musical production; they improvised with industrial noise, generated bizarre hypnotic grooves, indulged in shockingly willful studio-based collages, and dabbled with every conceivable musical genre, sometimes simultaneously. Every now and then they found time for a burst of satirical pop or waves of delicate ambience. Amongst those Faust have strongly influenced we must count Brian Eno, Joy Division, Cabaret Voltaire, Test Department, Neubauten, My Bloody Valentine, Julian Cope, Sonic Youth and a host of Industrial and Techno bands. The music has lost none of its immediacy or relevance—it sounds as if it was recorded last week, not last decade.
Midday Veil 
Midday Veil began in 2008 as a collaboration between Emily Pothast, a visual artist who turned to music, and David Golightly, an analog synth head. The pair bonded over their mutual interest in music as a medium of both time and eternity; of memory and transcendence.Early intimations of Midday Veil's characteristic sound arose from the interaction between Emily's dramatic, uncanny vocals and David's subtle, expansive synth work. David and Emily are also the co-founders of the record label Translinguistic Other and give site-specific audiovisual installation/performances as Hair and Space Museum. 
Von Bingen
Von Bingen is the mask under which the faces of Daniel Presnell, Rick Smith, and Joshua Stevenson reside. Formed in Vancouver in 2006, the group has released one lp, self-titled, on Amen Absen records in 2009. VB II is forthcoming in 2012, along with a variety of cassettes, 45 rpm singles, and other offerings.

"Von Bingen is an epic pre-settlement statement in the Zodiac Mountain mould, displaying at all times a riotous & Luddite attitude to sonic imbalance, every cranky outburst putting me further in the mind of the Soviets' attitude to technology – all monobrow melodies over monolithic rhythms played through scratchy tannoys in the rain. … oh, and replete with the singular sounds of the legendary Buchla synthesizer. Your commune, your allotments, your manifesto and your Buchla synthesizer. What more could the revolution need?" - Julian Cope, Address Druidion
http://www.feedandseedrecords.com/feed-seed-artists/von-bingen
When & Where
1489 East Hastings
Vancouver, V6H 3N9
Canada

Wednesday, October 17, 2012 at 9:00 PM

-

Thursday, October 18, 2012 at 1:00 AM (PDT)
Add to my calendar