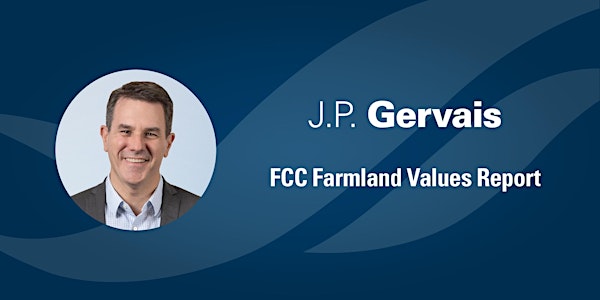 FCC Farmland Values Report
What did Canadian farmland values look like in 2022?
About this event
The FCC Farmland Values Report is being released on March 13. It looks at Canada's regional land value trends in price per acre. Join J.P. Gervais, FCC Chief Economist, for an overview of the report's key findings, followed by a Q&A. 
Wednesday, March 15
2 p.m. Eastern
Find the webinar time for your area:
St. Johns, N.L. (Nfld.)  3:30 p.m. 
Halifax, N.S. (Atlantic)  3 p.m. 
Ottawa, Ont. (Eastern)  2 p.m. 
Winnipeg, Man. (Central)  1 p.m.  
Regina, Sask. (Central)  12 p.m. 
Edmonton, Alta. (Mountain)  12 p.m. 
Vancouver, B.C. (Pacific)  11 a.m.  
This event will be recorded and available to registrants a few days after the event. It will be available publicly on FCC's On Demand events page in the future.
J.P. Gervais is an FCC Vice-President and Chief Economist. Read his bio.