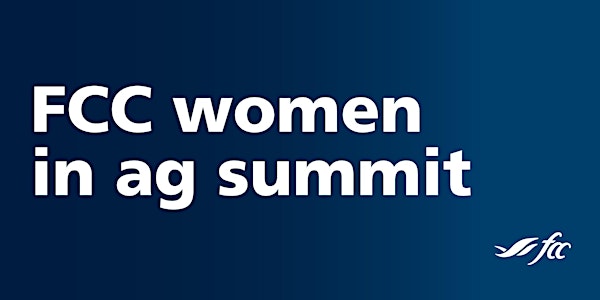 FCC Women in Ag Summit - Atlantic Farm Women Event
When and where
Location
Halifax Marriott Harbourfront Hotel 1919 Upper Water Street Halifax, NS B3J 3J5 Canada
Description
Empower the leader within
FCC Women in Ag Summit will give you the confidence to take your operation and business to new heights. Boost your leadership skills and make powerful connections to build personal and professional growth.
---
Agenda
Friday, April 17 - Farm tour and banquet
Join us for an Annapolis Valley farm tour (seating limited) and attend our evening banquet featuring:
Keynote Speaker - Mairlyn Smith
Hospitality brought to you by Atlantic Farm Women.





Saturday, April 18 - Women in Ag Summit
9 a.m. – 3 p.m. (Doors open at 8:30 a.m.)
Breakfast and lunch included.
We've also secured rooms at discounted event rate at Halifax Marriott Harbourfront Hotel.
---
FCC Ag Summit topics and speakers


Building financial strength with confidence
We spend a great deal of time and energy to make money in our farm or agribusiness. But how much effort do we put into how we spend and save it? Having a deliberate and effective money strategy reduces stress, helps us meet goals and better prepares us for whatever life may throw our way.
Through an objective lens, Vanessa will help you become more financially mindful through intentional spending, setting clear goals and finding solutions for saving and growing your money.
What you'll learn:
Importance and steps to becoming more financially mindful
How to choose between spending, saving and repaying debt
Straightforward review of the saving/investing options available
Do's and don'ts of investing based on personal situation, complexity, risk tolerance and fees
Negotiating for success
What does negotiation mean to you? Professional negotiator Anna De Paoli will share her tips and techniques to help you improve your negotiation skills through preparation, target setting and focus on relationships.
What you'll learn:
Improve your negotiation techniques
Setting targets and benchmarking
Review case studies of agricultural negotiation in action
Why? Why not! Because a missed idea is a missed opportunity to make a difference
Everywhere you look, wonderful people are being asked to do important things with so much less than they had before. The harsh reality is that the way things used to be done has left the building and it's not coming back anytime soon.
Toni's keynote has been delivered to thousands of participants all over the world who to this day still use it as the rallying cry for change and innovation within their own organizations.
What you'll learn:
How to deliver value to the people you serve
Thinking outside the box, when the box is always changing
How to be different in a way that makes a difference


Proven tips to living an awesome life
The secrets of success are the same no matter what business you're in, and success begins with getting motivated. Inspiration and comedy unite in this transformational presentation from "I should…" to "I will!". Energizing and funny, Jessica's call to action combined with her trademark character comedy with quirky anecdotes will motivate you.
What you'll learn:
Find greater meaning in your work
Use positive psychology to be happier day to day
Set and reach your goals
Learn to laugh at life's shortcomings
Michelle Hillier

Emcee, Movement and Dance Educator

Jessica Holmes

Comedian, Author, Mental Health Advocate

Toni Newman

Professional Innovation Catalyst

Anna De Paoli

Management Consultant, Professional Negotiator

Vanessa Stockbrugger

Financial Educator and Coach
---
This event is exclusively for registered or invited guests who live in Canada and involved in the agriculture, agri-food or agribusiness industry.
We reserve the right to refuse or cancel registrations, including those intended as a basis for entry into Canada.