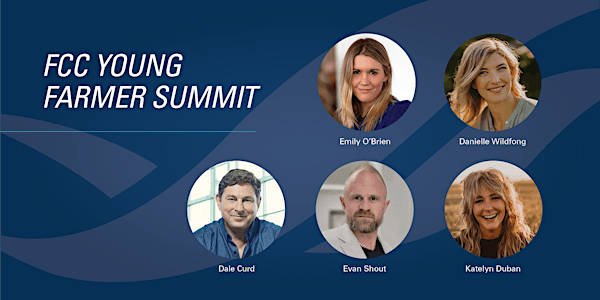 FCC Young Farmer Summit - Kitchener
Get empowered to ignite the leader in you
When and where
Location
Bingemans 425 Bingemans Centre Drive Kitchener, ON N2B 3X7 Canada
About this event
The FCC Young Farmer Summit is a free event for anyone under 40 involved in agriculture and food. Get real-world advice from engaging speakers, network with peers and take control of your business journey.
10 a.m. to 3 p.m. EST  
Agenda
10:00 am - Kickoff with emcee Katelyn Duban
10:10 am - Dale Curd
11:10 am – Evan Shout
12:00 pm - Lunch
1:10 pm - Welcome back
1:15 pm - Danielle Wildfong
2:15 pm - Emily O'Brien
3:00 pm - Conclusion and networking reception (cash bar)
Featured speakers:
Event hosted by Katelyn Duban
Dale Curd: Why Aren't We Connecting? The Keys to Collaborative and Effective Teams
Dale Curd has spent his life listening deeply and empathetically. In this talk, he outlines key steps to ensure we are connecting better as teams – from active listening, stronger questions to different body language, he has the tips, tricks and research to lead to immediate outcomes.
Evan Shout: Young, Broke, and in Love: How to navigate financial risk in farming
Today's primary producers face several decisions each day that could have a material effect on profits and operations. They have to tackle financial topics such as working capital, cost of production, and margin efficiencies, as well as operational complexities such as human resources, machinery optimization, and succession and transition. How do young farmers today make decisions in this volatile market? We will take you on the journey of risk mitigation across many aspects of farming, demonstrating "boots on the ground" solutions to everyday problems. You'll learn how financial success is linked to team members, and how to find strength and freedom in the theory of "Young, Broke, and in Love."
Danielle Wildfong: Relationships are the new bottom line at your farm
Relationships can make or break a family farm; at core of all conflicts lies an imbalance of love and respect, trust and honesty, or control and power. We will explore the most common challenges in family business and learn how to build relationship equity in your family business and protect what's most important to you.
Emily O'Brien: Entrepreneurship & Emotional Profit
The hardest part about creating your own business is getting started. Fear leads to doubt, doubt leads to excuses and excuses lead to failure before you even begin. Emily O'Brien started Cons & Kernels (now Comeback Snacks) in prison, without access to the internet, without the ability to test her market, and a consumer base that might be apprehensive about doing business with a convict. Learn how she stayed determined and created a business that provides her emotional profit by helping others.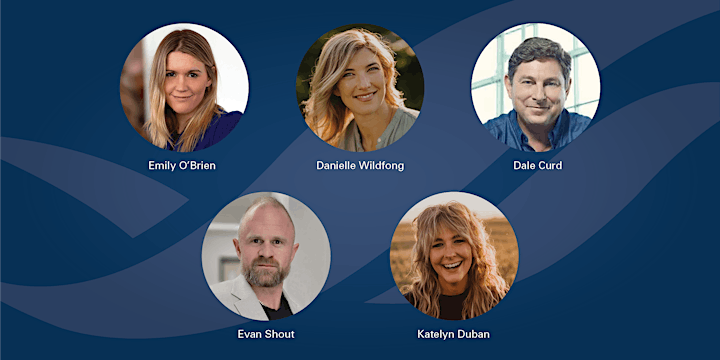 Speaker Bios
Dale Curd, CBC's Hello Goodbye, Author, Living Lightly, @dalecurd 
Have you ever met someone who can instantly make you feel so comfortable you feel like they are your best friend and trusted confidante? Meet Dale Curd. Genuine, intuitive, approachable, wise and articulate, Dale is the host of the acclaimed CBC documentary television series, Hello Goodbye. The series follows Dale as he engages strangers in conversations as they prepare to greet or see off loved ones at Toronto's Pearson Airport.
A compelling, compassionate and dynamic host and public speaker, Dale boasts several other media pursuits. Dale began presenting his keynote, The Mastery and Science of Empathetic Listening, to healthcare organizations across North America in 2017. Since 2008, Dale is retained as an expert catalyst helping global corporations speak to and market services and products to men. Dale has a private counselling practice. 
Evan Shout, President and Founder, Maverick Ag
Evan Shout is the president and co-founder of Maverick Ag, a business consulting and risk management firm in Western Canada. He also sits as the president, co-founder, and lead coach at Farmer Coach, an education and coaching program for primary producers in both Canada and the US. These organizations fall under the Hebert Group of companies that also includes Hebert Grain Ventures, a 30,000-acre grain and oilseed operation in southeast Saskatchewan, where Evan is the Chief Financial Officer.
In his past career, Evan worked as a CPA with MNP, an agriculture accounting firm in Canada, specializing in large-scale primary producer grain operations. He is passionate about improving farm business with a focus on human resources management, technology, data analysis, and financial and operational risk practices.
Danielle Wildfong, FEA, Family Enterprise Advisor, @DaniWildfong
Danielle handles family business transition and family enterprise dynamics including business management planning.
Danielle has expert knowledge engaging small business entrepreneurs in the agricultural industry. With this unique ability to gain trust and build rapport quickly with producers and entrepreneurs, Danielle can gain valuable feedback and create visionary strategies. She grew up on a farm, and has 13 years of experience in the farming, agribusiness industry and consulting on ag-tech start-ups. She is highly connected to producers and has an intimate understanding of their needs, displaying a keen ability to translate them into entrepreneurial strategies.
Danielle has 13 years of experience in agribusiness, marketing and sales. She has a solid foundation from a Bachelor of Commerce degree in Marketing from Edwards School of Business, and a background in emotional intelligence training.
Emily O'Brien, Founder, Comeback Snacks, @comebacksnacks 
Battling back from addiction and a federal sentence for drug smuggling to building a booming social enterprise, Comeback Snacks, Emily O'Brien's evolution from convict to entrepreneur is a story about lessons learned, resilience, determination, forgiveness and how to take a bad situation and turn it into endless positive opportunities. 
Emily while in prison, with no budget and no access to the internet, began developing Comeback Snacks after being inspired by the unique seasonings that her fellow inmates used on their popcorn.
Comeback Snacks is now available at major grocers, independent stores, and online retailers across North America.
Emily uses her business and her voice to advocate for prison reforms and for eliminating the stigma attached to people with prior convictions. Emily was recognized for her efforts at the 2020 YWCA Hamilton Women of Distinction Awards with the Business Leadership & Entrepreneurship award. 
Katelyn Duban, Emcee, Podcaster, @WildRoseFarmer
Katelyn Duban, born and raised in Southern Alberta, married into agriculture in 2016. At the time, it was not her intention to be an active member of the farm but quickly found a passion for farm life. In 2018, while working in the field found herself searching for a podcast that shared the stories of the importance of women in agriculture and wound up falling short. She began working on her own podcast and in the spring of 2019, she launched The Rural Woman Podcast.
Since then, she has interviewed many incredible women in agriculture doing amazing things in the field. With close to half a million downloads, Katelyn continues to share the importance of Women in Agriculture while sharing her own story through social media under the handle @WildRoseFarmer.