Description
FEARLESS is back!
On Thursday, October 12th, 2017, join Dan Lim | The Moto Foto for the annual FEARLESS photo exhibition in support of Diabetes Canada. This year's event – Face North, sponsored by Adrenaline Toronto, will be held at District 28. All featured prints will be available for silent auction, with proceeds going towards Diabetes research. This free event will feature demonstrations by Adrenaline Toronto, a Jumpstart motorcycle simulator from PFAFF Harley-Davidson, and various raffle prizes from our gracious sponsors. Free food & drink will be provided by Hank Daddy's Barbecue and Great Lakes Brewery!
About Face North
Canada is a mosaic of multiculturalism. A vast nation comprised of people from different countries and cultures, we remain united despite differences in beliefs or geography. At home or abroad, Canadian values support inclusiveness, human rights and dignity. Just as no two snowflakes are alike, each of us are unique. Motorcyclists share a common bond over their shared passion but each rider brings an individual experience through the clothes they wear and the motorcycle they own. Regardless of gender, ethnicity, sexuality, religion or beliefs, we ride together. That's what Fearless II is all about.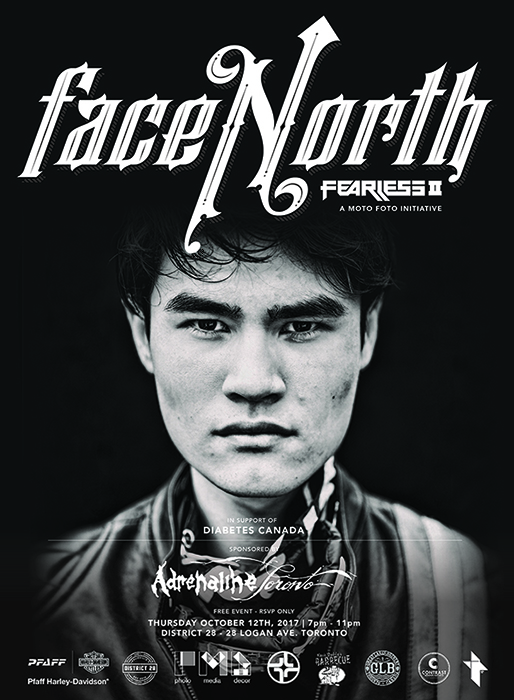 Like our Facebook event page to stay up to date!
Can't make the event but want to support the cause?
#FearlessTO
** For press, please contact Dustin Woods of Contrast Communications - dustin@contrastcommunications.ca**