Feast of Fields with a twist! A series of small culinary experiences hosted by chefs from past events on their patios throughout the summer.
About this event
Introducing Feast of Fields - around Ottawa!
This year, our annual Feast of Fields event will not be just one event. Instead, this culinary experience will be a series of small events hosted by chefs from past Feast of Fields on their patios throughout the summer. Each of these events will take place with the same strict adherence to COVID-19 health protocols that restaurants across the city are currently maintaining to reduce the spread of this disease.
This event series begins on July 15th at Restaurant e18ghteen. David Godsoe will be sharing his kitchen with Dominique Dufour (Gray Jay), Jason McLelland (Grunt) and Justin Champagne (Bar Lupulus). This event is a true treat as four of the top chefs in the city will be getting together after months of not being able to. Who knows what they're going to come up with?
And part of the proceeds will go to Carefor!
With a purchase of a $175 ticket, you will also be supporting vulnerable seniors, frontline health care workers, and the restaurant community during this difficult time. And a portion of your ticket price will be eligible for a tax receipt.
Our restaurant community and organic farmers have once again come together to support Carefor during a time of great need. They put the care in food as we care for our seniors.
There are only 36 tickets available so make sure you're fast or you'll miss your chance.
Thank you for continuing to support our charity, restaurant partners, and sustainable farmers. We can't wait to see you this year!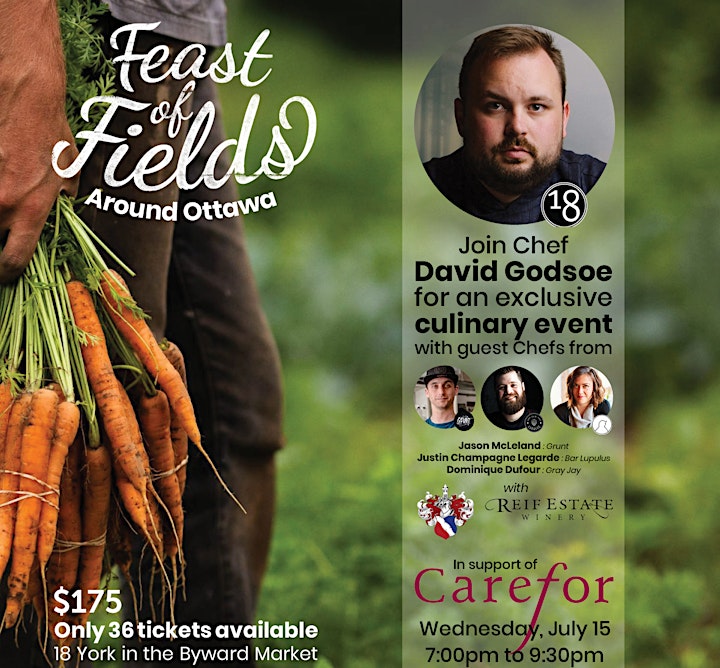 Organizer of Feast of Fields - around Ottawa