Feasting in the Great Bear Rainforest

Saturday, July 7, 2012 from 2:30 PM to 3:30 PM (PDT)
Event Details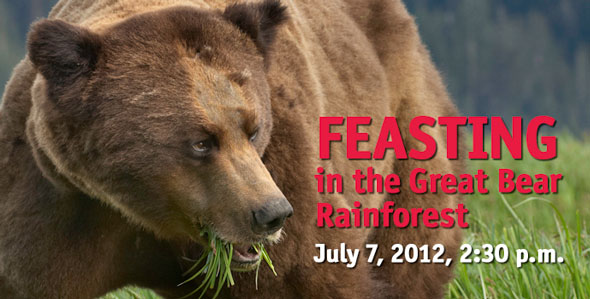 Feasting in the Great Bear Rainforest
A Presentation with Nature Photographer Brad Hill
Saturday, July 7, 2012, 2:30 p.m.
Beaty Biodiversity Museum (2212 Main Mall, Vancouver)
Feast your eyes on the wonders of British Columbia's Great Bear Rainforest! Brad Hill's evocative images of inhabitants in this globally-unique ecosystem show how complex and sensitive predator-prey relationships tie all organisms in this region together. The remoteness and arduous weather conditions of the Great Bear Rainforest present obstacles to any photographer – learn how one photographer used modern digital technology, good old-fashioned ingenuity and a strong dose of perseverance to artfully capture the beauty of this threatened ecosystem.
Included with museum admission price or membership.
Reserve your space now by purchasing your tickets above. Prices include ALL DAY admission to the museum on the day of the lecture. Remaining seats will be on a first-come, first-served basis on the day of the event if there are any remaining.

---
Feast
Predator-Prey Relationships in the Natural World. Photos by Brad Hill.
May 17 - July 22, 2012
Through stunning photographs, internationally acclaimed nature photographer Brad Hill presents an intimate look at animals feasting in the wild. Whether in the air, on land, or in water, Brad addresses the challenge of photographing wild and unpredictable animals at one of their most fundamental behaviours.
Witness a raven thief making off with a goose egg in its beak, stare into the eyes of a grey wolf hungrily licking its lips, and marvel at a circus of dolphins chasing a salmon. Explore the true omnivorous diet of bears. Brad's photographs include striking images of bears fishing for salmon, but they also reveal other feeding behaviours, including climbing trees for berries, grazing on grass, digging for roots, and even gnawing on the bones of other bears. These unique moments were all captured in Canada, predominantly in BC.
Within this collection, there are images captured in a coastal region of BC that has become known as the Great Bear Rainforest. It is one of the largest tracts of unspoiled temperate rainforest left on earth and is home to grizzly bears, black bears, spirit bears (rare white-phased black bears), coastal grey wolves, almost countless species of birds, and flourishing populations of many types of aquatic mammals. This ecosystem is driven by the energy and nutrient input provided by millions of salmon that return to their natal streams to spawn each year.
"It's about striving to find and expose the art inherent in nature. It's about increasing the awareness of the beauty, fragility and ephemerality of the natural world." –Brad Hill
Biography
Brad Hill is an internationally renowned nature photographer with a focus on conservation. He resides in the southern Columbia Valley of BC, wedged between the Rocky Mountains to the east and the Purcells to the west; an area sometimes known as the "Serengeti of North America." He shares his life with his longtime partner Patti and their two almost human Portuguese Water Dogs - Diego and Jose.
Formally trained as a wildlife biologist with a speciality in animal behavior, Brad's professional journey eventually led him back to nature as a full-time conservation and nature photographer in 2005. He currently concentrates his photographic efforts in North America and, in particular, western Canada.
Brad's work has been recognized by numerous international organisations, and awards for his photographs include Wildlife Image of the Year (Nature Photographer's Network, 2008) and Most Creative Nature Image (Creative Nature Photographers, 2009). He is also the Lead Moderator in the Wildlife Gallery of Nature Photographer's Network, the largest online community of nature photographers on the planet. www.naturalart.ca
When & Where

Beaty Biodiversity Museum
2212 Main Mall
University of British Columbia
Vancouver, British Columbia V6T 1Z4
Canada

Saturday, July 7, 2012 from 2:30 PM to 3:30 PM (PDT)
Add to my calendar
Organizer
Fall in love with the diversity of life as you explore 20,000 square feet of exhibits, visit our teaching lab, and stare through the jaws of the largest creature ever to live on Earth—the blue whale.

The museum puts UBC's natural history collections, with more than two million specimens, on public view for the first time. Among our treasures are a 26-metre-long blue whale skeleton suspended in the Djavad Mowafaghian Atrium, the third-largest fish collection in the nation, and myriad fossils, shells, insects, fungi, mammals, birds, reptiles, amphibians, and plants from around British Columbia and the world.

Through a combination of exhibits, hands-on activities, educators' resources, public presentations, and community and cultural engagement, we are working to increase understanding of the interconnectedness of all life on Earth. Just as important, we connect the world-renowned scientists at the adjacent Biodiversity Research Centre with the public. This unique combination of world-class, university-based research and beautiful, compelling exhibits makes the research conducted by UBC scientists more accessible and more relevant to the public.