Sales Have Ended
Registrations are closed
Ticket sales have ended for this event.
Sales Have Ended
Registrations are closed
Ticket sales have ended for this event.
Powered by TIAC / Un concept de l'AITC!
About this Event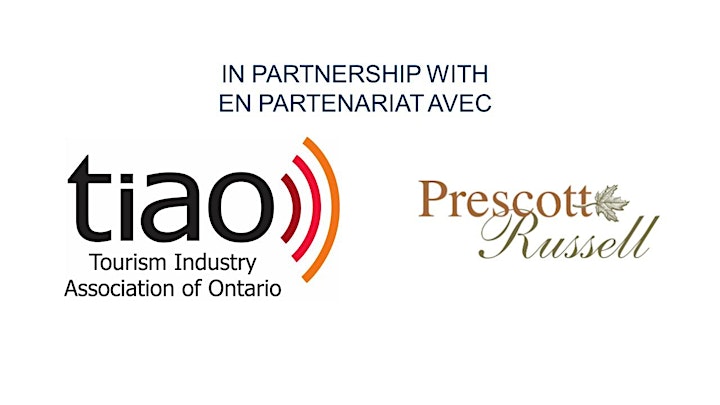 Le français suit
Elevating Canadian Experiences' online workshops are tailored for tourism operators in Prescott-Russell, ON.
Are you a tourism operator located in Prescott-Russell? Then join Elevating Canadian Experiences for our FREE online workshop series on February 8 and 10, 2021 to help you take your business to the next level.
We offer workshops focused on two themes:
Culinary Tourism | Growing agritourism : this workshop begins with an introduction to the concept of agritourism as a subset of culinary tourism, followed by an examination of the diversified use of agricultural land through tourism-related activities that are focused on food producing people, places, and processes. In addition to showcasing best practices in agritourism, this workshop covers agritourism experience development challenges and opportunities.
Winter and Shoulder Season Tourism: Majority of Canada's tourism takes place in three major urban centers during the summer months. We want to help expand the opportunity for tourism operators in rural communities and those operating in the winter and shoulder seasons to attract new visitors and grow their businesses.
These FREE workshops will help you take your tourism business to the next level and hit the ground running once the Canadian economy re-opens following the end of the COVID-19 health pandemic.
Workshops will take place entirely online via Zoom, so please ensure you have downloaded the application ahead of the workshop: https://zoom.us/.
Space is limited, so don't wait - register today!
---
Les ateliers Enrichir l'expérience canadienne ont été adaptés aux besoins des entreprises touristiques de Prescott-Russell, ON.
Exploitez-vous une entreprise touristique à Prescott-Russell, ON? Propulsez-la vers de nouveaux sommets en prenant part aux ateliers du programme Enrichir l'expérience canadienne qui sont offerts GRATUITEMENT en ligne le 8 et 10 février 2021!
Les sujets des deux programmes d'ateliers sont :
Tourisme gourmand | Cultiver l'agrotourisme : Cet atelier commence par une introduction au concept de l'agrotourisme comme sous-ensemble du tourisme culinaire, suivi d'un examen de l'utilisation diversifiée des terres agricoles dans le cadre d'activités liées au tourisme qui sont axées sur les personnes, les lieux et les processus de production alimentaire. En plus de présenter les meilleures pratiques en matière d'agrotourisme, cet atelier aborde les défis et les occasions de développement de l'expérience agrotouristique.
Tourisme en saison hivernale et intermédiaire : Au Canada, la majorité des activités touristiques ont lieu dans trois grands centres urbains et pendant la saison estivale. Le but de ce programme d'ateliers est de contribuer à élargir les occasions d'affaires des entreprises touristiques dans les communautés rurales et pendant la saison hivernale et intermédiaire ce qui leur permettra d'attirer de nouveaux marchés de touristes et de faire croître leur entreprise.
Ces ateliers GRATUITS vous aideront à propulser votre entreprise vers de nouveaux sommets et à être fin prêts, dès la reprise économique, à accueillir de nouveau les touristes.
Les ateliers sont offerts en ligne, sur la plateforme Zoom. Téléchargez l'application avant les ateliers à https://zoom.us/.
Les places sont limitées. Inscrivez-vous dès maintenant!