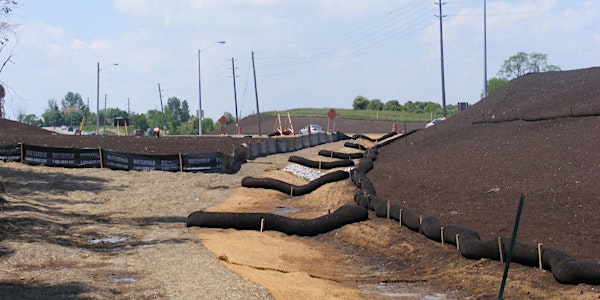 February 16, 2023 Kawartha Conservation ESC Workshop
Free online ESC Workshops from Kawartha Conservation, the City of Kawartha Lakes and Sustainable Technologies Evaluation Program
Date and time
Thu, Feb 16, 2023 6:30 AM - 8:00 AM PST
About this event
Link to workshop: February 16, 2023
Free online Erosion and Sediment Control Workshop offered through a partnership between Kawartha Conservation, the City of Kawartha Lakes and the Sustainable Technologies Evaluation Program.
Course Description:
Kawartha Conservation is happy to announce a partnership with the City of Kawartha Lakes and the Sustainable Technologies Evaluation Program to offer 2 free online ESC workshops to practitioners working in the Kawartha Region. The workshops will be held on February 9 and 16, 2023, and each will cover a different range of topics.
This second workshop, to be held on Feb. 16, 2023, has been developed to introduce participants to ESC concepts related to inspections and monitoring, identifying and solving problems on sites, and relevant policy and legislation. It is intended for contractors, developers, consultants, municipal staff, landowners or anyone looking to enhance their knowledge based on the latest guidance on erosion and sediment control concepts and best management practices. Topics covered during this 1.5 hour online workshop will include:
Pumping and Dewatering Best Practices
The Good, the Bad and the Ugly – Common ESC Failures and How to Address Them
Inspections and Monitoring
Legislation and Policies Relevant to ESC in Ontario
Questions and Discussion
Learning Objectives:
After completing this course participants will be able to:
Understand options for responsible pumping and dewatering on construction sites to mitigate sediment release during these activities
Understand the fundamentals of ESC inspections and how to establish monitoring needs based on site-specific considerations
Identify common ESC shortcomings/failures on sites and understand how they can be prevented and resolved
Understand the Federal and Provincial Legislation related to construction activities and the importance of due diligence
Instructor:
Lisa Rocha is a Project Manager with the Sustainable Technologies Evaluation Program at the TRCA. She specializes in sustainable water management with a focus on LID and ESC practices. In addition to her involvement in monitoring and research studies, and development of professional training, Lisa has led the development of several guidance documents, most recently the 2019 ESC Guide for Urban Construction. Lisa is a graduate from the University of Toronto and has been engaged in research related to sustainable water management technologies for 18 years.