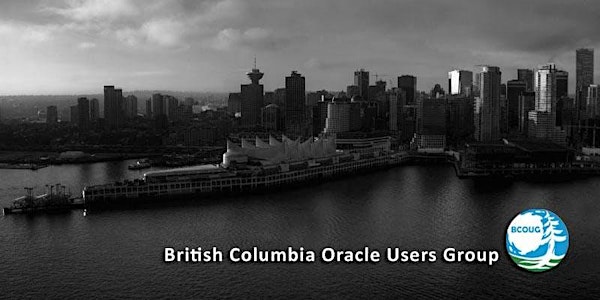 February 2020 Meeting - Oracle Licensing
Learn how to take control of your Oracle licenses and make sure that your coverage is just right.
When and where
Location
BC Liquor Distribution Branch 3383 Gilmore Way Burnaby, BC V5G 4S1 Canada
About this event
You are cordially invited to join the BCOUG at our next Vancouver event on February 20, 2020.
Session 1
Topic: Oracle Licensing
Speaker: Mihir Patel, Apps Associate
Abstract
Learn how to take control of your Oracle licenses and make sure that your coverage is just right. Studies show that 92% of Oracle customers do not understand the terms of their licenses. Oracle software is incredibly powerful and there is no limit to the different ways a company can adapt these tools to fit their business. Small changes or updates can affect the way your Oracle licenses cover the software you own. Many customers are paying for licenses they don't need or have parts of their system that have grown out of the existing licenses and are now uncovered without even realizing it.
Topics that are covered:
Common settings that can affect your Oracle licensing
How to evaluate Oracle licenses and technology
The most cost-effective ways to architect your systems and take full advantage of the licenses you already own
New concerns (Oracle Java, Oracle Virtual Box)
Oracle Licensing on the public cloud
About the Speakers
Mihir Patel - Apps Associates
VP of Cloud Architecture at Apps Associates and ex Chief Technical Officer (CTO) at SmartDog services, Mihir has 22 years of experience leading and delivering over 50 transformation and implementation projects as engagement manager, program, solution architect, and license consultant. Mihir has focused on business and technology solutions in architecture strategy, infrastructure management and cloud migration. Mihir has extensive experience in project leadership, architecture strategy, global implementations, Oracle EBS implementations and transformative technology projects, and Oracle License management. Mihir has a passion for helping clients maximize their Oracle License value.