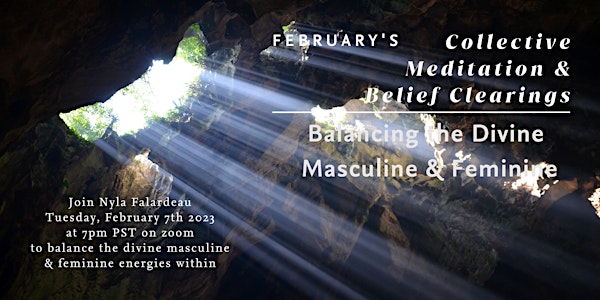 February's CMBC: Balancing the Divine Masculine & Feminine
Balance the divine masculine & feminine energies within to create more ease, alignment and grace in your life.
Refund Policy
Contact the organizer to request a refund.
Eventbrite's fee is nonrefundable.
About this event
Welcome to Collective Meditation & Belief Clearings, a monthly invitation to meet together virtually and transmute any stagnant energy that is no longer in alignment for your soul's growth and ascension.
This month's energetic theme is Balancing the Divine Masculine & Divine Feminine Energies.
Join us in this collective meditation and visualization on Tuesday, Feb 7th 2023 at 7pm PST to activate your divine truth, sink into soul alignment and recharge.
Please note the 7pm PST start time*
Upon purchasing this ticket you will receive an email with the zoom link in it, be sure to check your junk/spam folders.
**If you cannot make it live a replay will be sent out within 24 hours. The energetic frequency is encoded and can be accessed at any time, you do NOT have to attend live to receive the energy of these transmissions.**
Cultivating a balance between the divine masculine and feminine energies within bring you into a harmonious aligned state to:
listen, honour your intuition and have the confidence to follow through with aligned action
feeling grounded and empowered - not scattered and out of control
have work - life balance
feel greater inner peace and tranquility
expand your awareness
know, name and express your emotions without being swept away by them
be energized
have self acceptance, self compassion and self love
hold compassion for others while not being energetically drained
We live in a predominantly wounded masculine society aka the patriarchy and this programming has (wrongly) taught us that masculine energy is scary, bad, unstable and hurtful while feminine energy is useless, not trustworthy, needy and even. Both energies, in their highest expression, are needed to live in alignment with ease, grace and in pleasure.
This belief is the foundation of generations of suffering. It ends now.
When one is open to the divine or highest aspect of masculine or feminine energy, as opposed to the shadow or wounded side, life operates more seamlessly and greater soul fulfillment.
When there is an imbalance with these energies it may show up as physical pain, lack of motivation, burn out, disconnection from Self and others, overworked, mistrusting your own knowings/truths/feelings, feeling unloved and not seen fully, not belonging, in victim mindset, repressed emotions, over giving, resentful, bitter and generally not engage or present in life.
Join February's CMBC to explore finding your inner balance between the Divine Masculine and Feminine energies through meditation, energy work and self reflection.
Be held and guided to integrate this magic with a potent guided meditation, and we will end the evening with mini 1:1 Intuitive Readings for those live on the call and where Spirit directs me to.
--------------
This virtual event is held on zoom and is open to everyone.
Upon purchasing your ticket you will be emailed the zoom link. We will be held together in this intentional and conscious space for one hour. During this time you are welcome to sit, lay down or be in any position that is comfortable for you.
If you have ever wondered what a one:one session is like with Nyla, this collective event is a great introduction to working together.
Let us open the portal and travel together for our collective healing.
Come with an open heart and Nyla will take care of the rest.
Please note: If you cannot make it live a replay will be sent out within 24 hours. Add the email nyla@nylafalardeau.com to your safe contact list to prevent you missing any important information.
Please check your junk, spam or promotions inbox as they sometimes go there.
Energy is not limited to time or space, energy work and belief clearings can be accessed at any time.
--------------------------------------------
nylafalardeau.com
**No session given by Nyla Falardeau is intended to, nor should it ever take the place of professional services including but not limited to: medical, legal, financial, business, psychological, therapy, and/or counselling.