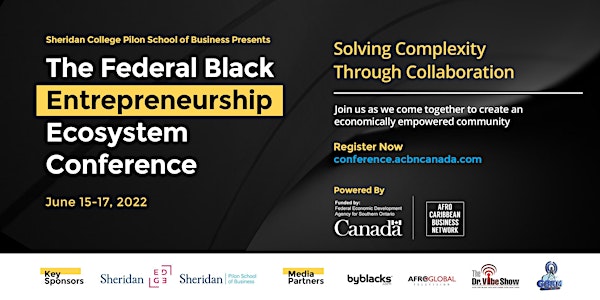 Federal Black Entrepreneurship Ecosystem Conference 2022
Solving Complexity Through Collaboration
When and where
Location
Sheridan College - Hazel McCallion Campus 4180 Duke of York Blvd B-Wing Mississauga, ON L5B 0G5 Canada
About this event
Building off of the Federal Black Entrepreneurship Program.
Join us to examine the progress of the Black Entrepreneurship Ecosystem as we collaborate to improve and amplify each aspect of our business community.
Discussing strategies to overcome organizational barriers, Effective networking Utilizing the right marketing and communication tools. Setting SMART goals and milestones. Creating, implementing and managing the strategic plan AND MUCH MORE….
40 Black-led Business Support Organizations will gather for the first-ever Federal Black Entrepreneurship Ecosystem Conference.
The Ecosystem Fund is an investment of $100 million by the Canadian Federal Government to advance and support Black businesses and entrepreneurship in the Black community. The conference will address how the funds get spent throughout the Black business community.
The Afro Caribbean Business Network (ACBN), a recipient of the Black Ecosystem Fund and one of Canada's leading organizations for mentoring and developing Black Businesses, will Chair this conference.
Date: Thursday, June 16, 2022 Time: 9:00 am - 5:00 pm Location: Sheridan College - Hazel McCallion Campus4180 Duke of York Blvd B-Wing Mississauga, ON L5B 0G5
Please note there is still a mask mandate at effect at the Sheridan College Venue.