Enjoy an evening of song and stories with Tom Jackon. A fundraiser in support of Alzheimers research and children with dyslexia.
About this event
Scottish Rite, Valley of Calgary proudly presents:
"FEELING GOOD" An evening with Tom Jackson.
Tom Jackson is a singer, songwriter, and actor, and an Officer of the Order of Canada. Join us for a wonderful celebration of this Canadian icon, sharing stories and songs in the beautiful Grace Presbyterian Church.
Opening performance by singer/songwriter Chuck Rose
All proceeds from the event will be donated to the Valley of Calgary Scottish Rite Foundation in support of Alzheimer's research and the Learning Centre for children with dyslexia.
*No refund or exchanges.
If event canceled or postponed, purchaser can choose to use ticket on new date or request full refund per Alberta laws.*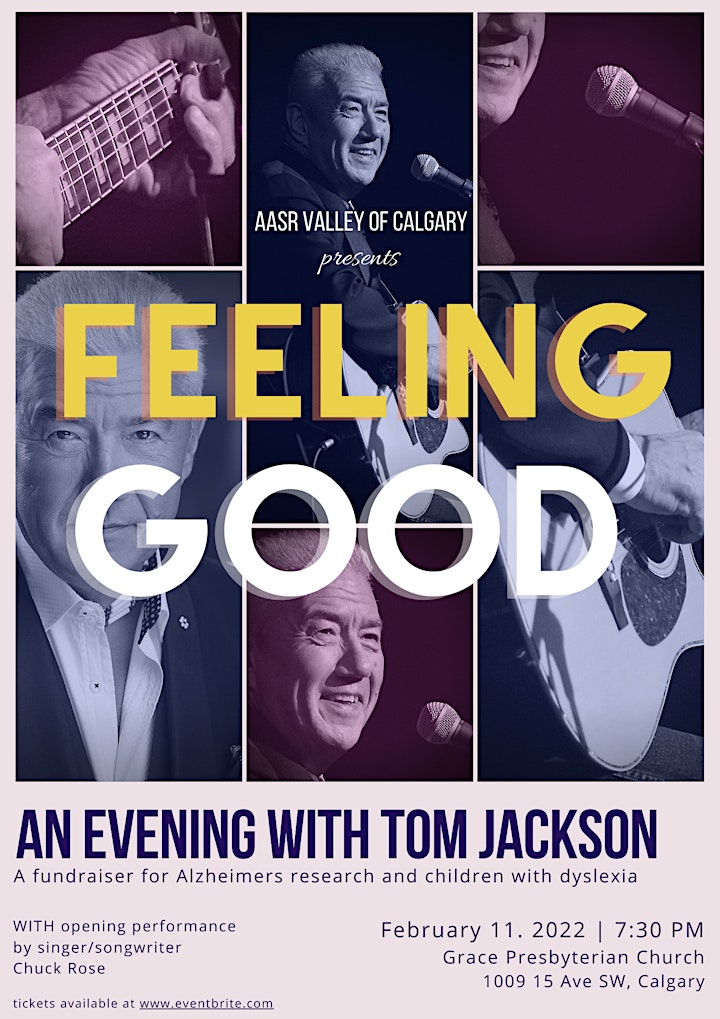 Organizer of "FEELING GOOD" - An Evening with TOM JACKSON
Charity
In Canada the Scottish Rite, through the Scottish Rite Charitable Foundation, provides generous research grants and bursaries toward the finding of srcf colourcauses, prevention and treatment of all forms of the Puzzles of the Mind such as Dementia, Alzheimer's and Dyslexia. Dyslexia and how it affects children is being addressed by our Learning Centres for children situated across Canada. The Valley of Calgary supports the Scottish Rite Learning Centre Calgary (http://www.srcflcc.org/) which assists children with dyslexia.
For more about the Scottish Rite Charitable Foundation please follow this link to see a new video production and see how the funds are used. (http://www.srcf.ca/)