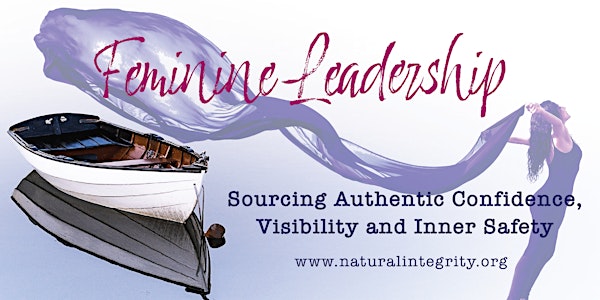 Feminine Leader: Sourcing Authentic Confidence, Visibility and Inner Safety
Unlock the Source of your True Value, Self-Trust and Courage you Need to Take Bold Actions, Move Forward and Lead with Integrity and Purpose
About this event
Most of us think confidence is a FEELING of being absolutely clear, competent, and certain we'll succeed…
And if that's the case… it's no wonder that we never FEEL that way!
In the achievement-oriented culture and fast-paced environments, we may easily lose connection with our true value & self-worth… and it may lead us to a feeling overwhelmed, powerless, "not enough" and hold us back from moving forward.
✨ What if authentic confidence is something else, an inner capacity that you could tap into and cultivate? ✨
These are the questions we will answer in our women's group,
where you will discover how to tap into the source of authentic confidence and courage you need to step into your full presence and audacity, to play your biggest game.
Join in inspiring conversations, where you will discover how to:
to unlock the true source of your own value that allows you to speak up, stand out, receive and magnetize resources and support without depleting "push energy";
what real, deep-sourced confidence is and how to access it
the 3 biggest confidence blocks for women, and how to not be held back by them
harvest failures/mistakes or see uncertainty in ways that fuel your resilience and progress;
tap into the source of authentic confidence and courage you need to step into your authentic presence, gain comfort with being seen, shine your light, and play your biggest game.
Together we will immerse in guided inquiry and embrace practices to shift into grounded and creative flow. We have created a space for you to pause, breathe, reflect and inspire each other, so you will leave each session feeling greater energy, clarity and confidence to move forward in your life.
✨ Join us! No previous experience is needed!
By cultivating an open mind, heart and will, you will connect to deeper sources of knowing and hold a space for a creative breakthrough in the area of life that is calling you right now.
Imagine feeling safe, authentically confident, alive and deeply connected to your value in a way that enables you to become fully visible and to shine your unique light brightly into the world.
✨ Join us! Get out of your head and into your body to reconnect with your inner resources, cultivate deep self-trust and presence that activates your creative, solution-oriented mindset and contributes to positive change in your life.
✨ We commit to ZERO negativity. There is absolutely no room for anything other than solution-focused, clear, respectful, growth-oriented, open communication.
Who is this workshop for?
This gathering is created for women from all walks of life who want to tap into their inner wisdom, feminine radiance, agency and leadership that changes the world from the inside out. Our intention is to support women on their journey to integrity, self-worth & belonging so they can thrive and live their life to the fullest.
Step into your feminine radiance, inner authority & flow - co-create with us a better world!
We ask all participants to come to the meeting with their CAMERA turned ON. To help create a warm, welcoming and safe space, participants with their camera off will be removed. Thanks for your understanding.
This workshop uses a 4-step transformational facilitation model of the Institute for Woman-Centered Coaching, Training & Leadership.
The workshop is NOT a substitute for counselling, psychotherapy, psychoanalysis, mental health care.
🌕
"A rising tide lifts all boats"
✨ You are welcome to 𝙙𝙤𝙣𝙖𝙩𝙚 (suggested $20-60) via PayPal www.paypal.me/MonikaBarcikowska or https://www.buymeacoffee.com/integrityMJB
✨ 𝙄𝙣𝙘𝙡𝙪𝙨𝙞𝙫𝙞𝙩𝙮 𝙊𝙥𝙩𝙞𝙤𝙣: 0 EUR
- It's important that everyone who wants can join us. When you pay for your ticket you enable others to join free of charge. However, if you don't have the possibility to donate, please email 𝙞𝙣𝙛𝙤𝙣𝙖𝙩𝙪𝙧𝙖𝙡𝙞𝙣𝙩𝙚𝙜𝙧𝙞𝙩𝙮@𝙜𝙢𝙖𝙞𝙡.𝙘𝙤𝙢. All the donations from this event will go to continuing feminine empowerment and green inclusivity work.
🌒 🌓 🌔 🌕 🌖 🌗 🌘
"This is a powerful invitation to deeper clarity about how to become a woman I came here to be" - Amy
"Monika has the skills, the wisdom, and the heart to transform lives for the better. She provides people with the tools and support they need to overcome their deepest challenges and step into their power. You will leave her workshops feeling grounded, grateful, and inspired!" - Callie
"It's a window to my own future. Monika's warm and vibrant energy makes one feel seen, heard and safe. I really appreciated working with them." - Linda
🌕
Join us as we navigate the realities of our new normal world - as we become aware of how our lives have changed, and amidst voices calling for social change globally.
JOIN US VIA ZOOM and in the comfort of your own space!
✨ The seats are limited to a max of 6-8 persons, please arrive ON TIME and ensure you have CAMERA and AUDIO ON! All members of the group share their commitment to 100% confidentiality and mutual respect.
✨ You will receive the Zoom link upon registration.
✨ If possible, please use EARPHONES for the best audio experience.
I encourage you to create a private, quiet, nurturing and comfortable space that supports your and others' participation.
🌑 🌒 🌓 🌔 🌕 🌖 🌗 🌘 🌚
✨ Participants of the workshop have an opportunity to have a Free Discovery Call with me. Please respond to this short survey first:
https://forms.wix.com/b4a7d00f-e5de-4710-b438-c9093716ef13:9b1648f1-d998-4ffd-97a2-f945050b5e8e
✨ IMPORTANT ✨ The seats are limited and the waitlist is often LONG. PLEASE CANCEL the ticket, if you are unable to attend, so we can open the spot on the waitlist!
🌕
Guidelines: By way of supporting our connection, I request that you honor the following agreements:
✨ Reside in a sense of openness and curiosity.
✨ Choose active listening and presence - minimize distractions.
✨ Respect each person's unique experience.
✨ Hold each other in confidence - stories live on within us, names stay within this group.
✨ Participate at our own comfort level, mindful of balanced participation.
🌑 🌒 🌓 🌔 🌕 🌖 🌗 🌘 🌚
Questions?
🌻 Contact Monika via infonaturalintegrity@gmail.com or https://www.linkedin.com/in/monika-barcikowska-012b5b183/
🌻 Learn more about Monika and Natural Integrity:
https://www.naturalintegrity.org/
https://www.facebook.com/FeminineLeadershipCoach
https://www.facebook.com/ExpatPathParis/
See you soon!
----- OUR MISSION -----
We believe that every woman has a unique genius zone and a role in making the world a better place. We also believe in an approach that integrates rationality and intuition, experience and creativity, science and soul to foster new ways of living and leading. Done with playing small. Time to share your medicine with the world. We support feminine trailblazers to align their passion, purpose and profession so they can share their gifts with the world while maintaining their well-being, prosperity and inner fulfilment.
🌕 Please send DONATION via PayPal:
www.paypal.me/MonikaBarcikowska or
https://www.buymeacoffee.com/integrityMJB
----- ABOUT ORGANIZER -----
Monika Barcikowska, Ph.D.
Climate Scientist & Feminine Empowerment Coach | Applying Women's Empowerment Principles, Theory U & Nature Connectedness to Unlock Your Sustainability Leadership Potential
Monika combines her experience as an environmental scientist, facilitator of feminine empowerment, and coach for international women in transition and change-makers with her curiosity and passion to create positive change in the world.