Event Information
Refund Policy
Refunds up to 1 day before event
In this small group workshop, you will discover a whole systems way to look at resourcing your enterprise plus long term feasibility
About this Event
Feminist entrepreneurs aim to build flourishing, sustainable enterprises which do not perpetuate patriarchy, white supremacy, colonialism AND which demonstrate viable alternative ways to resource, finance and grow healthy enterprises.
Is that even possible? Is my project or venture idea able provide living wages (or better!) or fair compensation plus sustain me, my family and the community? How big do I really want my enterprise to be? What is autonomous resourcing? What are the implications?
In this intimate workshop, you will discover a whole systems way to look at resourcing your enterprise plus how to assess feasibility by learning how to create a three year cash/resource flow model that like a magic crystal ball, will give you clear insight into whether or not your enterprise idea, as conceived, is truly sustainable and capable of helping you generate the impact plus life you intended to create with this idea.
Traditional cash flow forecast exercises attend only to cash. However, we also take a look at the value of social and community capital plus assess opportunities for bartering and trading as a way of autonomously resourcing both your venture and the community you engage in the course of building out an idea.
Math anxiety? Not comfortable with spreadsheets? Don't worry. This is a safe, supportive environment. It's why we keep participant numbers low. As your guides, we will both empower and support you along the way. Preparation:
Readings: In advance of the sessions, participants will receive a reading related to feminist finance and independent enterprise resourcing.
Google Docs: Participants will be asked to come to the session having completed a template listing their expenses, products/services and prices.
The Skinny: 3 things you will do in this session
• Learn if this enterprise is feasible or not
• Uncover pivot opportunities or changes in strategy to enhance prospects of feasibility
• Leave feeling more confident about your enterprise idea and journey.
NOTE: Bursary tickets are available on a pay what you can basis for anyone who needs it. Also note that in order to participate, you will need access via the FEC. You will have free access for two months but the system will ask you for a credit card. You can cancel your membership anytime and you will NOT be charged when you sign up!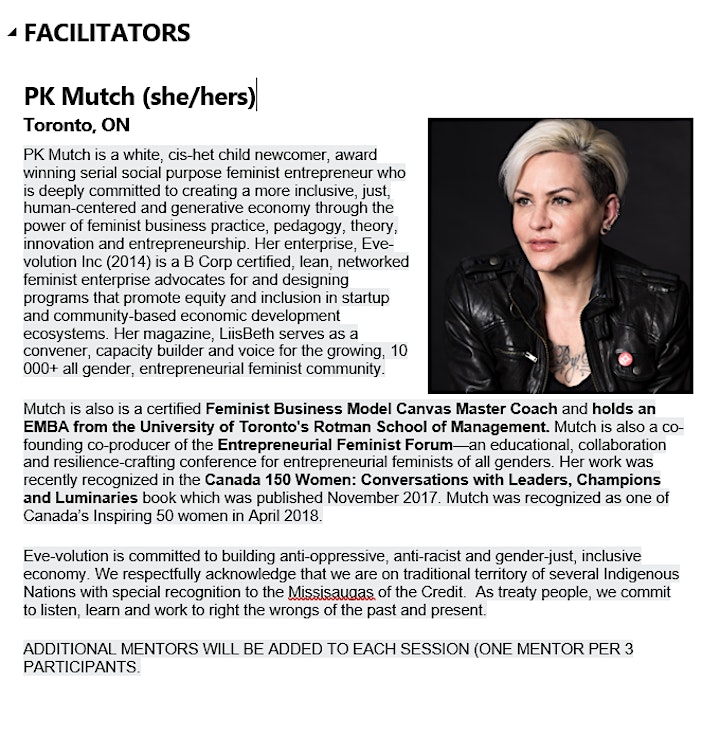 A WORD ABOUT OUR TICKET PRICING PHILOSOPHY
To compensate fairly the work that will go into this workshop and to generate help sustain the work of Liisbeth.com and the Feminist Enterprise Commons' online community, workshop tickets are available at two levels: Full price and Pay What You Can--even if it is only $2.00 (no judgement!). Offering a PWYC ticket is there to provide access to those with less privilege that most. We don't believe in totally free tickets for workshops because we feel its important to commit with some level of payment. Space is limited so we can give you the support you need in the workshop. Too many people changes the experience. So if you take a space, it's important to show up if at all possible.
To select the ticket option that feels right for you, draw on the wisdom and example of Holly Poole-Kavana at Red Bird Botanicals. CV Harquail brought this framework to our attention. Holly created this guidance (below) which we cite with gratitude.
Consider choosing a lower ticket level if you:
are supporting children or have other dependents
have significant debt
have medical expenses not covered by insurance
receive public assistance
have immigration-related expenses
are an elder with limited financial support
are an unpaid community organizer
Consider choosing a higher ticket level if you:
Consider a higher ticket level if you:
own the home you live in
have investments, retirement accounts, or inherited money
travel recreationally
have access to family money and resources in times of need
work part time by choice
have a relatively high degree of earning power due to level of education (or gender and racial privilege, class background, physical ability, etc.) Even if you are not currently exercising your earning power, I ask you to recognize this as a choice.
Date and Time
Location
Refund Policy
Refunds up to 1 day before event