Event Information
Refund Policy
Refunds up to 1 day before event
Don't miss this incredible opportunity learn about Canada's feminist history and be in full frontal conversation with Judy Rebick
About this Event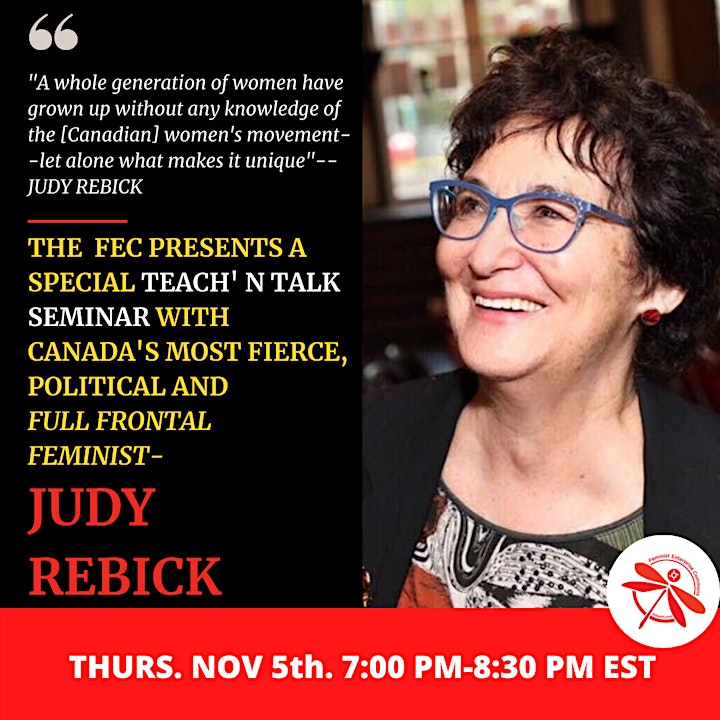 "When I asked who has heard of Dr. Morgentaller, only two people out of 40 put up their hand"--Judy Rebick, October 2020
We can't truly move forward unless we know where we have been.
Don't miss this incredible opportunity to learn about this the history of the Canadian women's movement from the incredible Judy Rebick, Canada's most influential and impactful feminist activist.
Rebick not only knows the history--she and her allies and colleagues across the country--made feminist history!
In this evening's Teach n' Talk, Judy will present a 40 minute talk on the history of Canadian women's movements with the aim of highlighting key moments, players and what makes it unique from sister movements in the U.S. and International women's movements. Following her formal presentation, we will kick off our conversation and invite questions about where the movement is today, and what to expect next--or anything you want to ask!
Given this event is on the heels of the U.S. election, it should be an interesting evening!
About Judy Rebick
Judy is outspoken, opinionated, direct and never holds back. Given this is right after the U.S. election, it's guaranteed to be a fiery evening.
NOTE: THIS EVENT FEE INCLUDES 3 MONTHS FREE ACCESS TO THE FEC.
The Feminist Enterprise Commons (FEC) is an online co-working space for enterprising intersectional feminists creating projects, new ventures or operating as sole proprietors in ways that advances social justice for all.
We hold a series of events, skills shares on feminist enterprise building wisdom and tools, writer's workshops, and community meet ups about current events.
THE FEC is a membership community created by LiisBeth Media. LiisBeth is an online magazine for enterprising feminists worldwide. www.liisbeth.com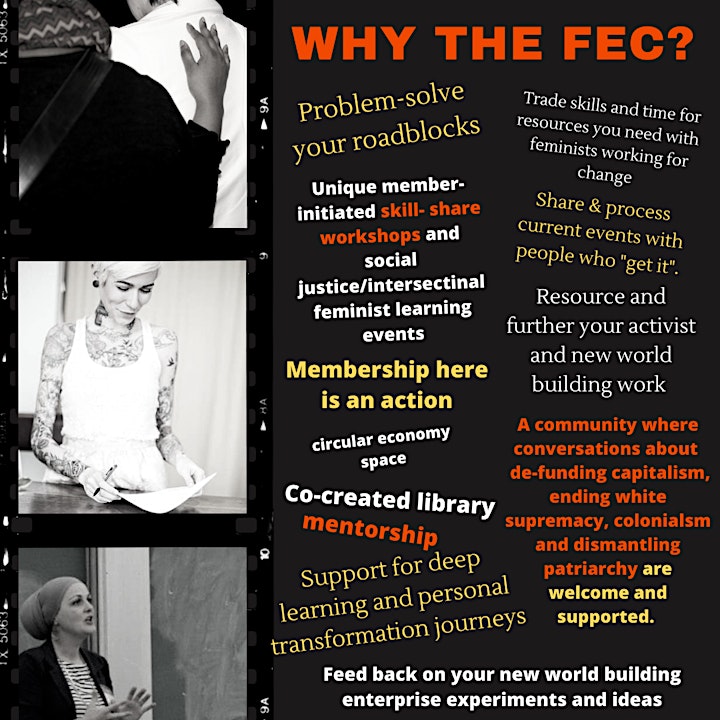 MORE DETAILS ABOUT FEC?
This event is open to Feminst Enterprise Commons members only. The Feminist Enterprise Commons is an online co-working space for enterprising feminists
The Feminist Enterprise Commons (FEC) is a online co-working space for enterprising womxn, gender nonconforming and trans feminists looking for community, bravery and support for building, resourcing and strengthening norm-busting feminist enterprises (and by "enterprise" we mean businesses, nonprofits, collectives, co-ops and any basically kind of project). Here you will find new friends despite closed borders, unique member-initiated meet ups, skill-share workshops, ad-hoc mentors and transformational learning and sharing opportunities--plus a chance to process and debate today's painful and encouraging current events with feminist academics, political advocates, artists, enterprise founders, and community leaders. You don't need to wear a mask when you come in. And everyone makes and brings their coffee! Essentially, we operate a bit like an collectivist, enterprise mutual aid network for those working to create sustainable, impactful flourishing enterprises of any kind that challenges--ok--in some cases—outright defies tenets of capitalism, white supremacy, colonialism and patriarchy not to mention dominant entrepreneurship and innovation narratives. We need this space because working outside of the system in order to create and experiment with new systems and models is hard, undervalued as a form of innovation and under resourced because outcomes don't fit the "reinforce the status quo" formula that determines access.Collectively, our members are a circuit of diverse, compassionate open-hearted activist-oriented entrepreneurs creators, researchers and community leaders known as "FEC'ers".Apart from all the benefits, FEC'ers also gather here because this is a non-surveilled (i.e.: Not Facebook), non-patriarchal, adventurous, safe, intersectional, inter-generational, trans inclusive space. We are based in Toronto, Ontario, and therefore, not surprisingly bring a uniquely Canadian feminist perspective to this work. Toronto has arguably become the North American centre for the advancement of feminist enterprise. We gratefully operate in a culture and nation where leaders talk about "intersectional feminism" in parliament without derision. That said, at present, about 30% of our members are in the U.S. and 10% are from other countries including France and India. Can't wait to meet you!STOP!! This is NOT a womxn's empowerment network--though we promise this space will make you feel powerFUL, plus refreshed, challenged and supported.
Social media handles @FECtrek @liisbethq www.liisbeth.com
https://feministenterprisecommons.mn.co/share/gWMh-_mFf6AFz5CS?utm_source=manual
A WORD ABOUT OUR TICKET PRICING PHILOSOPHY
To recognize the value of the work that will go into this teach 'n talk, and to generate some funds to fairly pay our presenter plus helps sustain the work of Liisbeth.com and the Feminist Enterprise Commons' online community, FEC event tickets are available at three price levels: Future Doula, Culture Maker and Pay What You Can.
To select the ticket option that feels right for you, draw on the wisdom and example of Holly Poole-Kavana at Red Bird Botanicals. CV Harquail brought this framework to our attention. Holly created this guidance (below) which we cite with gratitude.
Consider choosing a lower ticket level if you:
are supporting children or have other dependents
have significant debt
have medical expenses not covered by insurance
receive public assistance
have immigration-related expenses
are an elder with limited financial support
are an unpaid community organizer
Consider choosing a higher ticket level if you:
Consider a higher ticket level if you:
own the home you live in
have investments, retirement accounts, or inherited money
travel recreationally
have access to family money and resources in times of need
work part time by choice
have a relatively high degree of earning power due to level of education (or gender and racial privilege, class background, physical ability, etc.) Even if you are not currently exercising your earning power, I ask you to recognize this as a choice."
Date and Time
Location
Refund Policy
Refunds up to 1 day before event