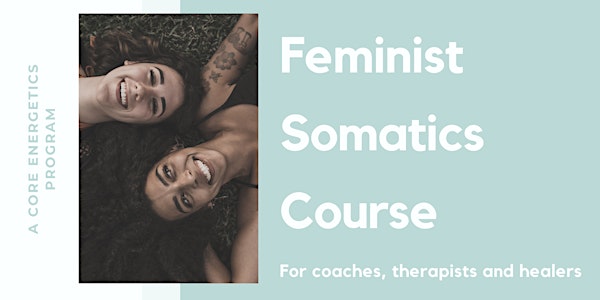 Feminist Somatics Course for Coaches, Therapists and Healers
The magical thing about working with your client's body in a feminist way, is that unplanned positive outcomes emerge...
Refund Policy
Contact the organizer to request a refund.
Eventbrite's fee is nonrefundable.
About this event
The Feminist Somatics Course is perfect for you if you love nature, are a little weird and witchy and love the shit out of your clients.
And the magical thing about working with your client's body in a feminist way, is that unplanned positive outcomes emerge:
– She falls in love which she secretly wanted but hadn't really said out loud
– She has unexpected relief from crippling anxiety
– Seemingly out of nowhere they sign soulmate clients
My 4 year Somatics training was one of the most life changing experiences.
And I want to share this magic with highly skilled coaches, therapists and healers who don't need another 4 year training but want to add deeper somatic tools to their practice in a feminist way.
Since you're still reading, I can tell you love your clients and want to continually deepen your skills.
I want to start by celebrating that. Celebrating you. And how much you care about your people. And how you're doing amazing work with them ALREADY!!
Details:
Curriculum
– Trauma Informed Somatics
– High Anxiety Clients
– Being Diversity Equity Inclusion Informed (taught by special guest teacher)
– Healing Trauma with Somatics
– Somatic Techniques to Heal Patriarchy
– Working with Resistance
Classes and Recordings
Classes will take place Mondays 7:00 – 9:00 pm EST
They will takes place on zoom, so you'll learn how to apply these techniques on zoom and in person.
If you can't attend live, you'll be sent the recording of the class afterwards.
Dates
Group will take place for 6 weeks.
Mondays 7:00 – 9:00 pm EST
Oct 17, 24 & Nov 7, 14, 21, 28, 2022
(We're skipping Halloween Monday so you can get your witchy weird on lol!)
Investment
Investment for the course including all recordings and the training manual is $550 CDN (approx $410 USD)
Bonus One on One Session
If you register for the Feminist Somatics Course before Oct 1st you get a FREE 30 minute one on one somatics session with me that's valued at $150.
After I see your registration come in, I'll send you the link to book your 30 minute session :).
Payment Plan
You can pay upfront or buy the payment plan ticket. With the payment plan ticket, your second payment of $275 CDN (approx $210 USD) will be due November 1st.
I can tell you're already an amazing practitioner.
And if you feel this course is the next right step for you and your clients we can't wait to have you.
FAQ
What makes this different from other Somatic Trainings?
There's an emphasis on being trauma informed somatic techniques and Diversity, Equity and Inclusion informed somatic techniques.
Intersectional feminism is a guiding force in how and why this training was created.
It's also a safe space for openness around spirituality and witchyness.
What are some unexpected benefits of this course?
And one unexpected benefit is that it's a small group you'll get connected to other badass practitioners with similar values and even make friends.
Can you tell me more about the instructor's background?
I lived for years as a sensitive perfectionist with anxiety coursing through my veins and through Core Energetics sessions I began to find the root cause of why I'm so anxious and take steps to drastically reduce my suffering.
This work made such a big impact on my life, I decided to go back to school and get certified because I know that it works and I absolutely sharing it with others. Core Energetics is a somatic modality brings together the experiences of your childhood with the wisdom of your mind to facilitate the healing process.
My other training includes CranioSacral, Hatha Yoga and Kundalini & Dreams Teacher. My writing about the path to healing has been featured on Tiny Buddha, Introvert, Dear and the Yasodhara Ashram Blog.
I have a few more questions before I decide. Can we chat?
Yes, book a time to chat here :) - https://app.acuityscheduling.com/schedule.php?owner=15832614&appointmentType=7511549
Or email me at bryn@brynbamber.com.
Are you all in?
Get your tickets now ;)!