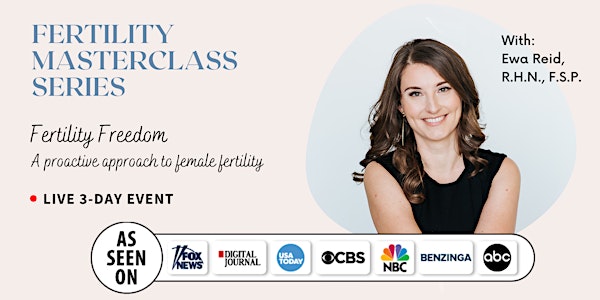 Fertility Freedom - Masterclass Series
A 3-Day Masterclass Series on female fertility designed to nurture your fertility potential and help release your life-giving power within.
About this event
Are you and your partner currently trying to get pregnant?
Are you finding the road to parenthood has more bumps along the way than you expected?
Are you looking for ways to naturally optimize your fertility and increase your chances of a successful pregnancy?
Fertility Freedom is a 3-Day Masterclass Series on female fertility, designed to help you to understand the barriers to fertility and teach you natural solutions to common fertility challenges.
You'll learn Reid's tested Fertility Care Method for nurturing fertility potential and how to release your life-giving power within.
Here's a peek at what you'll learn…
Day 1: Infertility Explained
Understanding infertility definitions
Infertility causes and trends
Common barriers to fertility
And more…
Day 2: The Fertility Diet
Key fertility nutrients
Diet do's & dont's
Supplements & herbs
And more….
Day 3: Lifestyle Factors
The role of stress & sleep
Fertility Fitness
Mindset factors
And more…
It's free to attend and participants in all three sessions will receive a very special bonus offer. Spots are limited! We only have room for 25 people, so do not wait!
About The Speaker
Ewa Reid is a Registered Holistic Nutritionist and Fertility Support Practitioner. Her clinical nutrition practice focuses on fertility and prenatal care, and her online business, Feed Fertility supports women and couples as they navigate their unique journey to parenthood. Her work in female fertility and signature Fertility Care Method has been featured on NBC, ABC, and other major networks. You can learn more about Ewa's work at feedfertility.com and you can follow her on social at @feedfertility.