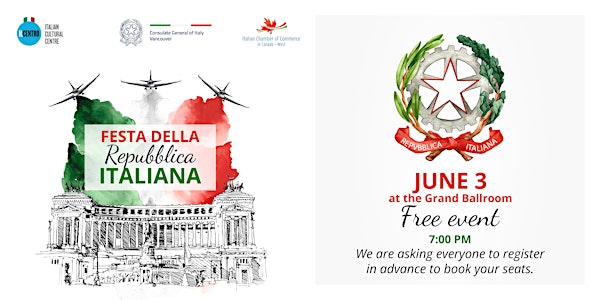 Festa della Repubblica at the Italian Cultural Centre
Location
Italian Cultural Centre
3075 Slocan Street
Vancouver, BC V5M 3E4
Canada
Festa della Repubblica at the Italian Cultural Centre
About this event
Festa della Repubblica is Italy's National Day and marks the day the country became a Republic. Join Il Centro in our Grand Ballroom to commemorates the Referendum of 1946 when Italian citizens were called to decide what form of government, the 'Repubblica' which they wanted for Italy after World War II - for that we celebrate the Birth of the nation.
The holiday is celebrated on June 2nd, but at Il Centro we will be celebrating on Friday, June 3, 2022.
Join us as we mark this very important day. This is a free event for our community, but considering recent circumstances we are asking all attendees to register to reserve their spot.
If you cannot register through our site, feel free to call Il Centro and we will assist you. You can reach us at 604-430-3337.