5 octobre, 2021- Montreal Projection du film "Broken Keys" de Jimmy Keyrouz
About this event
La cinquième édition du Festival du film libanais au Canada aura lieu à Montréal du 3 octobre au 7 octobre 2021.
Date : Le mardi 5 octobre 2021
Endroit : 3500, boul. Côte-Vertu Ouest, Montréal (Québec) H4R 2X7
19 h - Projection du film « Broken Keys » de Jimmy Keyrouz
20:40 h - Discussion avec les invités
en arabe avec sous-titres français
Karim est un pianiste passionné mais il doit vendre son précieux instrument pour quitter la Syrie et n'a que treize jours pour le faire. Alors qu'il enveloppe son piano, un chef terroriste fait irruption dans son appartement et le détruit. Karim sollicite l'aide d'un jeune garçon nommé Ziad à qui il promet de l'argent, pour l'aider à trouver les pièces dont il a besoin pour réparer son instrument. Après plusieurs tentatives infructueuses, Ziad parle à Karim d'un piano à queue qui appartenait à des amis de sa famille et lui propose d'aller le chercher. Malheureusement l'instrument est situé dans une ville dangereuse et lointaine appelée Ramza . C'est une mission suicide, mais Karim doit prendre ce risque.
Avec : Tarek Yaacoub, Rola Beksmati, Mounir Maasri, Sarah Abi Kanaan, Adel Karam, Gabriel Yammine, Hassan Mrad, Rodrigue Sleiman
Les billets sont disponibles sur Eventbrite.ca, par téléphone au (514) 552-5153 et par courriel : info@lffcanada.com.
Pour de plus amples renseignements, veuillez visiter www.lffcanada.com ou communiquer avec nous : info@lffcanada.com.
----------------------------------------------------------------------------------
The fifth edition of the Lebanese Film Festival in Canada will take place in Montreal from October 03 till Oct 07, 2021
Date: Tuesday, October 5, 2021
Location: 3500 Blvd. Cote-Vertu Ouest, Montreal, Quebec H4R 2X7
7:00 pm - Screening of the movie 'Broken Keys' by Jimmy Keyrouz
8:40 pm - Panel discussion with Guests
in Arabic with French subtitles
Karim, a musician, needs to sell his most precious possession to leave Syria and only has thirteen days to do it. As he wraps the instrument, a terrorist leader bursts into the apartment and destroys it. Karim enlists the help of a young boy named Ziad to whom he promises money, to help find the parts he needs in order to rebuild his piano. After several failed attempts, Ziad tells Karim about a grand piano located in a dangerous distant city named Ramza that was owned by family friends. It's a suicide mission but Karim has to take this chance.
Starring: Tarek Yaacoub, Rola Beksmati, Mounir Maasri, Sarah Abi Kanaan, Adel Karam, Gabriel Yammine, Hassan Mrad, Rodrigue Sleiman
Tickets are available on Eventbrite.ca, by phone at (514) 552-5153, and by email at info@lffcanada.com.
For more information, please visit www.lffcanada.com or contact us at info@lffcanada.com.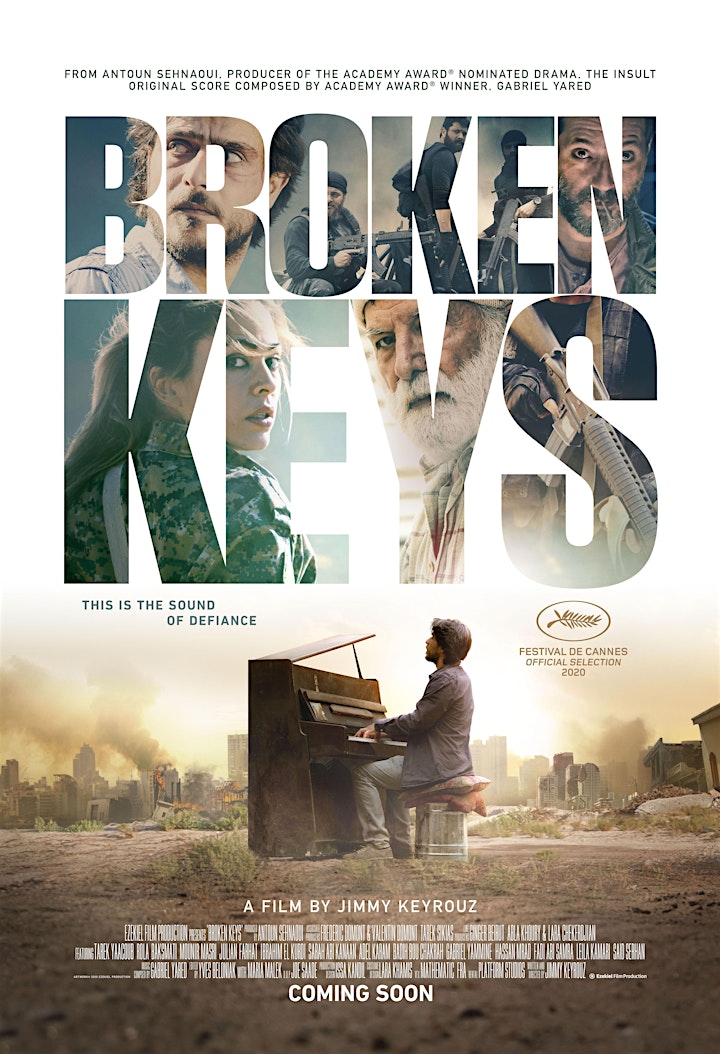 Organizer of Festival du Film Libanais au Canada - Broken Keys - Montreal