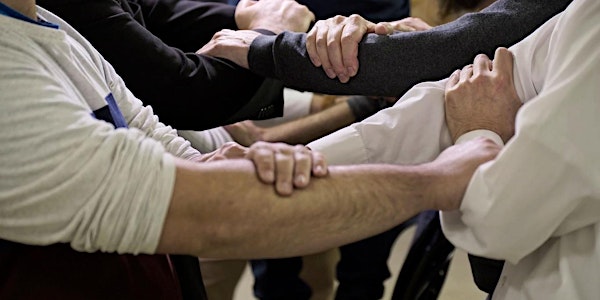 Festival of Human Rights x Arts Presents:The Therapy
Join us for a special presentation of The Therapy followed by a special Q&A.
When and where
Location
401 Richmond St W, Rm. 380 401 Richmond Street West Toronto, ON M5V 3A8 Canada
Refund Policy
Contact the organizer to request a refund.
Eventbrite's fee is nonrefundable.
About this event
Please note that this is a hybrid event, available to be seen in-person at the location listed, or virtually in the comfort of your home.
Conversion Therapy is revealed from within for the first time. Lev, a 54-year-old divorced Orthodox Jew, attends conversion therapy hoping to be remarried to a woman. He attends one-on-one therapy sessions and group therapy, trying to diminish his unwanted same-sex attractions. At the same time, Ben, a 23-year-old social work student, seven years into conversion therapy, starts having doubts. In the Jewish Orthodox world, where he grew up, he was taught homosexuality is a fault that one can "cure", but when he went to university, he was surprised to discover conversion therapy is considered harmful and dangerous. Ben sets out on a research to discover the truth about conversion therapy, and learns that the way out is harder and more winding than he thought.
---
CONTENT WARNING
Mentions of abuse and systemic homophobia.
Registration for the virtual event includes 24-hour access to a digital screening of The Therapy. If you are registering for the in-person event, please note the screening will take place at the JAYU Studio located at 401 Richmond Street West, Suite 380 in Toronto, Ontario - doors open at 1:00 PM. Both offerings will include a special live Q&A with director Zvi Landsman.
Please note that the film is geoblocked outside of Canada.
---
ACCESSIBILITY
The film includes open captions and the Q&A includes ASL interpretation. An Online Held Space will be available from 1:30- 3:30 PM EDT, complete with an active listener.
Screening with: The Boys Club
A Malaysian female filmmaker dreamt of making the first feature documentary for theatrical release in her country. After four years of struggles, her film premiered with glowing reviews. But soon after, she lost her job. This documentary reveals her deeply personal and harrowing filmmaking journey of enduring sexual harassment, bullying and misogyny.
Marketing Exchange: Toronto Jewish Film Foundation
The Toronto Jewish Film Foundation produces programming and projects offering the best feature films, documentaries and shorts from Canada and around the world, on themes of Jewish culture and identity. The Foundation is dedicated to using film for its contemporary popular value and accessibility, in order to reflect the diversity of the Jewish experience internationally. TJFF provides an opportunity to heighten awareness of Jewish and cultural diversity around the world to audiences of all cultural backgrounds, and to present films in their original languages, with subtitles, in an effort to break down racial, cultural and religious barriers and stereotypes.
Also included: Special gallery
This event will also feature photography work from JAYU's iAM Program and the Raging Hope exhibition led by Gilad Cohen and Desiree Mckenzie.
'Raging Hope', in collaboration with White Owl Native Ancestry Association and Wisahkotewinowak, features work from 6 Indigenous youth from Kitchener, Ontario. Each of them were asked to show what rage or hope look like to them and their views on the future.