FESTIVAL of IDEAS : Conference on Sexuality and Menopause
Description
What do you get when you have a Therapist, a Jazz Singer, a Physician and a Comedian over for Brunch?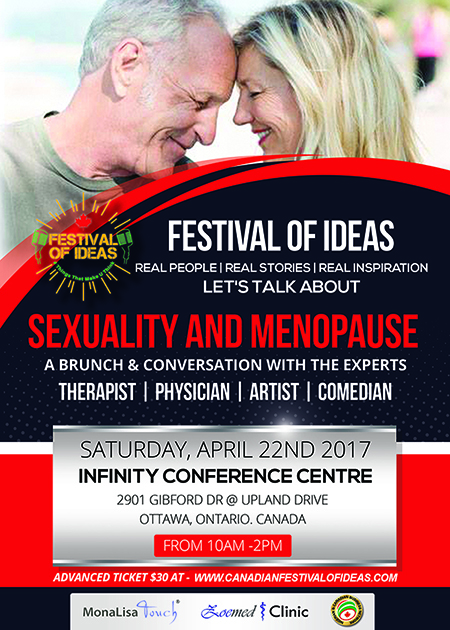 This is a Conversation with Experts; Sex Therapist, Physician, Comedian and a Jazz Artist.
THE THERAPIST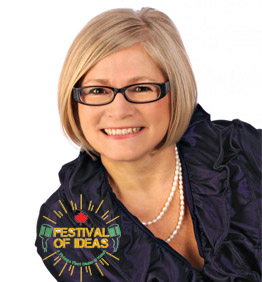 MC Thauvette is a successful entrepreneur, professional educator, and woman on a mission: to teach individuals and couples alike about the power of intimacy and communication. MC combines her 29 years of teaching experience, her AASECT certification, and her certification from the the prestigious Institute for Sexual Education and Therapists to reignite passion in singles and couples.

After years of study and personal experiences with the healing powers of sexuality, Marie-Claire founded RelationshipBliss in 2012 with the objective of educating people on the benefits of healthy, empowered sexual relationships with themselves and others. She gives sexual education and relationship workshops and one-on-one sessions with couples in Ottawa, Europe, and most recently in Mexico.

Marie-Claire has a teaching degree from the University of Ottawa, and is the current CEO and founder of Fast Forward French, an award-winning second language training facility. While teaching French and sexual education in the public school system for 13 years, she wasn't surprised to learn that French grammar was never met with the same enthusiasm as her sex-ed classes. She would eventually learn that this would prove true for her adult students as well!

As founder of LemonBliss, a stress relief and wellness consultation business, MC soon discovered the power of sexuality to empower and heal her clients, and was inspired to learn more. She has taken a number of courses and retreats in tantric sex, communication, relationship dynamics, and sexual empowerment for women. She has obtained certification from The Sexual Educator program at the prestigious Institute for Sexual Education and Therapists in North Hampton, Massachusetts, learning from some of the best sexual educators and therapists in the US.

MC is a familiar face in the industry, and has been featured on a radio show hosted by Dr. Karen Kan, "Entre Amis" on Rogers French TV, as a presenter at Sexxapalooza trade show in 2013 and 2014, on a expert panel for women with breast cancer at Rethink Breast Cancer in 2014, and in The Parenting Times. She is currently touring and writing a book about the importance of date night!

MC is dedicated to reigniting passion in singles and couples alike and shows no signs of slowing down.
THE MEDICAL DOCTOR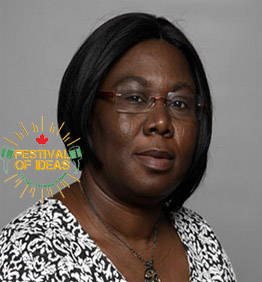 Dr. Ejibunmi Adetola is a fellow of the Royal College of Surgeons of Canada and a member of the Society of Obstetricians and Gynecologist of Canada.

She is a Canadian trained Obstetrician Gynecologist and the Director of the Zoemed Womens Health Clinic.
She is very passionate about Women`s health care and enthusiastic about new developments within her specialty.
She is the only one in Ottawa and one of the few in the country to offer the MonaLisa Touch laser, a life changing treatment of Vulvovaginal atrophy. She trained at The Ottawa Hospital, and has been in practice in Ottawa and its environs since 2009. She also practiced in Africa for many years.
Dr. Adetola believes in providing the best quality of care and is humbled by the opportunity to have helped many patients over the years. She is married and have lived in Ottawa since 2005, she is blessed with 2 children.
CLICK HERE FOR TESTINONIES ...
THE JAZZ ARTIST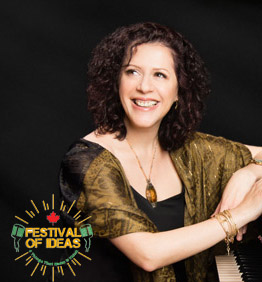 Milana ZILNIK is an accomplished pianist, composer and singer-songwriter, who has been a performing and recording artist since her childhood. A strong lyricist and composer in her own right, Milana's style is reminiscent of Tori Amos, Sarah McLachlan, Michael Nyman, Keith Jarret and Chick Corea. Milana enjoys playing by ear, improvising and using whatever inspires her to create her own style of playing. She is known as an adept improviser, catching melodies on the fly and expanding them into her own creations.
Milana was born in Ukraine, lived in Israel for many years and moved to Canada in 2008. Having lived in different countries has enriched her musical experiences and storytelling. Her songs touch on issues of belonging, identity, the inner child, war and peace, and life and death. Soulful singing and complex piano melodies are Milana's signature, but she embraces a variety of styles – everything from folk, blues, opera and Middle Eastern, to her soft spots for rock and jazz. http://www.milana.ws/
Milana has released seven albums (solo piano, original songs and New Age) and published a book with original scores for solo piano. Since 2012, in addition to performing live and releasing original albums, she has also taken piano and vocal performance in a commercial direction by doing session recordings, arranging, composing for films and online music libraries in her own studio located in Ottawa's suburb. Milana provides full-service soundtrack and song production, as well as live-recorded piano on demand.

HOSTED BY THE COMEDIAN
Heather Hurst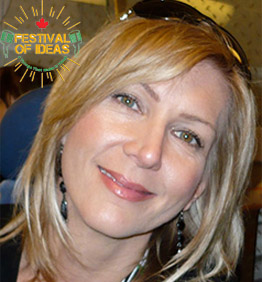 Heather Hurst fell in love with comedy the first time she saw Tim Conway and Harvey Korman break into fits of giggles on The Carol Burnett Show.
After realizing that her government job was killing her (literally), she decided to jump off a cliff and into the arms of stand-up comedy in 2014, and she hasn't looked back since. Mostly because she is afraid that someone will make her go back and clean up the mess. :)
DON'T MISS THIS EVENT. GET YOUR TICKET NOW.