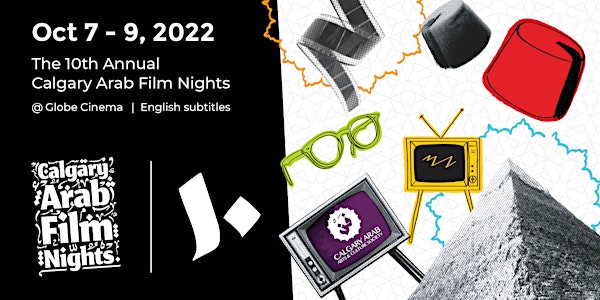 Festival Pass | Calgary Arab Film Nights 2022
Join us for our 10th annual Calgary Arab Film Nights!
When and where
Location
Globe Cinema 617 8 Avenue Southwest Calgary, AB T2P 1H1 Canada
Refund Policy
Contact the organizer to request a refund.
Eventbrite's fee is nonrefundable.
About this event
Festival Pass - $50 - for access to all the films
FRIDAY OCTOBER 7
8:30 pm - Uncivilized (15 minute short) &
Uncivilized is a short documentary that sheds light on 4 Syrian refugees in Calgary, who managed to break through the hardships and refugee stereotypes from third world countries, succeeding in their unique occupational fields. Directed by Syrian filmmaker Rawd Almasoud, and produced by Chawuko Enakadia.
Followed by a brief Q&A with director Rawd Almasound
followed by:
Peace by Chocolate
After the bombing of his father's chocolate factory, a charming young Syrian refugee struggles to settle into his new small-town life, caught between following his dream and preserving his family's legacy. The film is based on the true story of the Hadhads, a family from Syria who moved to Canada as refugees from the Syrian civil war, settling in Antigonish, Nova Scotia and establishing the Peace by Chocolate artisanal chocolate shop.
SATURDAY OCTOBER 8
6 pm - C-Section
Two couples from totally different backgrounds, unwillingly meet in the same maternity ward.
8 pm - Sharaf
When Sharaf kills a man and is incarcerated, his dreams are shattered. The microcosm of prison mirrors the complex situation of Arab societies living under dictatorship and poverty, dependent on an unjust global economic system.
SUNDAY OCTOBER 9
2 pm - CAFN Shorts Compilation
Brick of Life - In Abu Shouk IDP camp in Darfour – Sudanese young women work in Brick kiln making as a reflection of the war aftermath on Darfourian women wellbeing and rights.
Directed by Razan Mohamed
RSVP - After the death of her beloved friend from cancer, a mid 50's former wedding planner, Thurayya, quits her chemotherapy sessions and decides to plan her own funeral, while dealing with a harsh relationship with her son.
Tuk Tuk - After her husband abandons her and illegally flees the country, Walaa's only way to secure income for her family is to drive a Tuk-tuk, forcing her to fight for her livelihood in a male dominated environment.
The Last Baron - The meaty saga of Burger Baron, a rogue fast-food chain with mysterious origins and a cult following, run by a loose network of fiercely independent Arab Canadian immigrants.
Calgary Arab Film Nights is thrilled to be hosting director Omar Mouallem!
4 pm - Daughters of AbdulRahman
Four estranged and offbeat sisters are forced to come together to find their suddenly-missing father. In their secret searching journey, secrets are revealed and more questions are raised.
7 pm - Huda's Salon
Nadia, a young mother married to a jealous man, goes to Huda's salon in Bethlehem, for a haircut and an attentive ear. But this ordinary visit turns sour when Huda, after having put Nadia in a shameful situation, blackmails her into working for the secret service.