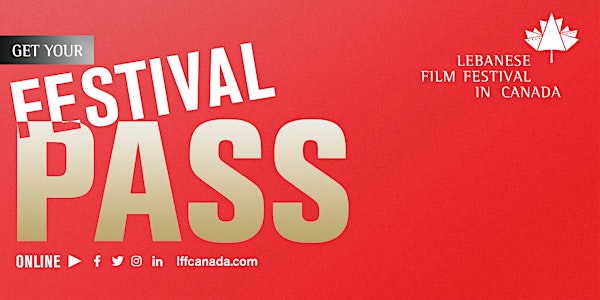 FESTIVAL PASS - LFFC 2022 - VANCOUVER
FULL FESTIVAL PASS - LFFC 2022 - VANCOUVER
About this event
JOIN US IN CELEBRATING OUR 6TH EDITION OF THE LEBANESE FILM FESTIVAL IN CANADA
FULL FESTIVAL PASSES 2022 - EARLY BIRD - #LFFC2022
Your best deal to catch all of #LFFC22 - Access all the films we have to offer.
1. During the LFFC Early Bird running from Aug 22 To Aug 31, 2022.
2. Festival tickets to be purchased prior to festival dates via the Festival website, LFFCanada.com, once the program is out.
3. All online purchases require a valid email address in order to receive your tickets.
4. For the 2022 Festival please note that purchased passes will only be available online or via LFFC Team.
FOR INFORMATION: INFO@LFFCANADA.COM
"SFU Woodward's Cultural Programs is a proud Cultural Partner"
The LFFC is: Organized by New Dimension, programmed by Beirut Film Society and in partnership with UTG Digital Media
HOW TO REDEEM YOUR PASSES
All the shows for one great price. Reserve your seats now and don't miss out on any of the fun!
During package redemption, each customer must redeem their tickets 1 per screening by SENDING US AN EMAIL to info@lffcanada.com with the movies of choice and will send you your electronic tickets to your email.
• One ticket for each of the movies presented during the festival.
• Full access for the Discussions, talks and conversations during the festival.• Full access for all short film's sessions.• Full access for the documentary.
• One ticket for the Red Carpet and Opening Ceremony.To order your Festival Passport:• Chose the screenings you wish to attend• Send us an email with your choices to info@lffcanada.com• Tickets will be sent within 24 hours to your email address (check your junk mail inbox in case)
You will receive a confirmation message by e-mail. And a copy of your tickets will be available on the LFFC opening day, at 12 p.m., at the welcome table.
LFFC is generously supported by The Vancouver community represented by all our partners for this first edition. Check our website for more details about the festival and its mission.
Enjoy the Festival!