Event Information
Refund policy
Contact the organizer to request a refund.
Eventbrite's fee is nonrefundable.
Let us tempt you with a NEW kind of classical theatre festival featuring female playwrights throughout the month of May.
About this event
LINKS/DETAILS will be emailed to all ticket holders by the organizer.
NOTE: All outdoor offerings have been moved to JUNE and will be in Thornhill/Vaughan, Ontario. The organizer will reach out to ticket holders with details.
Theatre Out Of The Shadows is a festival designed like a four-course meal. (week 1 is course 1, week 2 is course 2, etc)
We've freshly prepared this festival, or rather feastival of unknown theatre delicacies to share with hungry patrons that are ready to gobble up a new take on Classical Theatre.
The theme: SURVIVAL
Survival for one's convictions
Survival of societal expectation
Survival for outcasts
Survival for a new world
We are survivors
Your four-course feastival includes:
4 different influential playwrights who shaped and are shaping the world of theatre
4 different periods in history, Medieval, Post-Restoration, Harlem Renaissance and Contemporary, from antiquity to the apocalypse.
4 different countries, Germany, England, The United States and Canada
4 different workshops, Virtual Theatre-Making, Get In Bed With Sound/Audio Design, Playwrighting and and Open Dramaturgy Workshop
THE PLAYS
Sapientia, AD 970 by Roswitha
Sapientia and her three young daughters are newly arrived in Rome to spread the word about the one and only true god. But words are weapons. The emperor Hadrian decrees they must be stopped. After cajoling and entreating fail, the most brutal tortures and humiliations ever devised are brought to bear on the children; the youngest of whom is only eight years old. Can the martyr's palm prevail against the might of Rome? Where does true power lie – with the armies of an empire or in the strength of belief in the hearts of young children?
We will be presenting two versions of the play in the form of an audio drama. During the first presentation, at midnight on May 1st the torture and brutality of the work will be fully explored. The second performance at noon will feature a gentler version of the work with the violence implied.
The R-Rated performance is 30 minutes and will be available from Midnight - Noon
The PG-Rated performance is 30 minutes and will be available from Noon - Midnight
LAST CHANCE Sapientia on May 31st, both versions will be available from 8pm to MIDNIGHT.
The Wedding Day, 1794 by Elizabeth Inchbald
A comedy in 2-acts that features Sir Adam Contest and his young, new bride whom he constantly compares to his much beloved and missed first wife, who was lost at sea. After a falling out with his son, Sir Contest finally agrees to allow him to return and make amends as well as introduce his new love interest.
Exit: An Illusion, 1929 by Marita Bonner
Meet Buddy and Dot. They are neither related or married, just very good friends for a very long time. Dot wakes up one day and tells Buddy she has a date. The tension between the two rise to a point of no return as Exit Mann appears.
The play involves three characters, who are used as symbols to represent beliefs of the early 20th century, including colorism and sexism in America.
The Unplugging, 2014 by Yvette Nolan (Contemporary piece)
Forced to rely upon traditional wisdom for their survival, Elena and Bern retreat from the remains of civilization to a desolate landscape where they attempt to continue their lives after the end of the world. When a charismatic stranger from the village arrives seeking their aid, the women must decide whether they will use their knowledge of the past to give the society that rejected them the chance at a future.
THE WORKSHOPS
Virtual Theatre-Making
Getting In Bed With Sound - Audio Design
Playwrighting (fun title here)
Dramaturgy - An Open Session with playwright & dramaturge
We're partnering with the Toronto and Region Conservation Authority to present
Three of the four plays in a responsible outdoor, in person presentation for minimal audiences. This way patrons can chart their own course and consume a feastival experience suited to their interests and comfort levels.
Note: Locations are in Thornhill/Vaughan and will be sent to registrants.
HOW DO YOU WANT TO DEVOUR YOUR FEASTIVAL?
Are YOU an A La Carte person (Option 1)
Each play is $14
Note: One play has various ways to experience it and your $14 goes towards all available options.
First workshop is $14,
second workshop is $7, third is $3.5, and 4th is FREE
OR IN OTHER WORDS, all four workshops for $24.50
OR
are you an all-you-can-eat Buffet person? (Option 2)
A feastival pass is $44 with a $30 charitable receipt and allows you to access EVERYTHING.
Note 1: Capacity for our open-air performances is restricted and waiting lists will be in effect. We recommend you register early.
Note 2: Further PWYC options can be requested at pwyc@shadowpaththeatre.com
PLAY OPTIONS
Sapientia May 1st
30 min R-Rated radio performance at midnight VIRTUAL
30 min PG radio performance at noon VIRTUAL
Note: Links will be sent to registrants the day of and have a 12 hour time limit in which to access the play.
The Wedding Day
60 minute performance May 6th 7pm VIRTUAL
40 minute performance at 3pm OUTDOOR Location TBA*
Exit: An Illusion
15 minute performance at May 14th, 6pm VIRTUAL
75 minute audio design workshop VIRTUAL
60 minute interactive play reading confab VIRTUAL
30 minute performance OUTDOOR Location TBA*
The Unplugging
60 minute preview performance VIRTUAL
40 minute performance OUTDOOR Location TBA*
*Note all outdoor in-person performances are subject to change due to weather or COVID.
See calendar for dates/times
See site for Content Warnings COVID Protocols & further details
www.theatreoutoftheshadows.mystrikingly.com
or shadowpaththeatre.ca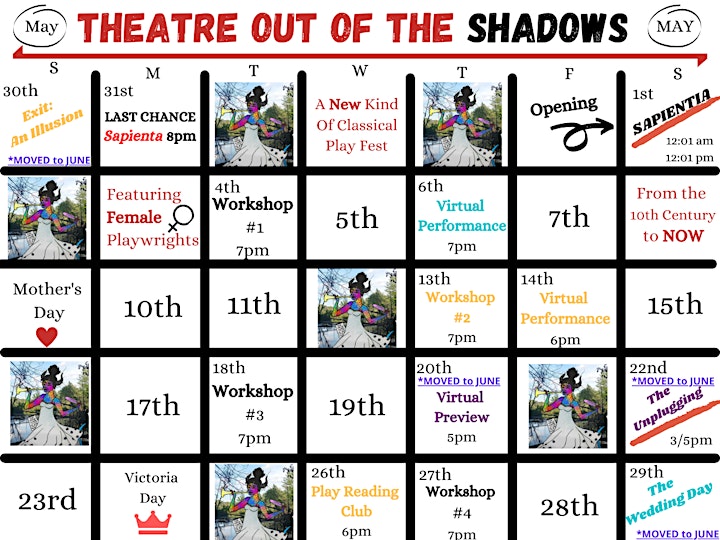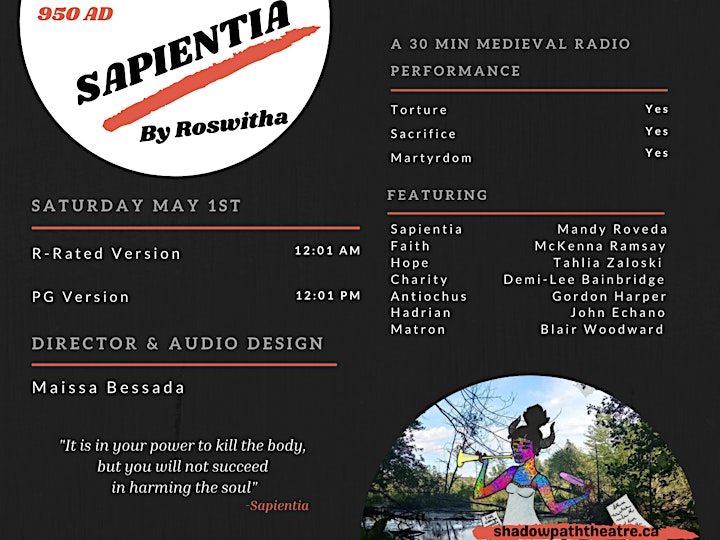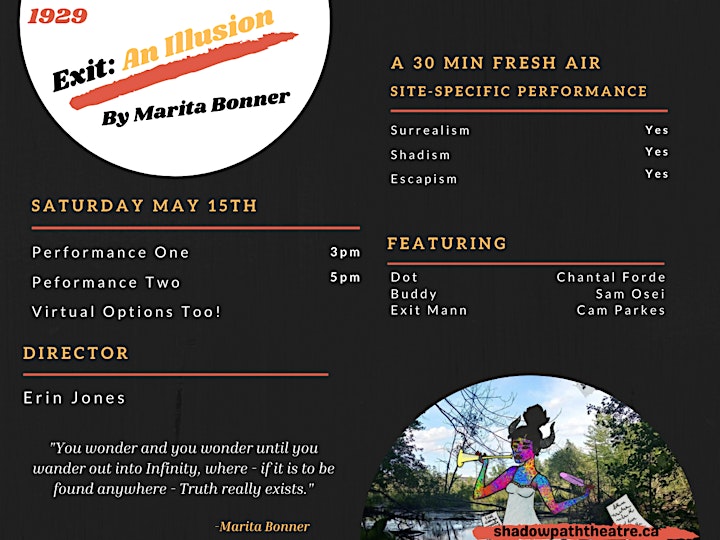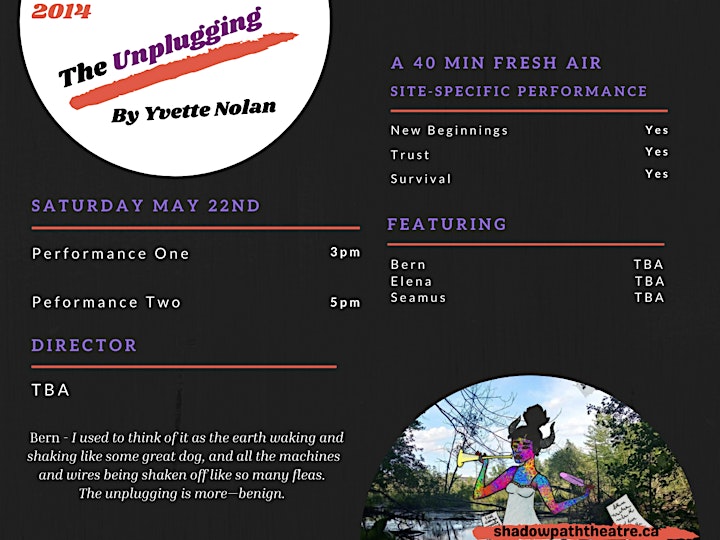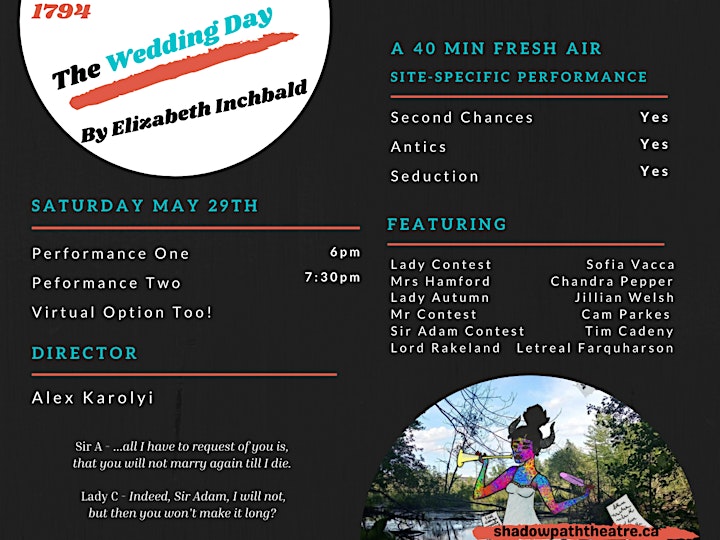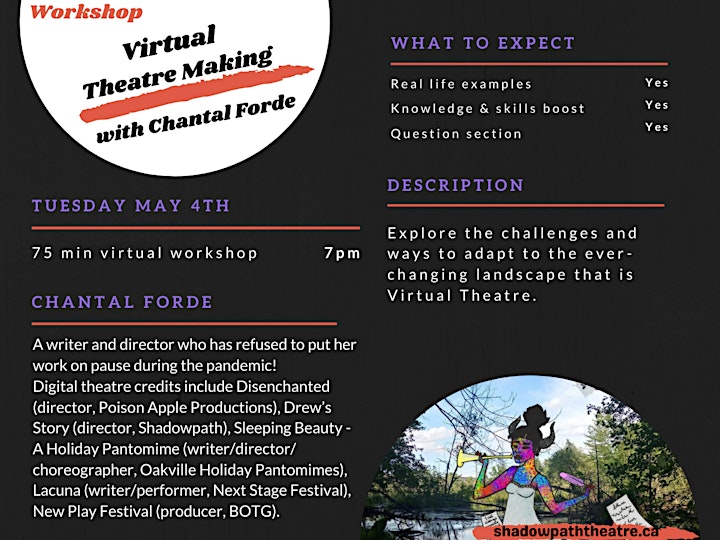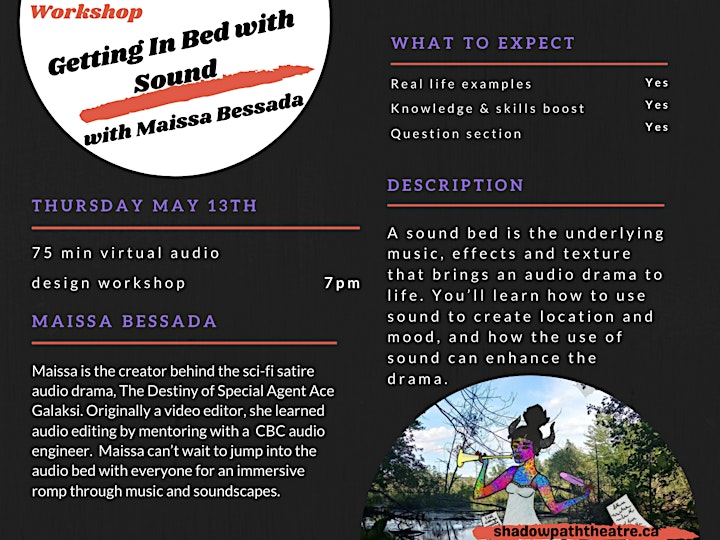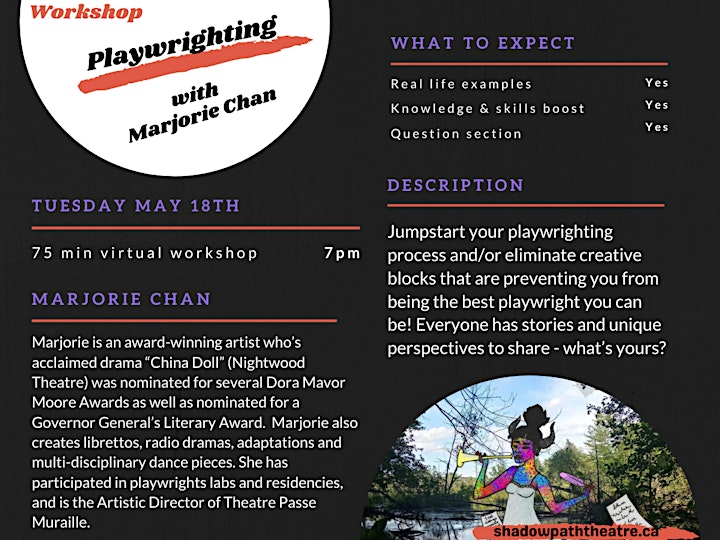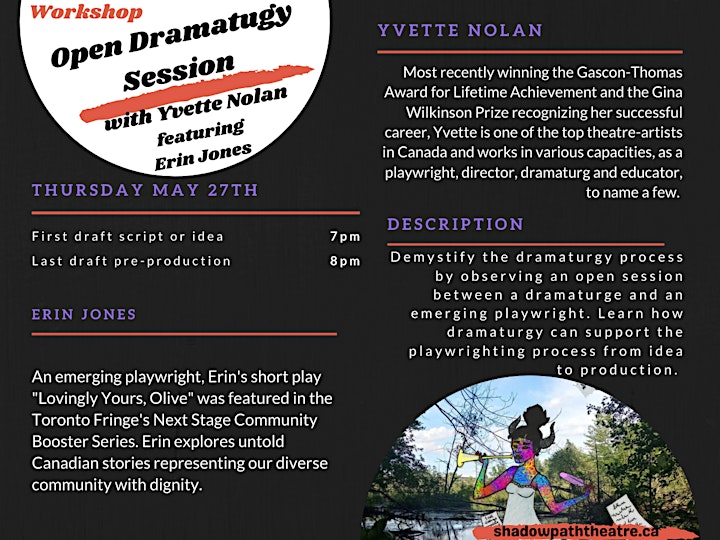 Date and time
Location
Refund policy
Contact the organizer to request a refund.
Eventbrite's fee is nonrefundable.
Organizer of Festival - Theatre Out Of The Shadows (May 1st - 31st)
 Shadowpath supports the creative and cultural essence of York Region.
A professional theatre company and a registered not-for-profit organization since 2003, Shadowpath obtained charitable status in 2012. Recognizing that art plays a crucial role in the development and identity of a community, Shadowpath provides a platform for expression, creation and communication to enlighten and engage everyday citizens.