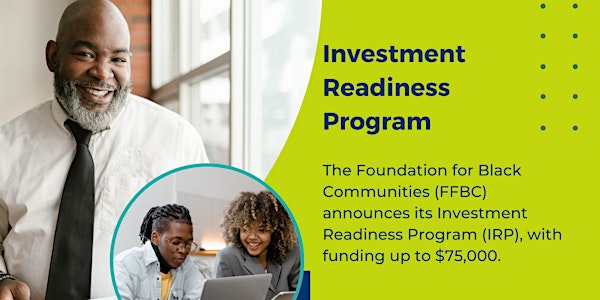 FFBC Investment Readiness Webinar
Join us to learn more about applying for funding though the Investment Readiness Program (IRP).
About this event
Through the Investment Readiness Program (IRP), the Foundation for Black Communities (FFBC) aims to boost Black social purpose organizations' (SPOs) participation in social innovation and social finance by directing $1.5 million of IRP funding towards the entrepreneurship and innovation thriving in Black communities throughout Canada. Black SPOs can choose to submit the same project to both FFBC and partner, Community Foundations of Canada, to improve the chances of receiving IRP funding.
FFBC will be accepting IRP applications from September 29, 2022 to December 1, 2022.
Join us for this free webinar on October 11th, to learn more about the application process.
Please note: SPOs working in the province of Québec should explore the IRP program offered through the Chantier de l'économie sociale.
For more information on eligibility and other IRP guidelines, please visit our website or get in touch via grants@forblackcommunities.org.
This webinar will be recorded.