Description
Frugal Fashion Week 2011 debuts in style with IF THESE CLOTHES COULD TALK..., a fashion installation featuring the stylish closets of Toronto's celebrated fashionistas!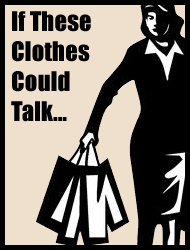 Friends of Frugal have been invited to donate pre-loved clothing to this unique installation.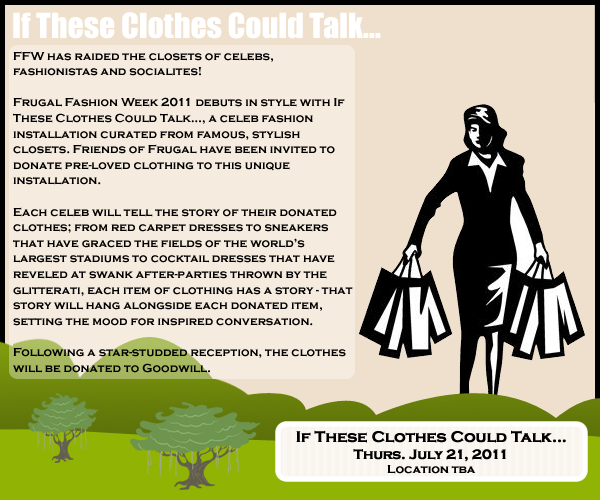 Each fashionista will tell the story of their donated clothes; from red carpet dresses to cocktail dresses that have reveled at swank after-parties thrown by the glitterati, each item of clothing has a story - that story will sit alongside each donated item, setting the mood for inspired conversation.
Following an evening of cocktails and conversation, all items will be donated to Goodwill.
Guests are invited to experience Quinn West; visit the hair stations & beauty stations, courtesy of Quinn West's fabulous style experts!
--
List of supporters (more names to be added!):
Tanya Kim, host of ETalk!
Brittany and Maleah Sparks, fashion bloggers, The Sparks Twins
Bianca Teixeiria, fashion blogger, Bee Is The New Blog
Emily Woudenberg, fashion designer
Gail McInnes, communications specialist, Magnet Creative Management
Anita Clarke, founder and editor-in-chief, I Want I Got
Lisa Ng, founder, Hip Urban Girl (HUG)
Sharon Ng Hayes, fashion blogger, The Backseat Stylers
Richard and Marc, fashion bloggers, Toronto Is Fashion
--
This is a PWYC event.
Donations will be accepted at the door. All proceeds will benefit the Stiletto Project.
All clothes/accessories will be donated to Goodwill.
--
NEW! FFW invites you to add your own story! Scour your closet for something you would love to donate to Goodwill; a dress you wore to your first fab event, a pair of shoes that has walked a few red carpets...
At the event, you'll write your own personal story about what your donated piece means to you and we'll feature it as part of the installation!