Celebrating a decade of "Fighting Back" with a night of one-of-a-kind action in support of the Canadian Cancer Society!
About this event
On Saturday, September 18th, 2021, C*4 returns to action for the first time since January 2020. And we're doing it for a cause that's near and dear to our heart....
Since August 2011, we have gathered annually raise as much money as possible in memory of Phrank Morin - as well as all of those close to us who have suffered through cancer of all sorts.
This year, we once again will present to you the best of the Canadian independent wrestling community, coming together to raise as much money as possible for the Canadian Cancer Society!
We are very excited to see all of you once again.
Covid Protocols:
Attendance will be roughly 40% of a normal C*4 event, and venue capacity. Tickets will be extremely limited.
Masks will be mandatory for all guests and staff members. NO EXCEPTIONS. If you have food or drinks, you may eat or drink while seated. When you're not doing that, mask up.
Seats will be spread out several feet from one another.
Entry to the venue will be done in groups of 10 people at a time. This will allow for guests to move groups of chairs together if they wish to form bubbles. This tiered entry will allow for staff to ensure that distancing from other seated groups is maintained.
With the exception of Front Row Reserved seating, all other tickets will be General Admission.
Attendance will be restricted to guests over 12 and above (limited to those who are eligible for Covid19 vaccinations.) Generally, our shows are aimed at 16+, and we recommend that for this show as well.
Speaking of vaccines: C*4 management will be requiring proof of vaccination from all talent appearing. As well, all staff will be fully vaccinated. We encourage and hope that all of you who are planning to attend will be fully vaccinated by September 18, 2021. For details on getting vaccinated: https://covid-19.ontario.ca/book-vaccine/
Above all else - we will be following local health guidelines. IF proof of vaccine / vaccine passports are mandated for access to events of this nature - they will be required. Purchasing a ticket acknowledges this - and failing to meet required guidelines - forfeits entry to event.
Failing to adhere to the above guidelines, the ticket-buyer forfeits their ticket and agrees to leave the show.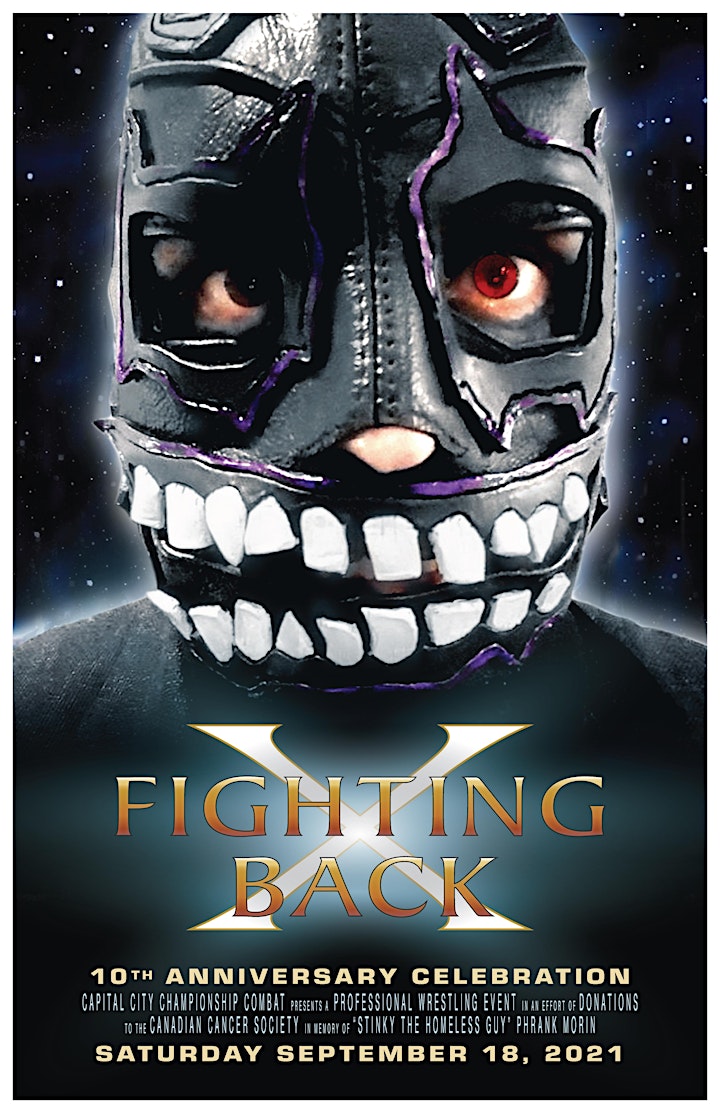 Organizer of Fighting Back: Wrestling With Cancer - 10th Anniversary