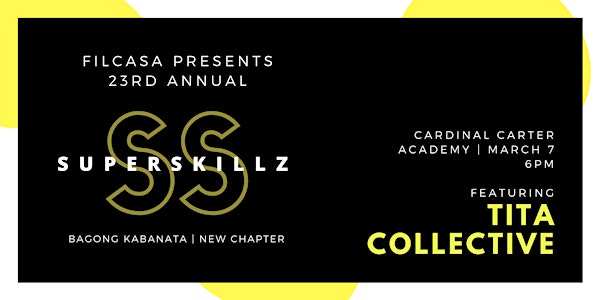 FILCASA Presents Superskillz 2020: Bagong Kabanata | New Chapter
Location
Cardinal Carter Academy for the Arts
36 Greenfield Avenue
Toronto, ON M2N 3C8
Canada
Superskillz showcases various talents from the Filipino Student Associations across Canada - all under one roof.
About this event
The theme for this year is BAGONG KABANATA or "New Chapter". Marking the 23rd year, we're bringing and implementing newer challenges and newer adventures to kick off our decade on the right note. We invite you to watch and experience what our member schools are bringing to the stage, through song, dance, and/or everything in between.
Intertwining both our Filipino and North American cultures together, Superskillz promotes the dynamic of both our cultures, through art and performance, while staying true to our roots.
---
SUPERSKILLZ HISTORY:
This event was established by FCAR (Filipino-Canadian Association of Ryerson) and FSAY (formerly YUOSA, York United Oriental Student Association) back in 1997.
In its early years, Superskillz was hosted in The Underground, located in York University's First Student Centre. In 2001, the location has changed but not the face, and in 2002, the event was hosted at The Opera House, in downtown Toronto.
This event gives local talent to showcase their skills in front of thousands of people and helps bring them that closer to a dream of success.