Join us for a talk to accompany the film Bicycle on cycling culture in Toronto!
About this event
Cycling culture is about people on bikes, but supporting cycling culture also means safe streets for all. Safer streets are supported through well-designed infrastructure, such as roads, sidewalks, speed limits and bike lanes. In 2020, Toronto Council approved a fast-track plan to install 40km of bike lanes, including Bloor St W bike lanes to Runnymede Rd and Danforth Ave bike lanes east to Dawes Rd. In the last four months, bike shops have been busy and bike lanes filled with riders of all ages.
Whether you're a cyclist, a driver, a pedestrian or a transit user, we invite you to join us in a discussion on cycling culture in Toronto to accompany the film Bicycle (2014)! EcoFair Toronto will be offering a free screening of the film Bicycle (2014) from Friday October 29-Sunday November 1.
Moderator:
Yvonne Bambrick, Author - The Urban Cycling Survival Guide, and Executive Director of Forest Hill Village BIA
Yvonne is the executive director of the Forest Hill Village Business Improvement Area, an event & portrait photographer, and the author of The Urban Cycling Survival Guide: Need-to-know Skills and Strategies for Biking in the City. She sits on the board of directors of Vélo Canada Bikes, Canada's national cycling advocacy organisation, and The Laneway Project, a local non-profit tapping into the potential of Toronto's laneways. She also volunteers as the secretary of the Kensington Market Action Committee, and is the caretaker, aka Cardener, of the iconic Kensington Market Garden Car. Yvonne was the founding executive director of the Toronto Cyclists Union (now Cycle Toronto), and a co-creator and coordinator of Pedestrian Sundays in Kensington Market.
Dave is a personal injury lawyer specializing in bike crashes, sexual assaults, police violence and anti-racism work. Dave also founded the Bike Brigade as a response to COVID-19, which provides free bike delivery services for organizations and individuals in need.
Michael Longfield, Interim Executive Director, Cycle Toronto
Michael is inspired by Cycle Toronto's vision that streets are for people and our mission to transform Toronto into a world class cycling city. Michael is passionate about bicycles as machines for recreation and transportation.
Ed is currently the Manager at Gateway Bicycle Hub, funded by the City of Toronto Solid Waste Management Division under the Community Reduce and Reuse Program. Here Ed is in charge of program development including bicycle repair and refurbishment, cycling safety, cycling skills, and an advocate for safer cycling infrastructure in the Flemingdon and Thorncliffe neighbourhoods. In the past few years Ed has been part of Evergreen Brickworks and incorporating cycling culture into building greener and sustainable communities. He has been an avid cyclist and bike mechanic for the past 25 years.
A link to join this panel discussion will be emailed to registrants 1 hour before and at the start of the event.
The film Bicycle and panel discussion are two of 16 free and exciting events organized by EcoFair Toronto that are happening online over four weeks from Oct 15 to Nov 8. Explore the EcoFair Schedule, Exhibitor Showcase, neighbourhood EcoTours, and family-friendly Fun & Games at ecofairtoronto.org.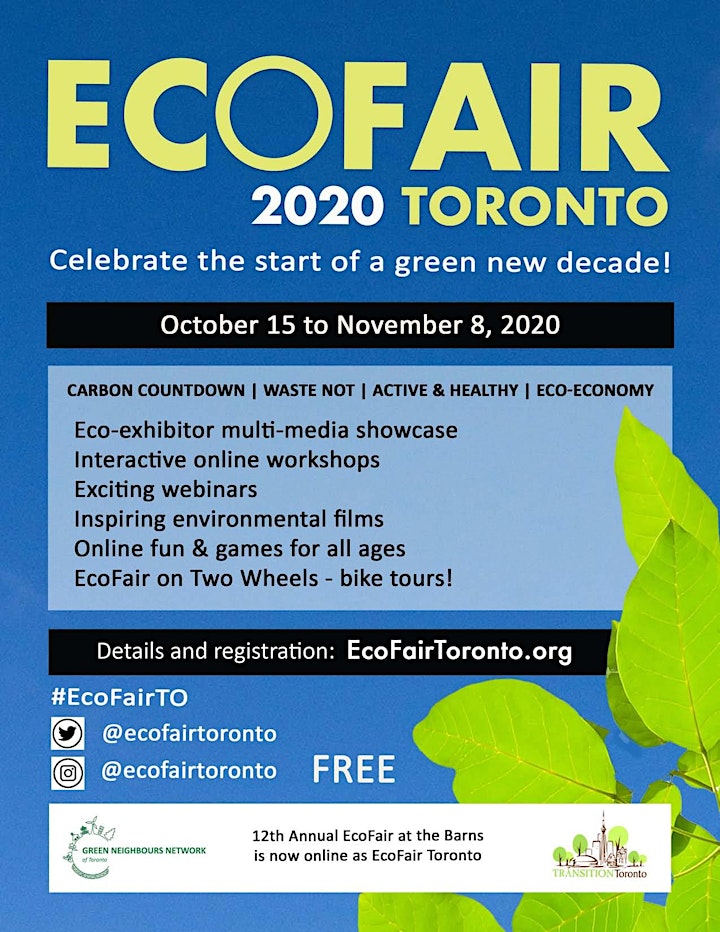 Organizer of Film Discussion - Cycling in the Green New Decade
EcoFair Toronto is FREE to attend, family friendly, informative, and fun. It is organized 100% by volunteers. We celebrate the wonderful people, environmental groups, and eco-businesses that are helping create a greener and healthier planet for all. Everyone can share and learn tips on ways to live more sustainably, and be inspired to make a difference as we start a green new decade. We CAN do this together!