Sales Have Ended
Registrations are closed
Sadly, EcoFair Toronto 2020 is over. To be the first to know about the 2021 EcoFair, sign up for the EcoFair newsletter at our website! ecofairtoronto.org
Sales Have Ended
Registrations are closed
Sadly, EcoFair Toronto 2020 is over. To be the first to know about the 2021 EcoFair, sign up for the EcoFair newsletter at our website! ecofairtoronto.org
What would our future be by 2040 if we embraced the best solutions already available to us and took them rapidly into the mainstream?
About this event
Motivated by concerns about the planet his 4-year-old daughter would inherit, Gameau embarked on a global journey to meet innovators and changemakers in the areas of economics, technology, civil society, agriculture, education and sustainability. Drawing on their expertise, he sought to identify the best solutions, available to us now, that would help improve the health of our planet and the societies that operate within it. Exploring renewable energy projects, ride sharing and autonomous vehicles, local food, agricultural practices, marine permaculture, and the education of girls and women, he discovered that people all over the world are taking matters into their own hands.
This journey is the central premise for the documentary '2040', a story of hope that looks at the very real possibility that humanity could reverse global warming and improve the lives of every living thing in the process. It is a positive vision of what 'could be', instead of the dystopian future we are so often presented.
We can regenerate the world for future generations.
This is the narrative the next generation needs to see, to aspire to, and to believe is possible.
Watch the trailer here: https://www.youtube.com/watch?v=p-rTQ443akE
A link to view the film for free on Vimeo will be emailed to registrants.
This screening of the film 2040 is organized by Green 13, and is promoted and supported by Climatefast and FOR OUR KIDS.
This film screening is one of 16 free and exciting events organized by EcoFair Toronto that is happening online over four weeks from Oct 15 to Nov 8. Explore the EcoFair Schedule, Exhibitor Showcase, neighbourhood EcoTours, and family-friendly Fun & Games at ecofairtoronto.org. Celebrate the start of a green new decade!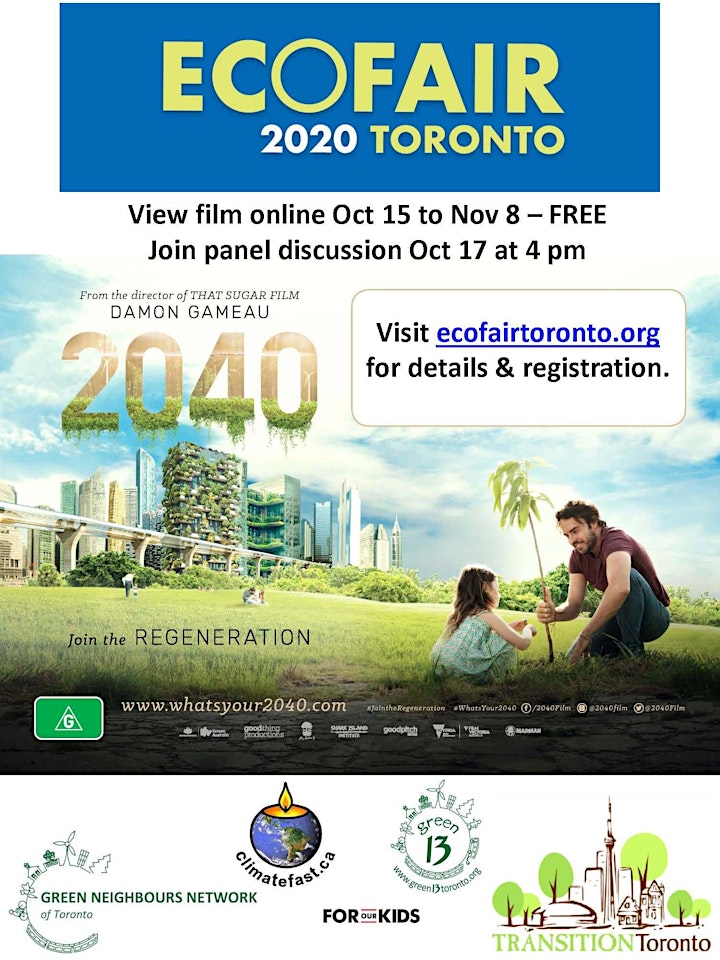 Organizer of Film Screening - "2040"
EcoFair Toronto is FREE to attend, family friendly, informative, and fun. It is organized 100% by volunteers. We celebrate the wonderful people, environmental groups, and eco-businesses that are helping create a greener and healthier planet for all. Everyone can share and learn tips on ways to live more sustainably, and be inspired to make a difference as we start a green new decade. We CAN do this together!